SLAYER
with Lamb of God and Behemoth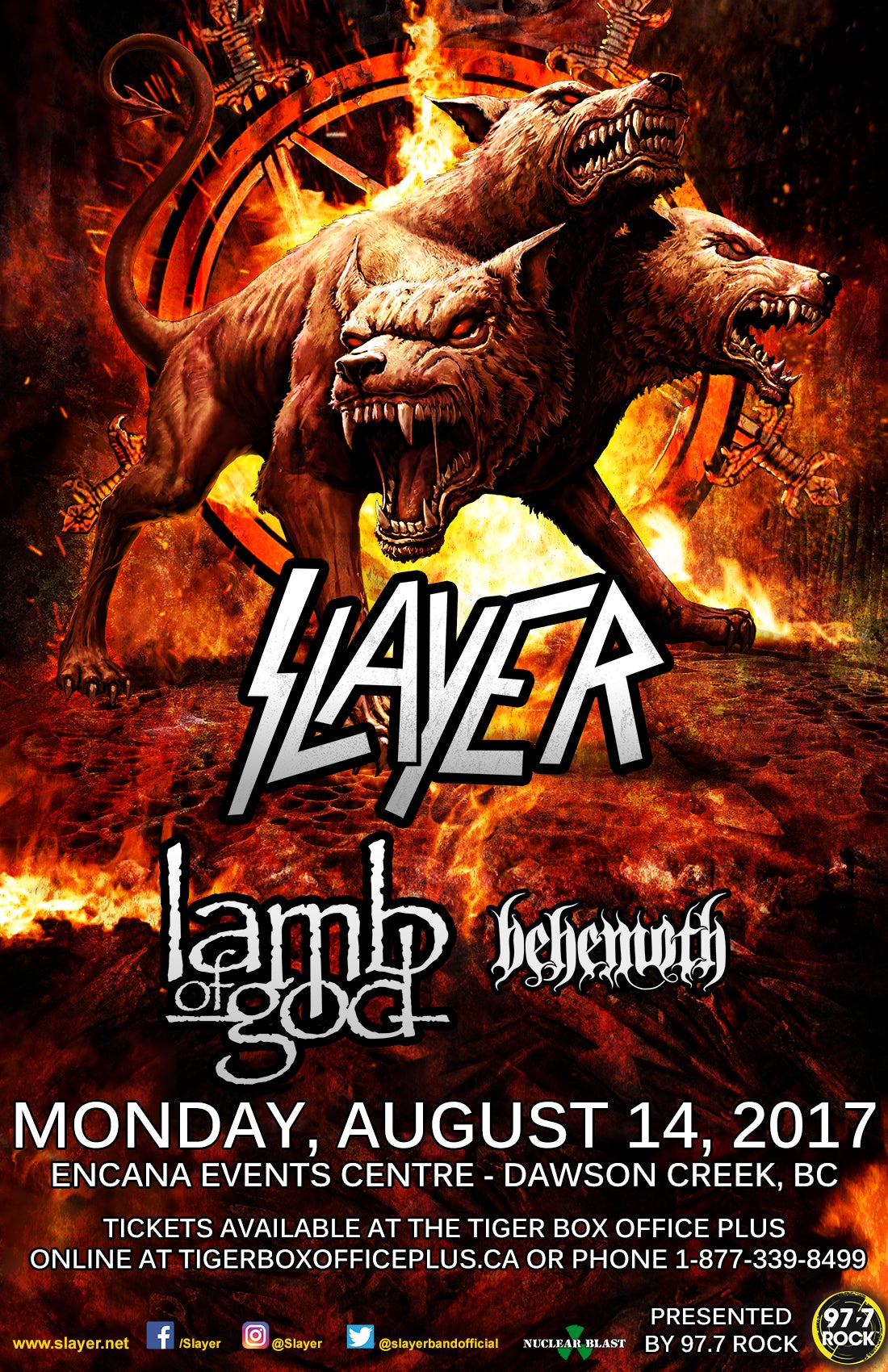 There are many perilous ways one can spend time off - Volcano-boarding down Cerro Negro, Nicaragua's active volcano, or maybe bungee jumping from a helicopter over the bubbling crater of Chile's Villarrica volcano. How about a visit to Sao Paulo's Snake Island, home of some 4000 golden lancehead vipers whose venom can melt human flesh, or shark diving without a cage in South Africa. But nothing is quite as hazardous or risky as a night in the pit at a Slayer concert. Add to that the ferociousness of Lamb of God and Behemoth, and you've got a Satan-approved triple bill of Biblical proportions.
The six-week expedition will rage across North America beginning July 12 in Bemidji, MN, winding up in Phoenix, AZ on August 20. Slayer and Lamb of God will also play Wisconsin's Rock Fest 2017 (7/13) and Rock USA 2017 (7/15), and then meet up with Behemoth at the Chicago Open Air Festival on July 16. They will stop in Dawson Creek, BC on Monday, August 14 at the Encana Events Centre.
Tickets are priced at $95.00 & 65.00 plus applicable fees. Tickets may be purchased online at www.tigerboxofficeplus.ca by phone at 1-877-339-8499, and in person at the Tiger Box Office Plus locations at the Encana Events Centre.
"As metal tours go, this is the one that your fellow metal heads will be bragging about if you miss it! Not very often I get to go on tour where we are all friends to start. That being said, the potential for greatness at these events is mind blowing. I look forward to being a part of it, and hanging with old friends- bands as well as fanatical fans! Let the festivities begin!!" said Kerry King of Slayer.
SLAYER
with Lamb of God and Behemoth
Aug 14 , 2017
7:00 PM
6:00 PM

Tickets are priced at $95.00 and $65.00 plus applicable fees. Tickets may be purchased online at www.tigerboxofficeplus.ca by phone at 1-877-339-8499, and in person at the Tiger Box Office Plus location at the Encana Events Centre.

Please note that applicable convenience fees and applicable service charges may apply and varies by point of purchase.

Suite Rentals: Jerimy Earl 250-795-3308

Photography: NO CAMERAS / VIDEO / AUDIO RECORDING PERMITTED

Code of Conduct & Prohibited Items List: Click here to view our list of prohibited items and other frequently asked questions.

Accessibility: Click here for more information about Accessibility

Smoking and Re-Entry Policy: Click here to view our Smoking and Re-Entry Policy and other frequently asked questions.

$95.00, $65.00