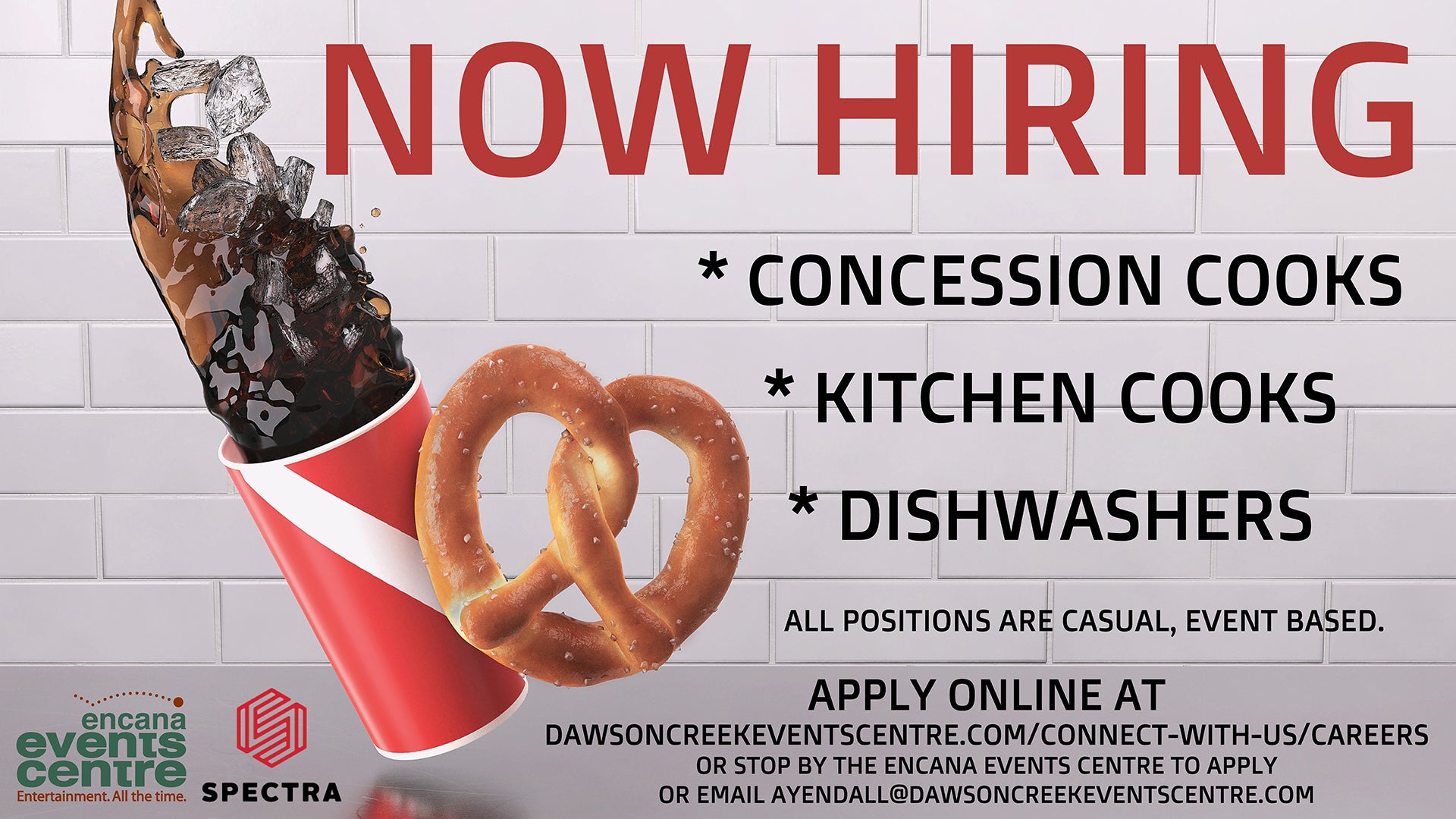 Looking for a great casual, part-time employment opportunity? We are currently looking for Concession Cooks, Dishwashers, and Kitchen Cooks for our events!
Apply online at https://spectravenue.wufoo.com/forms/zkz7nqp1t9zn8y/ or email [email protected]
---
Spectra Venue Management (www.SpectraExperiences.com) is currently hiring for casual and part-time positions at the Encana Events Centre (www.dawsoncreekeventscentre.com). The purpose of these event-driven positions is to provide a safe, enjoyable environment for all staff and employees. We offer a dynamic, diverse and interesting platform as well as valuable experience to last a lifetime!

We are looking to fill several open positions in the following categories:
Venue Safety & Security workers
As a Security worker, you must have
a valid Basic Security Certificate (available from the Justice Institute of British Columbia)
satisfactory record-keeping skills
a common sense approach
problem-solving and conflict resolution skills
As a Guest Services worker, you must have
The ability to work well within a team environment
A friendly and upbeat attitude
The ability to follow directions
Ability to remain in one position for extended lengths of time

All casual and part time workers are expected to
attend mandatory training and orientation shifts that will help to ensure their success
pass an RCMP criminal record check
wear a uniform, radio, name tag and other items as directed
be on time, engaged, helpful and reliable
be professional, courteous and accountable
work evening, weekend and sometimes lengthy shifts
To apply, please
a) email to the Event Services Manager Khori Currie at [email protected]
b) deliver to the Tiger Box Office Plus at the Encana Events Centre
c) visit our online application form to apply today!
We appreciate all applications, however, only those selected for an interview will be contacted.
Check out other career opportunities for Spectra here
---
Are you interested in how concerts are put together? Ever wonder how the lighting and sound work?
IATSE is an international association of professional Stage and Film technicians working with the Encana Events Centre to bring the concert touring industry to Dawson Creek. We supply personnel to assist with the setup of lighting, sound, stage equipment and band gear for the concerts you see and enjoy.
This is a part time opportunity that offers a unique experience with a fair wage.
Currently we are preparing for the upcoming concert schedule and require additional crew to fill all the positions available.
If you would like to be a part of the crew that works behind the scenes at concerts and brings the excitement to the crowds, please contact us and talk with our representative about the opportunity. Email inquiries are welcome.
Contact: Peter Gerrie, Business Agent
Office: 780.423.1863, ext 229
Email: [email protected]