Careers:
---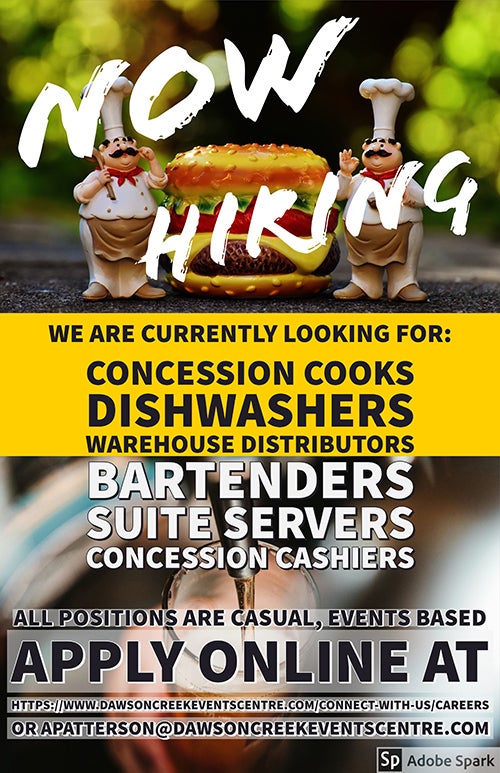 Apply online with our application form! Head to https://spectravenue.wufoo.com/forms/zkz7nqp1t9zn8y/ to Apply!
---
The Encana Events Centre (www.dawsoncreekeventscentre.com) operated by Spectra Venue Management (www.SpectraExperiences.com) is the premier event facility providing a wide range of sports and entertainment opportunities for the Alberta and British Columbia Peace Region. We are currently seeking a Facility Operator who is mature, highly motivated, and a customer-focused team player possessing a positive attitude.
The Facility Operator will assist the Chief Engineer in the overall facility maintenance including the preparation and maintenance of the ice surface, automated building controls, HVAC and electrical systems, preventative maintenance programs, and general building repairs. Duties include, but are not limited to, the repair of machinery, performing preventive maintenance of HVAC and boiler systems and general equipment such as plumbing, electrical and refrigeration systems. The ideal candidate will have strong interpersonal, mechanical aptitude, computer and communication skills along with being able to work within a team environment. Minimum requirements include 5th Class Refrigeration Endorsement, Refrigeration Operator, or 4th Class Power Engineering ticket. This position can be physically demanding, and evening and weekend shifts will be required. Your ability to work with minimum supervision, performs duties in a safe manner, and consistently demonstrates efficient, effective use of time and resources will ensure your success. This position is full time and comes with a competitive wage and a comprehensive benefits package.
Please mail your cover letter and current resume to the attention of Tylor Hawkins, Director of Operations, Spectra Venue Management, # 1, 300 Highway 2, Dawson Creek, BC V1G 0A4, or email to [email protected].
We appreciate all applications; however, only those selected for an interview will be contacted.
---
Spectra Venue Management (www.SpectraExperiences.com) is currently hiring for casual and part-time positions at the Encana Events Centre (www.dawsoncreekeventscentre.com). The purpose of these event-driven positions is to provide a safe, enjoyable environment for all staff and employees. We offer a dynamic, diverse and interesting platform as well as valuable experience to last a lifetime!

We are looking to fill several open positions in the following categories:
Venue Safety & Security workers
As a Security worker, you must have
a valid Basic Security Certificate (available from the Justice Institute of British Columbia)
satisfactory record-keeping skills
a common sense approach
problem-solving and conflict resolution skills
As a Guest Services worker, you must have
The ability to work well within a team environment
A friendly and upbeat attitude
The ability to follow directions
Ability to remain in one position for extended lengths of time

All casual and part time workers are expected to
attend mandatory training and orientation shifts that will help to ensure their success
pass an RCMP criminal record check
wear a uniform, radio, name tag and other items as directed
be on time, engaged, helpful and reliable
be professional, courteous and accountable
work evening, weekend and sometimes lengthy shifts
To apply, please
a) email to the Event Services Manager Stefanie Chymlo at [email protected]
b) deliver to the Tiger Box Office Plus at the Encana Events Centre
c) visit our online application form to apply today!
We appreciate all applications, however, only those selected for an interview will be contacted.
Check out other career opportunities for Spectra here
---
Are you interested in how concerts are put together? Ever wonder how the lighting and sound work?
IATSE is an international association of professional Stage and Film technicians working with the Encana Events Centre to bring the concert touring industry to Dawson Creek. We supply personnel to assist with the setup of lighting, sound, stage equipment and band gear for the concerts you see and enjoy.
This is a part time opportunity that offers a unique experience with a fair wage.
Currently we are preparing for the upcoming concert schedule and require additional crew to fill all the positions available.
If you would like to be a part of the crew that works behind the scenes at concerts and brings the excitement to the crowds, please contact us and talk with our representative about the opportunity. Email inquiries are welcome.
Contact: Peter Gerrie, Business Agent
Office: 780.423.1863, ext 229
Email: [email protected]
---
Tiger Box Office Plus at The Encana Events Centre is hiring Box Office Ticket Sellers who are mature, energetic, detail oriented and have a positive attitude. This is part time/casual work on evenings and weekends. Please drop off or email your resumé ATTENTION: Khori Currie
[email protected]

As the Box Office Ticket Seller, you will receive and process counter, phone and mail ticket orders, follow procedures regarding money and ticket reconciliation, provide accurate facility information while providing superior customer service to patrons and assisting our other departments as needed. The ideal candidate will have prior sales and customer service experience with experience handling/reconciling cash with strong communication skills and computer knowledge.

We appreciate all applications, however, only those selected for an interview will be contacted.