Wayne and Bev Dahlen Walking Track Schedule (CURRENTLY CLOSED)
Please note that the Wayne & Bev Dahlen Walking Track is currently closed in accordance with the following release from the City of Dawson Creek:
The City of Dawson Creek is following the recommendations put forward by the British Columbia Office of the Provincial Health Officer as well as further recommendations from the Lifesaving Society regarding hot tubs, saunas, steam rooms (and similar features). The following facilities are now closed until further notice.

- The Memorial Arena
- The Kenn Borek Aquatic Centre (including the climbing wall)
- The Wayne & Bev Dahlen Walking Track
For the full Media Release regarding the closures, visit: https://www.dawsoncreek.ca/2020/media-release-3/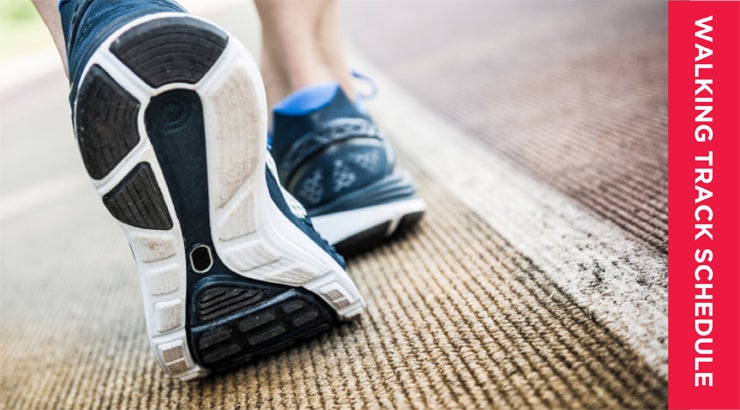 CURRENTLY CLOSED - will update the schedule when a date has been set for reopening.
How to Access the track: Enter at Kenn Borek Aquatic Centre. Sign in at the front desk. Take elevator to 3rd floor. When done, return to Kenn Borek Aquatic Centre to sign out.

Basic Guidelines: No food or beverages allowed on track. Indoor shoes only on track – outdoor shoes must be removed at Aquatic Centre. Children 12 and under must be accompanied by a responsible adult ages 19 or older. Please Remember:
Access via Kenn Borek Aquatic Centre (#2 – 300 Highway 2, Dawson Creek, BC)
Walking track is FREE to use
Sign in at the pool (before using track)
Sign out at the pool (after using track)
INDOOR SHOES ONLY on track – outdoor footwear to be removed at pool, prior to track use (footwear can be locked up at pool lobby).
Children 12 and under MUST be with a responsible adult 19 or older
There are 2 directions that change weekly. Walkers stay to the inside of the track and runners stay to the outside
As a courtesy to all users, please ensure you walk and run in the correct direction as posted. (No more than 2 people side by side to allow room for people passing)
Please do not stop on the track – there are several resting areas located around and off the track
Strollers are welcome on the walking track but please be sure your wheels are clean and you are in control of your stroller at all times
The track is closed the day before, day of, and day after events and concerts.
Lockers are available for use in the pool lobby (tokens cost $0.50 and can be purchased at the pool front desk).
1 lap = 250 meters (0.155 miles) 4 laps = 1 Kilometer 6 laps = 1 mile
For more information, please call us at (250) 782-7946