Mile Zero Meltdown with Weezer & Special Guests The Trews & The Flatliners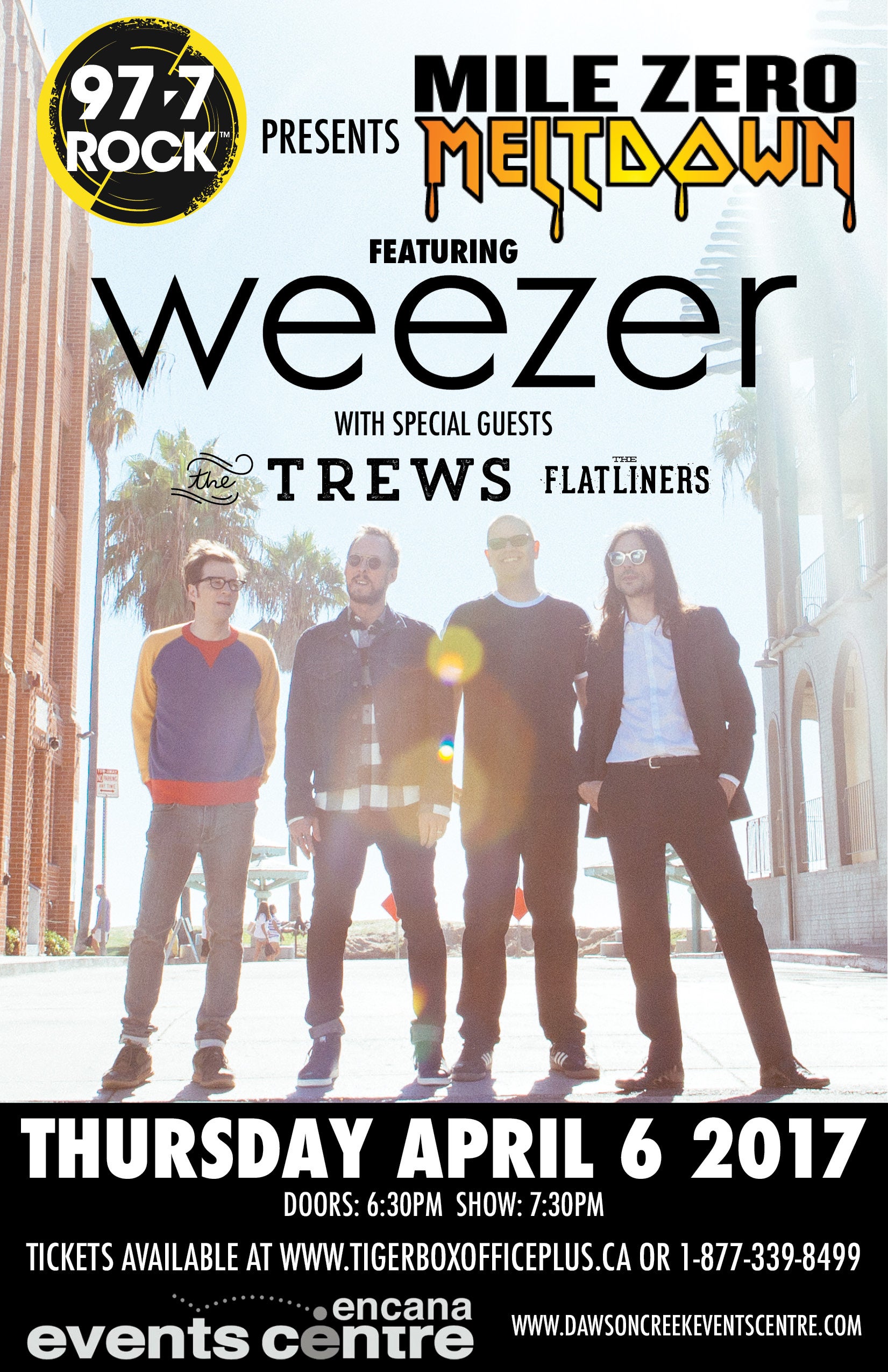 With the success of the 2016 Summer Tour, alternative pop rock band Weezer adds more dates to their 2017 schedule with a Canadian tour. The tour makes a stop in Dawson Creek at the Encana Events Centre on Thursday, April 6 and will mark the return of the Mile Zero Meltdown presented by 97.7 Rock.
Tickets are priced at $79.00 and $59.00 plus applicable fees. Tickets may be purchased online at www.tigerboxofficeplus.ca by phone at 1-877-339-8499, and in person at the Tiger Box Office Plus locations at the Encana Events Centre.
Tickets will go up in price day of show to $84.00 and $64.00.
Weezer's eponymous-titled 10th studio album, was released April 1, 2016 and is referred to as "The White Album". Recent singles from this album include "King of the World," "Do You Wanna Get High?" and "Thank God for Girls."
"The inspiration behind the songs were my experiences hanging around the Westside of Los Angeles, which has been our home since Weezer began. Hanging out with people in Venice and Santa Monica, the beach, the Hare Krishnas, the Sikh on roller blades with the guitar, girls on Tinder within a 4 mile radius, seeing other bands, the kids from La Sera. I would just tweet out 'does anybody wanna hang?'," Cuomo told Rolling Stone. "And then I'd get together with people who responded and talk about life. I love California. I wanted the album to make you feel like you were there with us SoCal weirdos even if you're in Milwaukee in December.
Joining the tour will be The Trews and The Flatliners.
Weezer is an American rock band formed in Los Angeles, CA in 1992, currently consisting of Rivers Cuomo (lead vocals, lead guitar), Patrick Wilson (drums), Brian Bell (rhythm guitar, backing vocals, keyboards), and Scott Shriner (bass, backing vocals). Weezer has sold 9.2 million albums in the U.S., and over 17 million records worldwide. Their catalogue has included such megahits as "Buddy Holly," "Undone (The Sweater Song)," "Say It Ain't So," "El Scorcho," "Hash Pipe," "Island In The Sun," "Beverly Hills," "Pork and Beans," and more. Weezer has won Grammys, MTV Video Music Awards, and more throughout their career. In 2016, Weezer released their tenth studio album, Weezer (The White Album), a self-proclaimed beach album that debuted at #1 on Billboard's Rock/Alternative chart, and top 5 on the Billboard 200 chart. The band then embarked on a massive, two-month summer tour playing to half a million people across the U.S.
Mile Zero Meltdown with Weezer & Special Guests The Trews & The Flatliners
Apr 6, 2017
7:30 PM
6:30 PM

Tickets are priced at $79.00 and $59.00 plus applicable fees. Tickets may be purchased online at www.tigerboxofficeplus.ca by phone at 1-877-339-8499, and in person at the Tiger Box Office Plus locations at the Encana Events Centre.

Tickets will go up in price day of show to $84.00 and $64.00.

Please note that applicable convenience fees and applicable service charges may apply and varies by point of purchase.

Suite Rentals: Jerimy Earl 250-795-3308

Photography: NO CAMERAS / VIDEO / AUDIO RECORDING PERMITTED

Code of Conduct & Prohibited Items List: Click here to view our list of prohibited items and other frequently asked questions.

Accessibility: Click here for more information about Accessibility

Smoking and Re-Entry Policy: Click here to view our Smoking and Re-Entry Policy and other frequently asked questions.

$79.00, $59.00