Busy April Weekend for the Region
Gun Show, Trade Show, Game Show and Concerts...
Published: Apr 7, 2016
Its a beautiful April in the region so time to step out of the house and explore whats happening in the region this weekend.
The Dawson Creek Sportsman's Club will be taking over the Encana Events Centre for the 39th Annual Gun Show and Sportsman Show - This event takes place Saturday, April 9, 9am-6pm and Sunday, April 10, 9am-3pm. Entry is $10 for Adults in Advance, $12 for Adults day of show, $5 for Youth 10-17 and Seniors 67+ while kids under 9 are free when accompanied by an adult.
This event attracts vendors and people from all over the region. The organizers expect over 200 tables with such goods as firearms, knives, archery, ATV's and more. This is the largest gun show and sportsman show in the Peace Country. Tickets can be purchased online here or by phone at 1-877-339-8499 or stop down to the Tiger Box Office Plus.
In Fort St. John, the 44th Annual Trade Show will fill the Pomeroy Sport Centre with 300 plus booths. You will find vendors of all types including the Encana Events Centre / Tiger Box Office Plus there! Click here for the vendor list.
This event takes place Friday, April 8, 5pm-10pm, Saturday, April 9, 10am-9pm and Sunday, April 10, 11am-5pm. Entry is Family of 4 for $22, $8 for Adults, $6 for Youth 9-18 and Seniors 65+ while kids under 8 are free when accompanied by an adult.
Purchase your tickets during the Trade Show and Pay NO Fee's for any of our upcoming events including Gord Bamford & Joe Nichols, The Price is Right Live!, CanolaFest and more.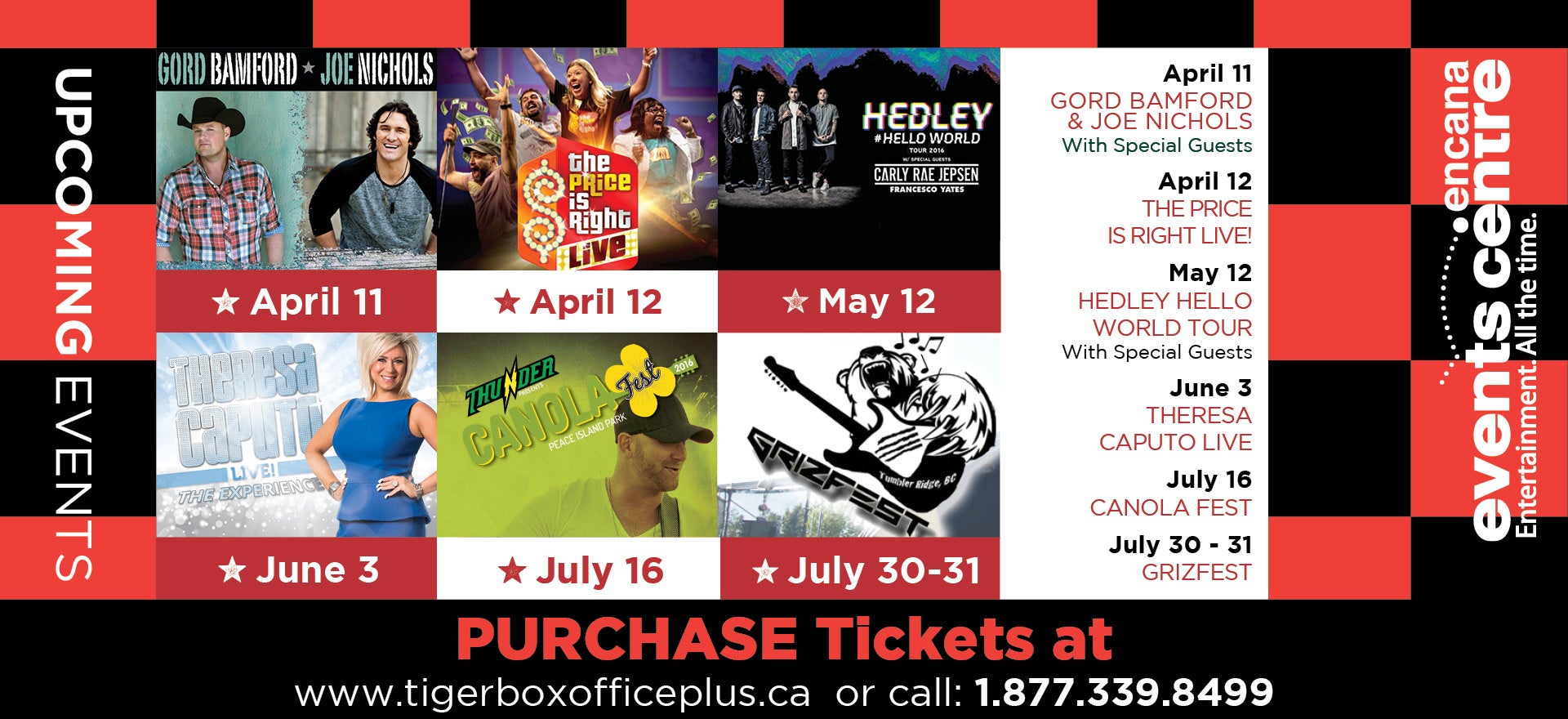 During the Fort St. John Trade Show, if you purchase your tickets for The Certified Country tour with Gord Bamford and Joe Nichols or The Price is Right Live! at our booth at the Pomeroy Sport Centre, you'll receive an entry into our Scan & Win Contest where you could win a free pop, popcorn, Encana Events Centre Gift Cards or tickets to an upcoming event!!! See us for full details!
PLUS -- Stop by our booth and you can enter our draw to win tickets to upcoming events too!!
Monday brings The Certified Country Tour to Dawson Creek where Gord Bamford, Joe Nichols and Beverley Mahood will entertain us for the night!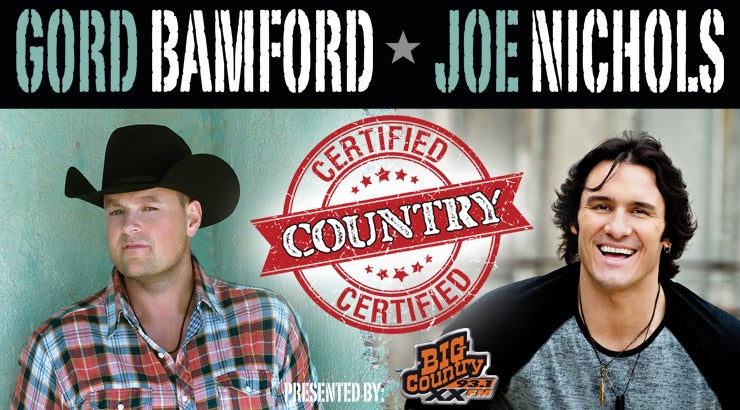 Tuesday we will see The Price Is Right Live! here. The Price Is Right Live™ is the hit interactive stage show that gives eligible individuals the chance to "Come On Down" to win. Prizes may include appliances, vacations and possibly a new car! Play classic games from television's longest running and most popular game show from Plinko™, to Cliffhangers™, to The Big Wheel™, and even the fabulous Showcase.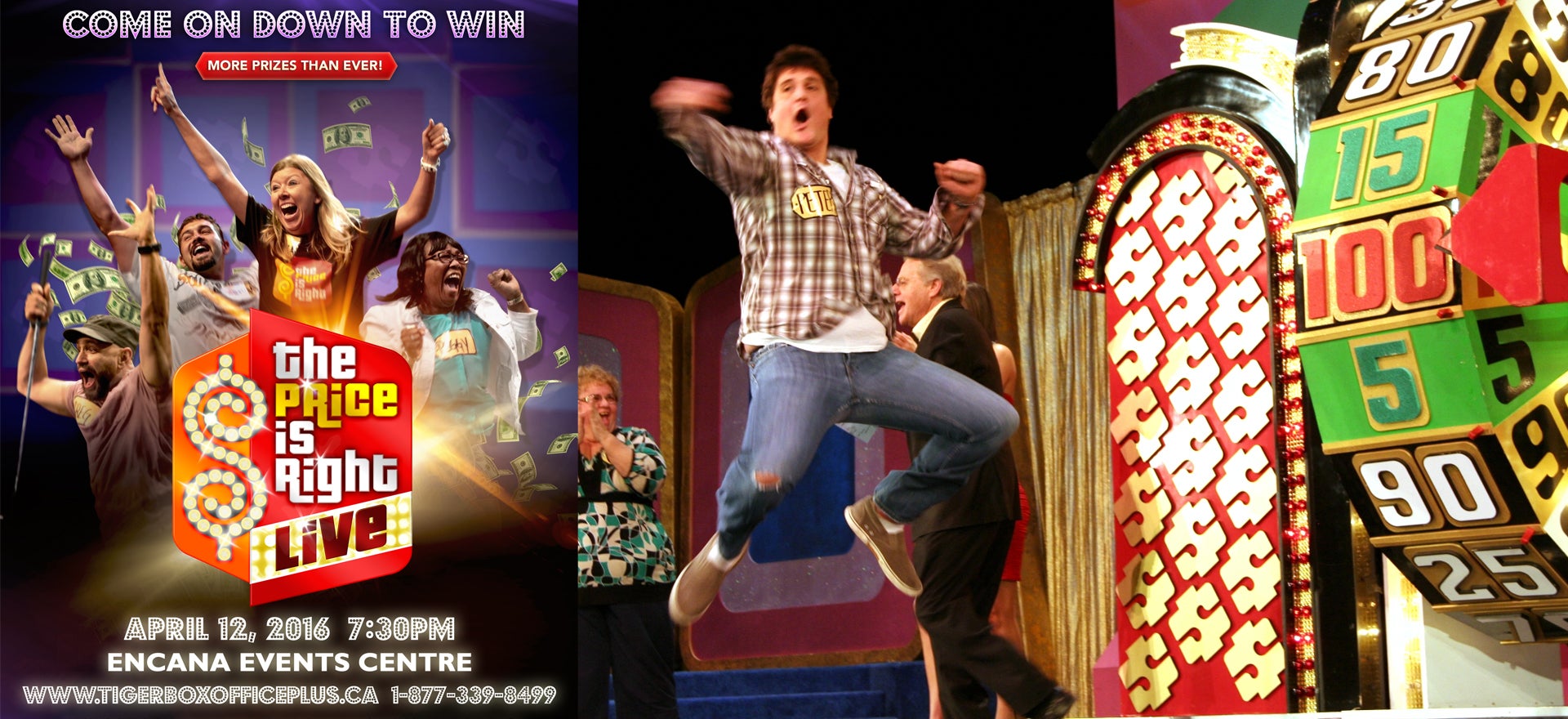 April 15, 16 & 17 will see the Dawson Creek Kiwanis Club host the Kiwanis Home, Garden and Leisure Show in Dawson Creek at the Memorial and Kin Arena. This event takes place Friday, April 15, 5pm-9pm, Saturday, April 16, 10am-8pm and Sunday, April 17, 11am-4pm. Entry is $7 for Adults Age 12+, $3 for Kids age 5-12 while babies/toddlers free when accompanied by an adult.
---
Related Event
---