City of Dawson Creek Announces August 20, 2016 as The Tragically Hip Day
Published: Aug 17, 2016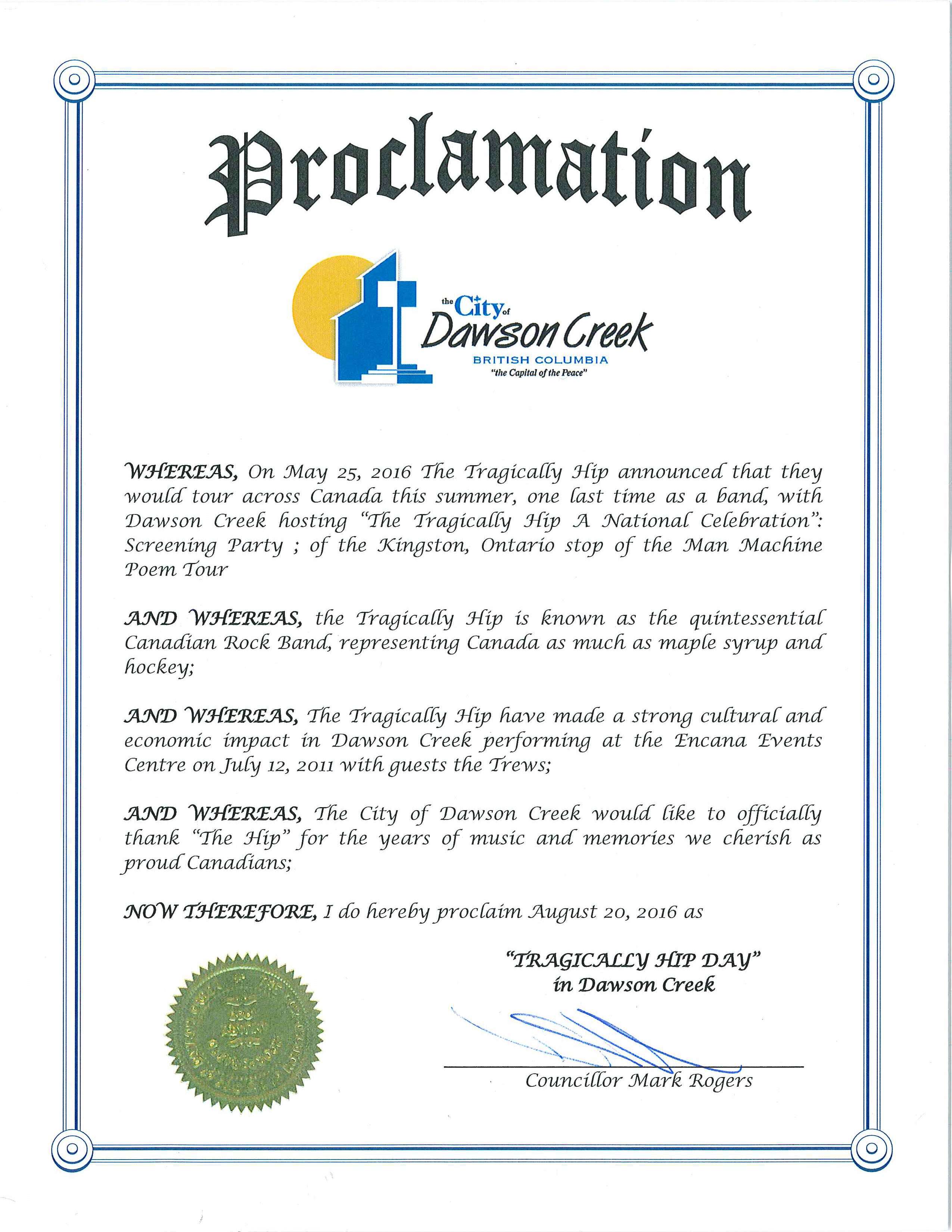 DAWSON CREEK – The City of Dawson Creek and Spectra Venue Management announces today that August 20, 2016 will be known as The Tragically Hip Day here in Dawson Creek in celebration of the public screening of the The Tragically Hip and the Kingston, Ontario stop of the Man Machine Poem Tour at the Encana Events Centre.
"The Tragically Hip are no strangers to Dawson Creek as they came through the City and played here at the Encana Events Centre on July 12, 2011," said City of Dawson Creek Councillor Mark Rogers. "I do hereby proclaim August 20, 2016 as "THE TRAGICALLY HIP DAY" in Dawson Creek"
"We thank the City of Dawson Creek for this proclamation as they join other cities across Canada including Vancouver, Edmonton and Toronto," said Spectra's Ryan MacIvor, General Manager of the Encana Events Centre. "This event is free to the public and we welcome all members of the community and region to once again see the Tragically Hip live at the Encana Events Centre, but this time via a live feed from Kingston, Ontario."
The CBC and The Tragically Hip Presents A National Celebration screening at the Encana Events Centre on Saturday, August 20. This event is free and open to the public but a ticket is required for entry. Tickets are available at the Tiger Box Office Plus at the Encana Events Centre or at Tiger Printing & Stationers, online at www.tigerboxofficeplus.ca or by phone at 1-877-339-8499. Tickets will only be available to be picked up directly at the box office, left at WILL CALL for pickup or a Print at Home ticket that is emailed will be available. Doors for the event will open at 4:30pm PST with the screening starting at 5:30pm PST.
With changes with the British Columbia Liquor Law, the Encana Events Centre will be offering alcohol available to be purchased at the event including beer, coolers and spirits. Spectra Food Services & Hospitality will have many options available for both food and non-alcohol choices at the event. Joining the Encana Events Centre in celebration of this event will be Menchie's Frozen Yogurt who will offer 2 flavours including Nutella and Blue Blast Sorbet for sale during the screening.
The National Celebration event will feature a special Snapchat filter, official merchandise from the Man Machine Poem tour will be available to purchase, and some framed prints from the 2011 show are up for silent auction. All proceeds from the silent auction and any donations collected at the event will support the Gord Downie Fund for Brain Cancer at the Sunnybrook Foundation.
** Media Package attached including speeches from today's event, copies of photo's up for silent auction, copy of Snapchat Filter available on Saturday, info on Gord Downie Fund at Sunnybrook Foundation and more.
ABOUT SPECTRA
Spectra by Comcast Spectacor is the expert in hosting and entertainment, partnering with over 300 clients at 400 global properties to create memorable experiences for millions of visitors every year. Spectra's expertise is embodied within three divisions: Venue Management (formerly Global Spectrum), Food Services & Hospitality (formerly Ovations Food Services) and Ticketing & Fan Engagement (formerly Paciolan). Learn more at SpectraExperiences.com.
Comcast Spectacor is part of Comcast Corporation, a Fortune 50 media and technology company that operates Comcast Cable and NBCUniversal. Headquartered in Philadelphia, Pa., In addition to Spectra, Comcast Spectacor owns and operates the National Hockey League's Philadelphia Flyers and the Wells Fargo Center venue. Visit us at ComcastSpectacor.com, PhiladelphiaFlyers.com and WellsFargoCenterPhilly.com for more information.
Venue PR/Marketing:
Brent Hodson | Sherry Reynard
250-795-3314 | 250-795-3347
Email: [email protected] | [email protected]
---
Download Attachment
Related Event
---