Know Before You Go! Godsmack & Volbeat
Thursday, May 2 at 7:30 PM PST
Published: May 1, 2019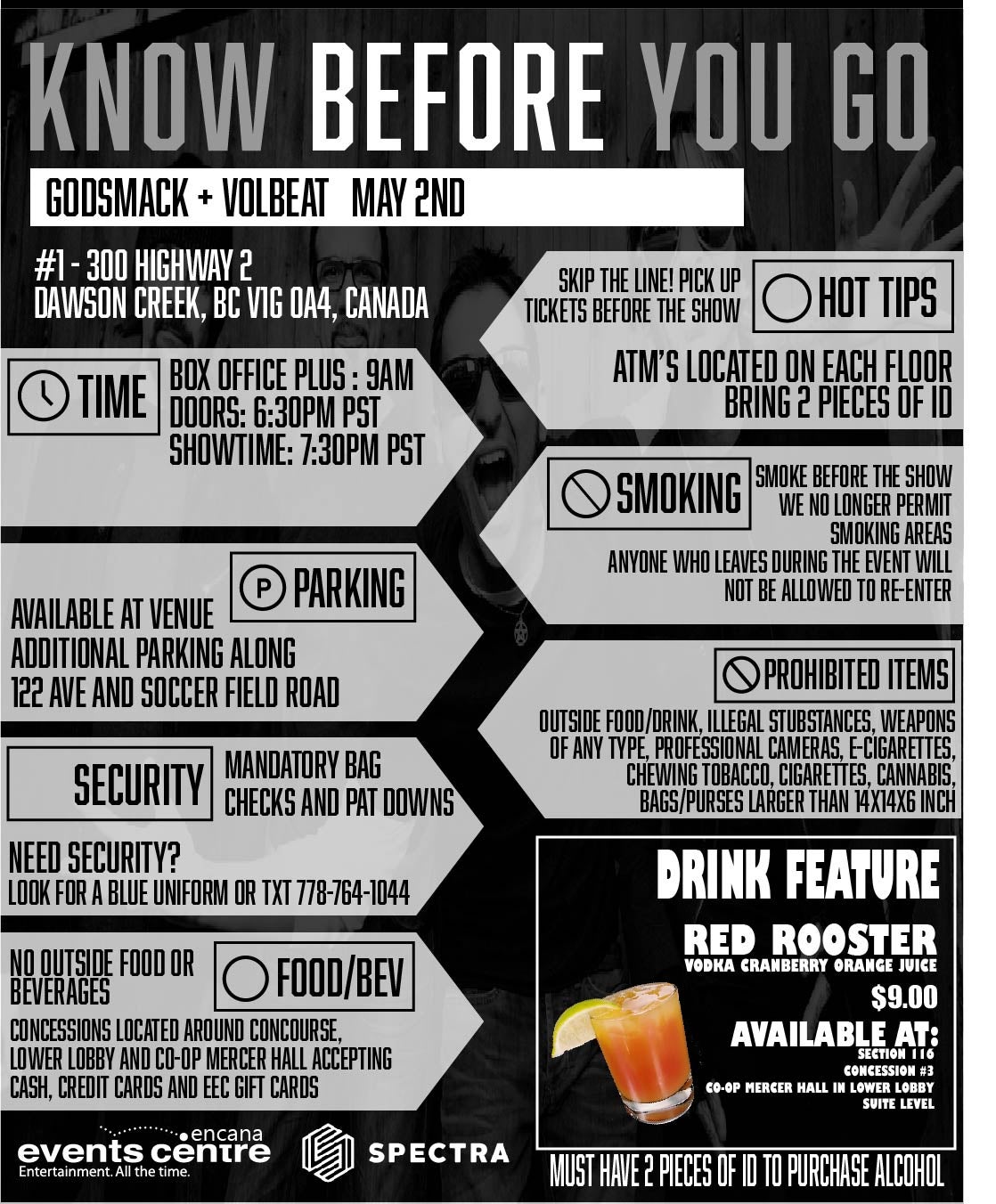 GODSMACK & VOLBEAT
THURSDAY, MAY 2
DOORS OPEN AT 6:30 PST - SHOW STARTS AT 7:30PM PST
FOR FANS COMING FROM ALBERTA - WE ARE ONE HOUR BEHIND YOU!
THE TIGER BOX OFFICE PLUS AT THE ENCANA EVENTS CENTRE WILL BE OPEN ON THURSDAY, MAY 2 AT 9:00 AM PST IF YOU NEED TO PICK UP TICKETS
IMPORTANT INFORMATION
Check it out and be prepared!
IMPORTANT NO-SMOKING INFORMATION
The Encana Events Centre no longer allows patrons the ability to use the smoking areas that were in place. As part of Bylaw No. 4240, the City of Dawson Creek requires smoke-free buffer zones up to 7.5 metres around public entrances, windows, and air intakes.
Anyone leaving the Encana Events Centre during an event will not be allowed to re-enter the building. This Encana Events Centre Policy came into effect on September 1, 2018.
Making these changes allows the Encana Events Centre to ensure the guests, tours, and artist who come to the Centre are safe. Eliminating smoking ensures that there are no security risks associated with people who are exiting and re-entering the venue.
No Re-Entry & No Smoking started on September 1, 2018. To remain consistent for our guests, the policy will be in place for all events at the Encana Events Centre. Those who wish to smoke or vape will need to do so before the concert and/or after the concert.
Please visit our Frequently Asked Questions here https://www.dawsoncreekeventscentre.com/news/detail/faq-policies/ for more information on these policies.
Please be aware that once you have entered the venue and your tickets have been scanned, there will be NO INS & OUTS (exiting and re-entering the venue) permitted.
ALCOHOLIC BEVERAGES
As required by law, ANYONE appearing under 30 years of age will be asked to produce TWO pieces of ID, one of which must be gov't issued. ID must have name, date of birth, photo and signature.
What type of identification do I need in order to purchase liquor?
If you are asked to provide identification (ID), you will be required to show the following:
An official government issued ID (including foreign government issued) with name, picture and birth date; such as a driver's licence or passport
A secondary ID that includes name and signature or picture; such as a credit card or student ID
Only TWO alcoholic beverages can be served per person at one time.
FOOD & BEVERAGE
All Concessions & Stations are open for the show including Concession #1, 2, 3 & 4 plus multiple stations positioned around the concourse and in the lower lobby, including inside Co-op Mercer Hall. Each location will accept Cash, Credit Cards (Visa, MasterCard & American Express) or the Encana Events Centre Gift Card!
Outside food and beverages are not allowed onsite including alcohol. There are numerous sites throughout the facility where food and beverages are available.
Please be aware, there will be mandatory bag checks as well as pat-downs to ensure everyone's safety. If you need security during an Encana Events Centre event, there are numerous staff in any location of the arena at any given time. Keep an eye out for blue uniforms or please go to the Box Office for assistance
Below is our list of prohibited items - please do not bring any of the following:
PROHIBITED ITEMS
Prohibited items include but are not limited to: outside food or drink, carry bags or backpacks, bottles & cans, containers, illegal substances, incendiary devices, weapons of any type, banner sticks or flagpoles, this includes selfie sticks, artificial noise making devices, laser pointers, drones, helium balloons, audio or video recorders, professional cameras, E-Cigarettes, Chewing Tobacco, Cigarettes, Cannabis, iPads and all tablets and oversized bags and purses that are larger than 14" x 14" x 6" n and any items the contents of which cannot be inspected. Pets are not permitted on site with the exception of working animals (ie. guide dogs for the visually impaired).
WILL CALL TICKET PICK-UP INFORMATION
If you are picking up tickets at "Will Call", you can come to the Encana Events Centre as the Tiger Box Office Plus is open 9am on Thursday, May 2 - Stop down and grab your tickets early to miss the lines!! To pick up your tickets, please have the credit card that you used to purchase and a piece of identification ready when you get to the Tiger Box Office Plus, located inside the front doors of the Encana Events Centre.
Have questions about your tickets? Please call the Tiger Box Office Plus at 250-782-7443.
ENTRY INTO VENUE
There will be 2 entrances into the venue for this show, The Main South Entrance at front of the building (main lobby) where you will find Will Call & our on-site box office -- the North Entrance at the back of the building beside the pool is open for this show. Please be aware that if you are picking up your tickets at the Box Office you must come to the Front (main entrance). Arrive early. Come early so you will have the opportunity to get prime parking and avoid possible line-ups. Additional parking is available at the soccer fields.
TICKETING INFORMATION
Will Call and Box Office (onsite sales) are located at the Main Entrance in the upper lobby of the Venue. Ear protection is strongly recommended for all especially children. Please be aware that once you have entered the venue and your tickets have been scanned, there will be NO INS & OUTS (exiting and re-entering the venue) permitted.
WHEELCHAIR ACCESS & SEATING
If you have any special accessibility requirements, please call us in advance at 250-782-7443 or toll free at 1-877-782-7449.
ATM BANK MACHINES
There are ATM's on each floor at the Encana Events Centre; one in the lower lobby, four in upper lobby, and one on suite level.
MERCHANDISE
Event merchandise will be available for purchase in the upper lobby. They will accept Cash, Credit Cards (Visa, MasterCard, American Express) Debit and the Encana Events Centre Gift Card.
For your complete A-Z guide for the Encana Events Centre CLICK HERE
We're Here to Help! speak to us if you need assistance or have any questions, comments or concerns during the show:
Text us at 778-764-1044
www.facebook.com/encanaeventscentre
www.twitter.com/eventscentredc
www.instagram.com/eventscentredc
email: marketing@dawsoncreekeventscentre.com
or stop by the Tiger Box Office Plus in the upper lobby
Have a ticket related issue? Please call the Tiger Box Office Plus at 250-782-7443
---
Related Event
---