GODSMACK & VOLBEAT
With Special Guests STITCHED UP HEART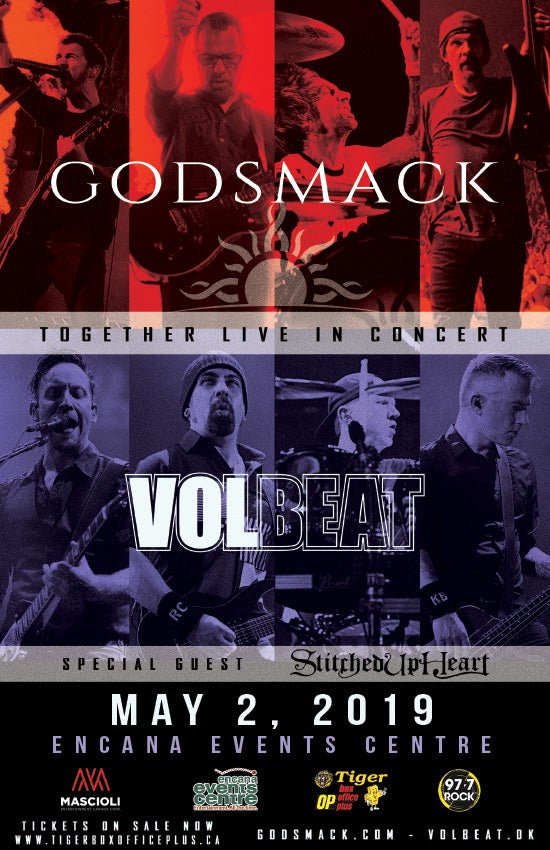 VOLBEAT CONFIRMS NORTH AMERICAN TOUR WITH GODSMACK IN SPRING OF 2019
TO RELEASE LIVE ALBUM AND CONCERT FILM, LET'S BOOGIE! LIVE FROM TELIA PARKEN, ON DECEMBER 14th VIA REPUBLIC RECORDS/UNIVERSAL MUSIC
Grammy nominated Danish band Volbeat confirms seventeen new tour dates with Godsmack throughout the U.S. and Canada in April and May of 2019. The tour will kick off with a string of dates in U.S as special guests to Godsmack before the pair embark on a cross-country coheadline tour of Canada with a stop in Dawson Creek on May 2, 2019.
Tickets are priced at $88.50 $68.50 ($93.50, $73.50 Day of Show) plus applicable fees. Tickets may be purchased online at www.tigerboxofficeplus.ca by phone at 1-877-339-8499, and in person at the Tiger Box Office Plus location at the Encana Events Centre or at Systems Sound Source Ticket Outlet in Fort St. John. Presented by 97.7 ROCK.
$1 from every ticket purchased (as of Friday, April 12) will now be donated to the Scars Foundation to help raise awareness of the mental health issues that many face today. Established by vocalist/guitarist Sully from our featured band Godmack to help provide tools and resources to help those struggling with mental health. To make a personal donation today check out Their website https://www.godsmack.com/scarsfoundation
Volbeat recently announced the release their live album and concert film, Let's Boogie! Live From Telia Parken, on December 14th via Republic Records/Universal Music. The 26-track album commemorates and memorializes the record-breaking 2017 concert, and includes live versions of Volbeat's chart-topping hits "Still Counting," "For Evigt," "The Devil's Bleeding Crown," and "A Warrior's Call" as well as a live performance of a new song, "The Everlasting." Special guests on the album (in order of appearance) include Mille Petrozza, Johan Olsen, Mark "Barney" Greenway, Lars Ulrich, boxer Mikkel Kessler and Danko Jones. Find a full list of guest performers below. The album and concert film will be available in the following configurations: BluRay /2 CD, DVD/2 CD, 2 CD, 3 LP vinyl, and digitally. Pre-order Let's Boogie! Live From Telia Parken on all formats here: https://umg.lnk.to/letsboogielive

Volbeat emerged from Copenhagen in 2001. Since then, they've tirelessly clawed their way to hard rock's upper echelon with endless touring and a string of six beloved full-length albums. Recently, their 2010 album Beyond Hell/Above Heaven, which features hit singles "A Warrior's Call" and "Heaven Nor Hell," received RIAA Gold Certification. 2013's Outlaw Gentlemen & Shady Ladies bowed at #9 on the Billboard Top 200 upon release marking the highest U.S. chart entry for a Danish Act since 1997 until the band's 2016 album Seal The Deal & Let's Boogie topped it by debuting at #4.
Godsmack released When Legends Rise earlier this year via BMG (US) and Spinefarm (Worldwide), marking the band's seventh studio album and their first in four years. When Legends Rise is available on CD, LP and Digital; purchase or stream it here.
GODSMACK & VOLBEAT
With Special Guests STITCHED UP HEART
May 2, 2019
7:30 PM
6:30 PM

Tickets are priced at $88.50 $68.50 ($93.50, $73.50 Day of Show) plus applicable fees. Tickets may be purchased online at www.tigerboxofficeplus.ca by phone at 1-877-339-8499, and in person at the Tiger Box Office Plus location at the Encana Events Centre or at Systems Sound Source Ticket Outlet in Fort St. John.

$1 from every ticket purchased (as of Friday, April 12) will now be donated to the Scars Foundation to help raise awareness of the mental health issues that many face today. Established by vocalist/guitarist Sully from our featured band Godmack to help provide tools and resources to help those struggling with mental health. To make a personal donation today check out Their website https://www.godsmack.com/scarsfoundation

Please note that applicable convenience fees and applicable service charges may apply and varies by point of purchase.

Suite Rentals: Tyler Lippingwell 250-795-3308

Photography: NO VIDEO / AUDIO RECORDING PERMITTED

Code of Conduct & Prohibited Items List: Click here to view our list of prohibited items and other frequently asked questions.

Accessibility: Click here for more information about Accessibility

No Smoking and Re-Entry Policy: Click here to view our No Smoking and Re-Entry Policy and other frequently asked questions.

$88.50, $68.50 ($93.50, $73.50 Day of Show)