2015 World Under-17 Hockey Challenge
Dawson Creek - Fort St. John, B.C.
TWO CANADIAN TEAMS GO HEAD-TO-HEAD
IN 2015 WORLD UNDER-17 HOCKEY CHALLENGE OPENER
Full tournament schedule released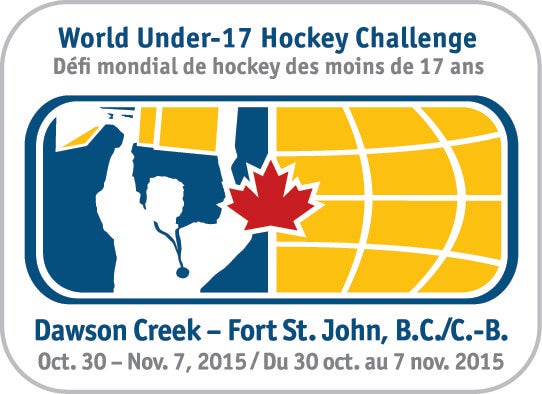 Two Canadian teams – Canada Black and Canada White – will face off in the opening game of the 2015 World Under-17 Hockey Challenge, Oct. 30 – Nov. 7. Hockey Canada, the Canadian Hockey League, and B.C. Hockey released the tournament schedule outlining how the games will be divided between the host cities of Dawson Creek and Fort St. John, B.C.
The 22-game tournament will officially kick off Nov. 1 at the Encana Events Centre in Dawson Creek with Canada Black taking on Canada White, while Canada Red opens its tournament against Finland at the North Peace Arena in Fort St. John. Both cities will also host two pre-tournament games on Oct. 30.
"This tournament is a chance for hockey fans in northern British Columbia to see some of the best young players in the world," said Dean McIntosh, senior director of events and properties with Hockey Canada. "We know the host committees in Dawson Creek and Fort St. John are excited to welcome the hockey world, and the announcement of the schedule gets us that much closer to puck drop."
Single game tickets for the tournament are available online at www.tigerboxxoficeplus.ca by phone at 1-877-339-8499, and in person at the 2 Tiger Box Office Plus locations at the Encana Events Centre and at Tiger Printing & Stationers in Dawson Creek.
Prices for single game tickets will be: $10 exhibition game, $15 preliminary game, $20 quarter-final game, $20 semifinal game and $25 bronze / gold game
Other packages available include the new, $80 evening-only packages which include six games – all with 7 p.m. starts. In addition, A 'Family 4-Pack' (pre-tournament and preliminary round) is also available, starting at $25 for four tickets.
Limited quantities are still available of all ticket packages.
For more information on tickets, including how to purchase, visit www.tigerboxofficeplus.ca.
The host committees also announced that TransCanada Corporation is the first major sponsor to come aboard and support the tournament.
"At TransCanada, we strive to be a good neighbour and a trusted community partner and it is an honour to support local events like the 2015 World Under-17 Hockey Challenge," says Tony Palmer, TransCanada's senior vice-president, stakeholder relations. "We understand that this event will bring significant benefits to Dawson Creek, Fort St. John and surrounding communities, including positive economic impact and a chance to profile B.C.'s northern communities to the rest of Canada. We are thrilled to support this event and look forward to cheering on young athletes."
TransCanada will be the title sponsor of the volunteer program for the tournament. The 2015 World Under-17 Hockey Challenge will require approximately 300 volunteers between the two host cities. More information on the volunteer program will be released locally in the near future.
The three Canadian teams will be joined by the Czech Republic, Finland, Russia, Sweden, and the United States, forming two groups of four teams. All eight teams will qualify for the quarter-finals, with the winners advancing to the semifinals, and losers facing off in placement games.
The four quarter-finals will be held on Thursday, Nov. 5 with two games in Dawson Creek and two games in Fort St. John. Semifinals will be played on Friday, Nov. 6, with one game in each host city.
The gold medal game is Saturday, Nov. 7 in Dawson Creek at 10:30 p.m. ET/7:30 p.m. PT, and will be shown on TSN and RDS, Hockey Canada's official broadcasters, along with the bronze-medal game and the semifinal played in Dawson Creek. All other tournament games, including 12 preliminary-round games, four quarter-finals, two placement games and the semifinal played in Fort St. John, will be available live through FASTHockey webcasts at www.hockeycanada.ca/wu17.
The 2015 World Under-17 Hockey Challenge brings together the top players in the world born in 1999 or later. The under-17 program is the first step in Hockey Canada's Program of Excellence. Many players who compete at the World Under-17 Hockey Challenge go on to represent Canada with the National Men's Under-18 Team, National Junior Team, and National Men's Team.
Since the first World Under-17 Hockey Challenge (then known as the Quebec Esso Cup) in 1986, more than 1,500 NHL draft picks have played in the tournament, including 12 of the last 15 first-overall selections (Ilya Kovalchuk, 2001; Rick Nash, 2002; Marc-André Fleury, 2003; Alexander Ovechkin, 2004; Erik Johnson, 2006; Patrick Kane, 2007; John Tavares, 2009; Taylor Hall, 2010; Ryan Nugent-Hopkins, 2011; Nathan MacKinnon, 2013; Aaron Ekblad, 2014; Connor McDavid, 2015).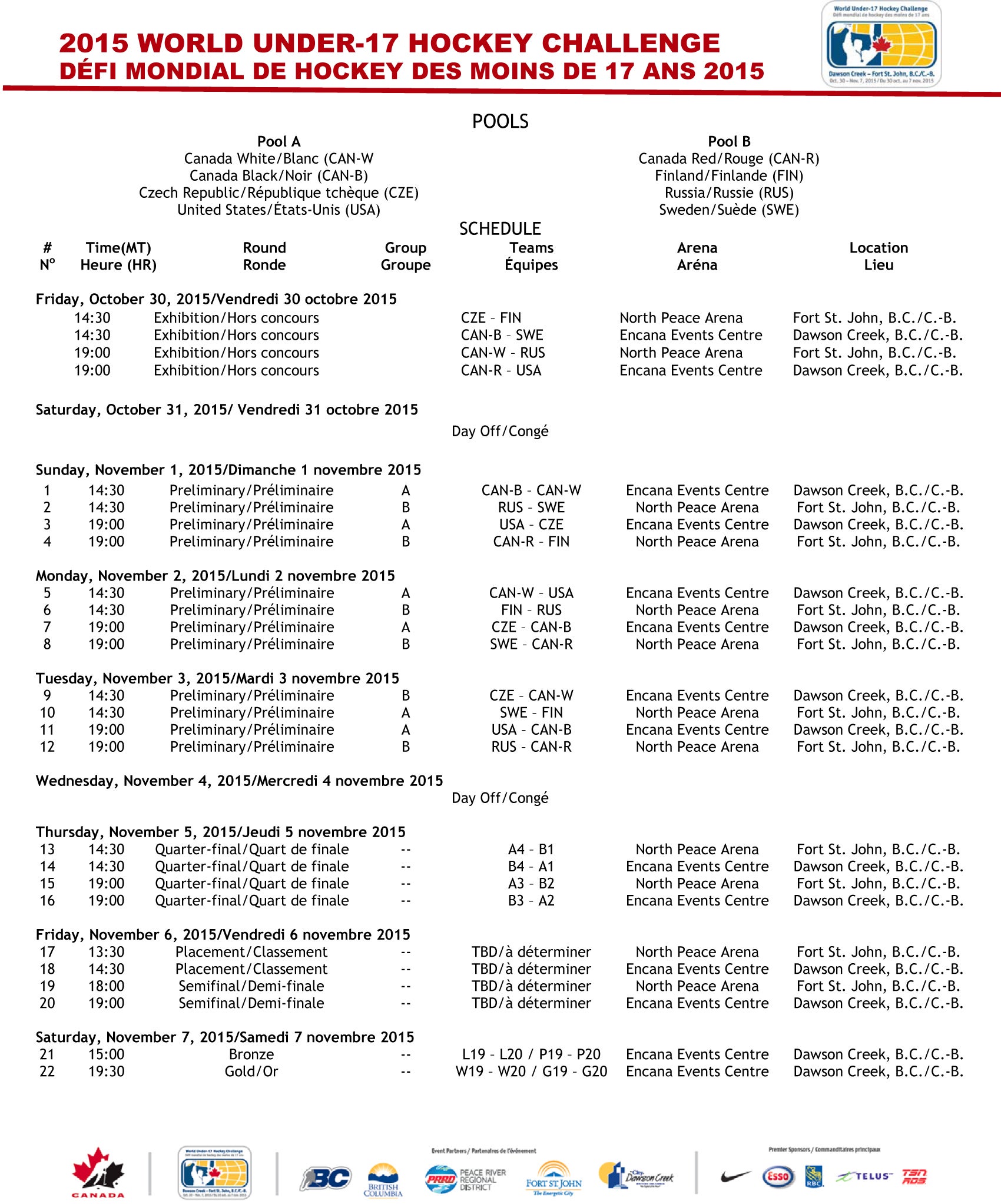 For more information on the 2015 World Under-17 Hockey Challenge, visit www.hockeycanada.ca/wu17 or follow along via social media at www.facebook.com/worldu17 or www.twitter.com/hc_wu17
Follow more Encana Events Centre updates via social media at www.facebook.com/encanaeventscentre, www.twitter.com/EventsCentreDC and www.instagram.com/EventsCentreDC
Showings
Friday, October 30, 2015 TBA
Saturday, October 31, 2015 TBA
Sunday, November 1, 2015 TBA
Monday, November 2, 2015 TBA
Tuesday, November 3, 2015 TBA
Wednesday, November 4, 2015 TBA
Thursday, November 5, 2015 TBA
Friday, November 6, 2015 TBA
Saturday, November 7, 2015 TBA
2015 World Under-17 Hockey Challenge
Dawson Creek - Fort St. John, B.C.
Oct 30 - Nov 7, 2015
1 Hour Prior

24 HOUR HOT DEAL, THAT WON'T LAST LONG!

SEMI & QUARTER FINAL PACKAGE-Available for Dawson Creek evening games only!

Purchase a ticket for the 7pm Semi Final game taking place on Fri, November 6 & receive a ticket for the 7pm Quarter Final Game on Thurs, Nov 5 for FREE!

BRONZE MEDAL PACKAGE

You can purchase two (2) tickets to the Bronze Medal Game on
Sat, November 6 @ 3pm for $40 plus applicable fees.

Don't wait! Purchase your tickets NOW!

Single game tickets for the tournament are available online at www.tigerboxxoficeplus.ca by phone at 1-877-339-8499, and in person at the 3 Tiger Box Office Plus locations at the Encana Events Centre and at Tiger Printing & Stationers in Dawson Creek and at the North Peace Arena.

Prices for single game tickets will be: $10 exhibition game, $15 preliminary game, $20 quarter-final game, $20 semifinal game and $25 bronze / gold game

Other packages available include the new, $80 evening-only packages which include six games – all with 7 p.m. starts. In addition, A 'Family 4-Pack' (pre-tournament and preliminary round) is also available, starting at $25 for four tickets.

Limited quantities are still available of all ticket packages.

Tickets are available at the Tiger Box Office Plus, online at www.tigerboxofficeplus.ca or by phone at 1-877-339-8499.


TICKET POLICY: This ticket is a revocable license granted to the holder to attend the event on the reverse of this ticket and is subject to the following conditions: NO REFUNDS – NO EXCHANGES. Event date, time, location, artists, prices, seating arrangements, and audience capacity are subject to change. Holder voluntarily assumes all risks and danger of personal injuries and all other hazards arising from and incidental to event, whether occurring prior to, during, or after the event without limitation. RAIN OR SHINE. NO RE-ENTRIES.

Early-Bird Package $159.00, Regular Package $179, Evening Package $80, Family 4 Pack $25-$45, Exhibition Game $10, Preliminary Game $15, Quarter-final Game $20, Semifinal Game $20, Bronze or Gold Game $25