WHL Exhibition Series
Edmonton Oil Kings vs Prince George Cougars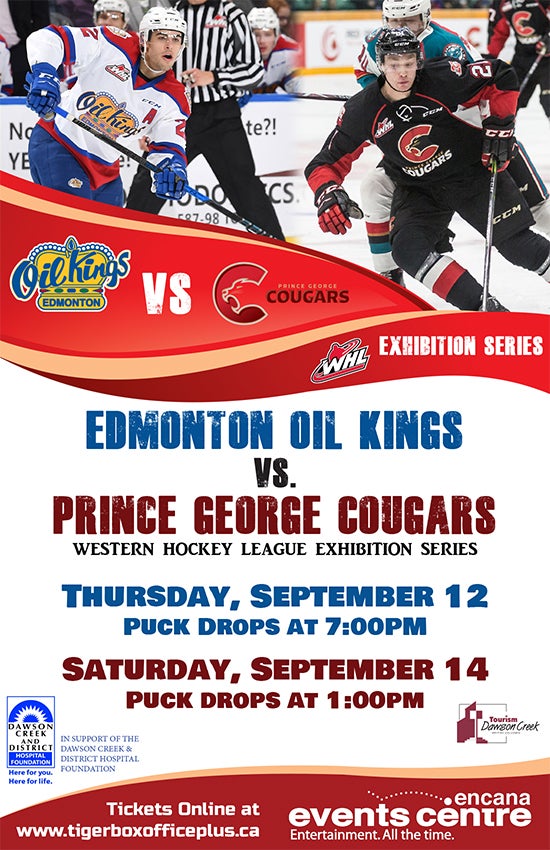 Spectra Venue Management, Operators of Tourism Dawson Creek in partnership with the Edmonton Oil Kings and Prince George Cougars are excited to announce the Western Hockey League Exhibition Series in Dawson Creek at the Encana Events Centre on Thursday, September 12 and Saturday, September 14.
Day of show tickets are $30.00 each. Tickets may be purchased online at www.tigerboxofficeplus.ca by phone at 1-877-339-8499, and in person at the Tiger Box Office Plus locations at the Encana Events Centre in Dawson Creek or the Systems Sound Source Ticket Outlet in Fort St. John.
The Edmonton Oil Kings and the Prince George Cougars will travel to Dawson Creek, BC to play a two-game series at the Encana Events Centre with proceeds heading to the Dawson Creek & District Hospital Foundation.
The Western Hockey League is a major junior hockey league based in Western Canada and Northwestern United States. The WHL is one of three leagues that constitutes the Canadian Hockey League as the highest level of junior hockey in Canada.
WHL Exhibition Series
Edmonton Oil Kings vs Prince George Cougars
Sep 12 - 14, 2019
1 Hour Before Puck Drop

Day of show tickets are $30.00 each. Tickets may be purchased online at www.tigerboxofficeplus.ca by phone at 1-877-339-8499, and in person at the Tiger Box Office Plus locations at the Encana Events Centre in Dawson Creek or the Systems Sound Source Ticket Outlet in Fort St. John.

Please note that applicable convenience fees and applicable service charges may apply and varies by point of purchase.

Suite Rentals: Tyler Lippingwell 250-795-3308

Photography: NO VIDEO / AUDIO RECORDING PERMITTED

Code of Conduct & Prohibited Items List: Click here to view our list of prohibited items and other frequently asked questions.

Accessibility: Click here for more information about Accessibility

No Smoking and Re-Entry Policy: Click here to view our No Smoking and Re-Entry Policy and other frequently asked questions.

Day of show tickets are $30.00 each