The Thank You Canada Tour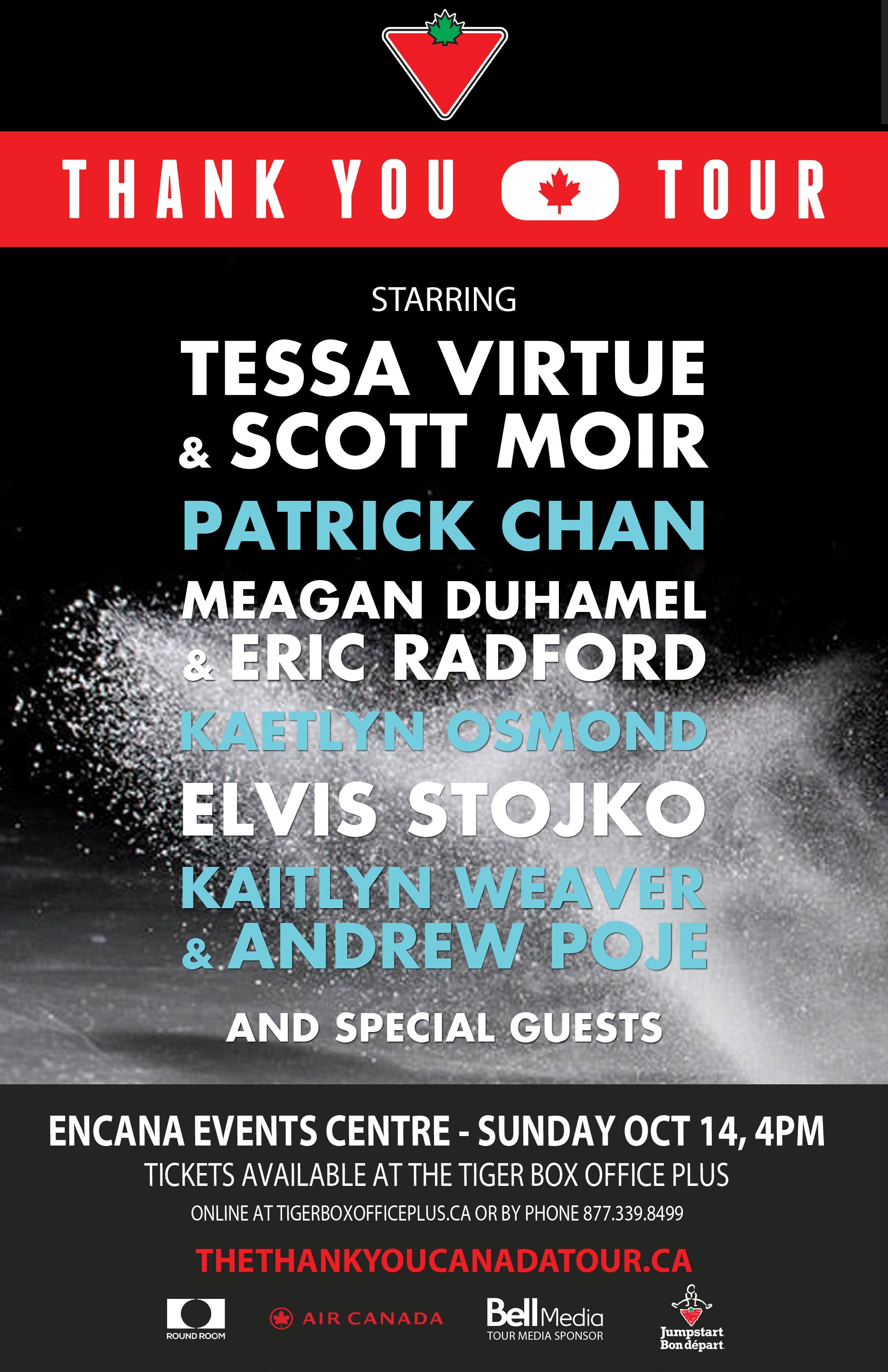 CANADIAN FIGURE SKATING SUPERSTARS
PAY TRIBUTE TO HOME COUNTRY WITH
"THE THANK YOU CANADA TOUR" THIS FALL 2018

Tessa Virtue & Scott Moir along with Patrick Chan, Kaetlyn Osmond, Elvis Stojko, Meagan Duhamel & Eric Radford, and more will bring their new figure skating show to 30 Canadian cities coast-to-coast
TORONTO, ON – Canada has produced the most talented figure skaters in the history of the sport with household names like Virtue, Moir, Chan, Osmond, Stojko and more who have reached the pinnacle of the sport in the Canadian Nationals, World Titles and Olympic Games. As a 'thank you' to their home country, these Canadian greats will embark on The Thank You Canada Tour, presented by Round Room this fall. Tickets will go on sale June 8, 2018 at thethankyoucanadatour.ca.
Launching October 5, 2018 in Abbotsford, BC, the cross-country tour will play in 30 cities including Dawson Creek on October 14, 2018, wrapping up in St. John's, NL. Family, friends and long-time fans will have the special opportunity to see some of their favourite performances that put these Canadian darlings on the top of podiums around the world.
Tickets are priced at $121.75, $91.75, $61.75 and $41.75 plus applicable fees. Tickets may be purchased online at www.tigerboxofficeplus.ca by phone at 1-877-339-8499, and in person at the Tiger Box Office Plus locations at the Encana Events Centre in Dawson Creek or the Systems Sound Source Ticket Outlet in Fort St. John.
The 2018 tour cast features five-time Olympic Medalists, three-time World Champions and eight-time National Champions Tessa Virtue & Scott Moir; three-time Olympic Medalist, three-time World Champion, and ten-time National Champion Patrick Chan; three-time Olympic Medalist, four-time World Medalist, seven-time National Champions Meagan Duhamel & Eric Radford; three-time Olympic Medalist, three-time National Champion, World Champion Kaetlyn Osmond; and two-time Olympic Medalist, three-time World Champion, and seven-time National Champion Elvis Stojko.
Want to meet the stars of the show? When you purchase your ticket to the show, you will have the option to add a Meet & Greet opportunity for $100 (plus s/c)! Limited number available.
You will have the chance to meet the stars of the show, take pictures with a collection of National Champion, World Champion and Olympic medals, competition worn costumes and more!
When you purchase THE THANK YOU CANADA TOUR Meet & Greet Upgrade, you get a once in a lifetime chance to meet and interact with some true Canadian heroes. But that's not all - while you're waiting your turn in line, you'll be able to take some pictures with a collection of National Champion, World Champion and Olympic medals (some of them Gold!), competition worn costumes, and other memorabilia that has never been seen outside of our cast's living rooms or on a TV screen. Each participant needs to have an upgrade ticket. Here's how it works: The Meet & Greet happens at the end of the show where after screaming and clapping all night you'll want some water and we'll have it there for you. You will be in a cue where you'll meet and take pictures with all the available members of that nights cast. To be fair to everyone involved and to make sure that everyone has the best time, we request that you only get ONE item signed and ONE picture taken while you are with the skaters. Meet & Greet Upgrade purchasers should go to the check-in table prior to the event to pick up the Meet & Greet passes and instructions for after the show. We look forward to seeing you after the show! . You must have an event ticket to participate. The event ticket is not included. One (1) upgrade entitles one (1) person to attend.
Group Sales
Looking to purchase 10 or more tickets for you and your group, please click here
The Thank You Canada Tour
Oct 14 , 2018
4:00 PM
3:00 PM

Tickets are priced at $121.75, $91.75, $61.75 and $41.75 plus applicable fees. Tickets may be purchased online at www.tigerboxofficeplus.ca by phone at 1-877-339-8499, and in person at the Tiger Box Office Plus locations at the Encana Events Centre in Dawson Creek or the Systems Sound Source Ticket Outlet in Fort St. John.

Please note that applicable convenience fees and applicable service charges may apply and varies by point of purchase.

Want to meet the stars of the show? When you purchase your ticket to the show, you will have the option to add a Meet & Greet opportunity for $100 (plus s/c)! Limited number available.

You will have the chance to meet the stars of the show, take pictures with a collection of National Champion, World Champion and Olympic medals, competition worn costumes and more!

When you purchase THE THANK YOU CANADA TOUR Meet & Greet Upgrade, you get a once in a lifetime chance to meet and interact with some true Canadian heroes. But that's not all - while you're waiting your turn in line, you'll be able to take some pictures with a collection of National Champion, World Champion and Olympic medals (some of them Gold!), competition worn costumes, and other memorabilia that has never been seen outside of our cast's living rooms or on a TV screen. Each participant needs to have an upgrade ticket. Here's how it works: The Meet & Greet happens at the end of the show where after screaming and clapping all night you'll want some water and we'll have it there for you. You will be in a cue where you'll meet and take pictures with all the available members of that nights cast. To be fair to everyone involved and to make sure that everyone has the best time, we request that you only get ONE item signed and ONE picture taken while you are with the skaters. Meet & Greet Upgrade purchasers should go to the check-in table prior to the event to pick up the Meet & Greet passes and instructions for after the show. We look forward to seeing you after the show! . You must have an event ticket to participate. The event ticket is not included. One (1) upgrade entitles one (1) person to attend.

Suite Rentals: Tyler Lippingwell 250-795-3308

Photography: NO VIDEO / AUDIO RECORDING PERMITTED

Code of Conduct & Prohibited Items List: Click here to view our list of prohibited items and other frequently asked questions.

Accessibility: Click here for more information about Accessibility

Smoking and Re-Entry Policy: Click here to view our Smoking and Re-Entry Policy and other frequently asked questions.

$121.75, $91.75, $61.75, $41.75