Toby Keith
With The Reklaws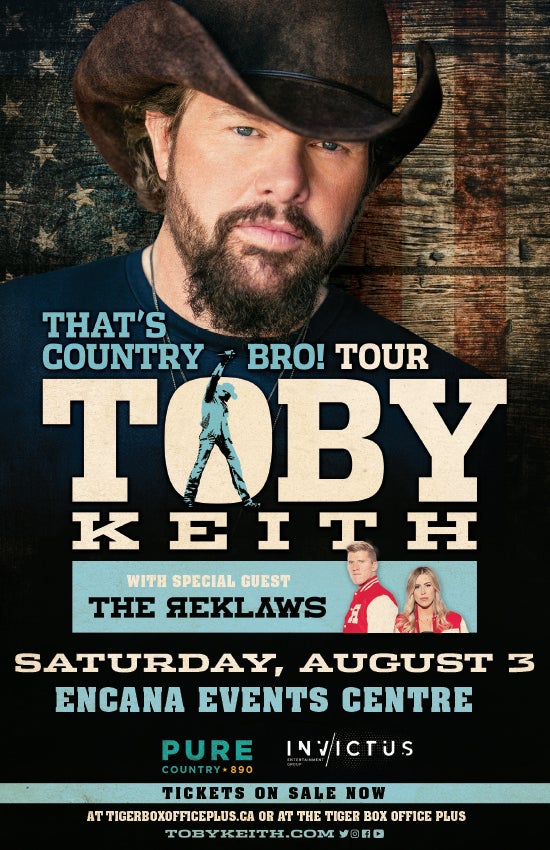 PURE COUNTRY 890 PRESENTS
TOBY KEITH
WITH SPECIAL GUEST THE REKLAWS
SATURDAY, AUGUST 3, 2019
ENCANA EVENTS CENTRE – DAWSON CREEK, BC
Doors: 6:00PM Show: 7:00PM
Charge by Phone 1-877-339-8499
WWW.TIGERBOXOFFICEPLUS.CA
Tickets (incl. GST) $119.00, $99.00 & $79.00 (Plus service charges)
** RESERVED SEATING / ALL AGES**
DAWSON CREEK, BC – Straight from his Big Valley Jamboree appearance, TOBY KEITH will make his way to Dawson Creek on Saturday, August 3, 2019. With over 40 million albums sold and two-time winner of the ACM Entertainer of the Year, Toby brings over 25 years of hit songs like 'Should've Been a Cowboy" and "Red Solo Cup" and will provide a great night at the Encana Events Centre.
Joining Toby Keith on the stop will be Canada's very own The Reklaws. This Rising Star of the Year Award-winning brother-sister duo includes Jenna and Stuart Walker. With the most streamed single of the year "Long Live The Night", The Reklaws are soon to be the superstars of Canadian country music.
Tickets are priced at $119.00, $99.00 and $79.00 plus applicable fees. Tickets may be purchased online at www.tigerboxofficeplus.ca by phone at 1-877-339-8499, and in person at the Tiger Box Office Plus locations at the Encana Events Centre in Dawson Creek or the Systems Sound Source Ticket Outlet in Fort St. John.
About Toby Keith
The familiar maxim of the triple threat – singer, songwriter, musician – doesn't begin to cover it for Toby Keith, one of the modern era's most complete self-directed hit makers. And Keith's most recent months are a remarkably accurate representation of his entire career. At the close of 2018, he celebrated the 25th anniversary of his debut No. 1 single, "Should've Been A Cowboy" with the re-release of his debut album (remastered with the addition of three vault tracks), a week of events in Nashville including a BMI event to commemorate the milestone, two shows at the historic Grand Ole Opry, and a performance at the Nashville Symphony Ball where he received the prestigious Harmony Award.
Keith also released a new song, "Don't Let The Old Man In," which was inspired by a conversation he had with Clint Eastwood and was later featured in Eastwood's movie, "The Mule." Rounding out the year full of music-related accomplishments was his 15th Annual Toby Keith & Friends Golf Classic which raised more than $1 million, bringing the annual event's total funds raised to $12.4 million, to support the charitable endeavors of The Toby Keith Foundation which includes aiding sick children and their families in Oklahoma. Toby also honored the 25th anniversary of the release of his debut single with his aptly-named tour "Should've Been A Cowboy XXV Tour." From the moment that song was released and shot up the charts to become his first No. 1, the engine driving everything has been the music. He writes it. He arranges and produces it. And he releases it on his own record label, Show Dog Nashville.
At the core is his songwriting, as recognized in his 2015 induction into the Songwriters Hall Of Fame in New York City. That year Robert Hunter and Jerry Garcia of the Grateful Dead, Willie Dixon, and other songwriters from all genres of music were also included in his induction class. The Nashville Songwriters Association International named him Songwriter/Artist of the Decade and he is a three-time BMI Country Songwriter/Artist of the Year. His songs have received more than 92 million BMI performances on commercial radio stations worldwide, making him the organization's top country songwriter in terrestrial country radio.
Keith's albums have sold more than 40 million copies. His tours have drawn more than a million fans each year for more than a decade straight, with recent expansion into Europe and Australia. The awards are too numerous to count and include Artist of the Decade nods from Billboard and the American Country Awards, as well as the ACM's Career Achievement honor, Poet's Award recipient, and twice their Entertainer of the Year award winner in back-to-back years.
A musician's musician, he was a last-minute illness stand-in for the late Merle Haggard a few years back and responded to Merle's query about which of the legend's songs Keith knew and could cover with, "All of 'em." And there have been some unexpected highlights along the way as well, including country's most impactful viral event, "Red Solo Cup," the video for which has received more than 50 million views and was named ACM Video of the Year.
Outside of music, his successes carry through to business endeavors including Wild Shot, his premium mezcal liquor products, and I Love This Bar and Grill restaurants including the original location which has been operating for more than a decade on the famed Las Vegas Strip.
Toby's most rewarding experiences, however, have come from giving back locally, nationally and abroad. His golf classics fund The Toby Keith Foundation 2 and OK Kids Korral, a cost-free home for families of children dealing with critical illnesses. His 11 USO Tours to date have enhanced the lives of nearly 256,000 troops and military families in 18 countries with more than 285 events and have been recognized with the Spirit of the USO Award (2014). Many songs Keith has written while on the USO Tours for the military are featured on his 2017 album The Bus Songs, a 12-song collection of humorous, just-for-fun compositions that set a Billboard Comedy Albums chart record for a country artist by holding the No. 1 spot for 11 consecutive weeks. And when a tornado ravaged his hometown, Toby Keith was the face of the community and helped shoulder the cleanup with the 2013 OK Twister Relief Concert. Triple threat? How about singer, songwriter, musician, producer, entertainer, humanitarian, Oklahoman and patriot. For starters.
About The Reklaws
Raised in rural Ontario, The Reklaws are comprised of the brother-sister duo Jenna and Stuart Walker. The Reklaws (Walker backwards) began to turn heads in 2012 when they were awarded the CCMA Discovery Artist title followed by the 2013 Boots & Hearts Emerging Artist Showcase title. Since then, they have shared the stage with some of country's best including Luke Bryan, Blake Shelton, Dierks Bentley, Brothers Osborne, Thomas Rhett and more.
The pair have spent long hours in Nashville crafting their songs and their efforts have paid off as they came back with an infectious sound, with an authentic mix of pop and country and a "soundtrack-to-your-summer" vibe. The Reklaws took the summer of 2017 by storm with their major label debut with Universal Music Canada and release of their debut single "Hometown Kids" which quickly charted at #15. As a follow up, their chart-rattling lead single and title track from their EP, "Long Live The Night", has been the most streamed song in all of Canadian country music released this year, hit top five on Canadian Country Radio charts, hit gold certification and was named as the official theme song for CFL's Thursday Night Football on TSN.
The title track to their debut EP, Feels Like That, recently hit number one on the Canadian Country Airplay charts, a milestone for the band as their first number one hit. The Feels Like That EP was also nominated for Country Album of the Year for the 2019 JUNO Awards taking place this March in London, Ontario. Stay tuned for much more to come as The Reklaws continue to solidify themselves as the next superstars in country music.
Toby Keith
With The Reklaws
Aug 3, 2019
7:00 PM
6:00 PM

Tickets are priced at $119.00, $99.00 and $79.00 plus applicable fees. Tickets may be purchased online at www.tigerboxofficeplus.ca by phone at 1-877-339-8499, and in person at the Tiger Box Office Plus locations at the Encana Events Centre in Dawson Creek or the Systems Sound Source Ticket Outlet in Fort St. John.

Please note that applicable convenience fees and applicable service charges may apply and varies by point of purchase.

Suite Rentals: Tyler Lippingwell 250-795-3308

Photography: NO VIDEO / AUDIO RECORDING PERMITTED

Code of Conduct & Prohibited Items List: Click here to view our list of prohibited items and other frequently asked questions.

Accessibility: Click here for more information about Accessibility

No Smoking and Re-Entry Policy: Click here to view our No Smoking and Re-Entry Policy and other frequently asked questions.

$119.00, $99.00, $79.00