The Hip Show - The Tragically Hip Tribute Band
Presented by Pomeroy Inn and Suites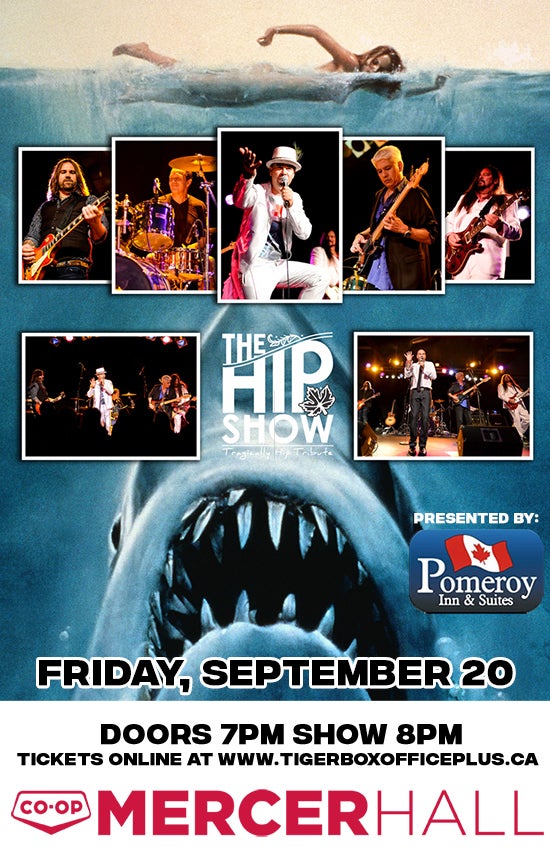 The Hip Show have established themselves as the Canada's most authentic sounding, looking and entertaining Tragically Hip tribute band.
With dynamic, dramatic, ragged dual guitar-powered barnburners like Fully Completely, to layered, enigmatic, sonically expansive acoustic laden progressions like Ahead By Century, The Hip Show's homage to Canada's most beloved band has been captivating audiences across the country since 2008, capturing the sound and spirit of Downie's trademark vocals and the band's unique musical interplay.
Presented by Pomeroy Inn and Suites - Tickets are on sale at www.tigerboxofficeplus.ca, by phone at 1-877-339-8499, at the Tiger Box Office Plus at the Encana Events Centre.
Tier 1 Pricing - Until August 15
$40.00 - General Admission Tickets PLUS 1 Drink Voucher (Redeemable for one draft beer or non-alcoholic beverage)
$60.00 - 2 General Admission Tickets PLUS 2 Drink Vouchers (Redeemable for one draft beer or non-alcoholic beverage)
$320.00 - Reserved Table of 8 PLUS 8 Drink Vouchers (Redeemable for one draft beer or non-alcoholic beverage)
Tier 2 Pricing - August 16 - September 19
$44.50 - General Admission Tickets
$67.00 - 2 General Admission Tickets
$356.00 - Reserved Table of 8 PLUS 8 Drink Vouchers (Redeemable for one draft beer or non-alcoholic beverage)
Tier 3 Pricing - DAY OF SHOW
$49.75 - General Admission Tickets
The Hip Show - The Tragically Hip Tribute Band
Presented by Pomeroy Inn and Suites
Sep 20, 2019
8:00 PM
7:00 PM

Tickets are on sale at www.tigerboxofficeplus.ca, by phone at 1-877-339-8499, at the Tiger Box Office Plus at the Encana Events Centre.

Tier 1 Pricing - Until August 15

$40.00 - General Admission Tickets PLUS 1 Drink Voucher (Redeemable for one draft beer or non-alcoholic beverage)
$60.00 - 2 General Admission Tickets PLUS 2 Drink Vouchers (Redeemable for one draft beer or non-alcoholic beverage)
$320.00 - Reserved Table of 8 PLUS 8 Drink Vouchers (Redeemable for one draft beer or non-alcoholic beverage)

Tier 2 Pricing - August 16 - September 19

$44.50 - General Admission Tickets
$67.00 - 2 General Admission Tickets
$356.00 - Reserved Table of 8 PLUS 8 Drink Vouchers (Redeemable for one draft beer or non-alcoholic beverage)

Tier 3 Pricing - DAY OF SHOW

$49.75 - General Admission Tickets

$40.00, $60.00, $320.00