Sweetwater 905 Arts and Music Festival
1.5 miles west of Rolla BC
Tickets are available at the Gate or at the Rolla Store - head to http://www.sweetwater905.com/ for all the details including line-up and schedule!
2017 will be another spectacular YEAR of music, literary, visual and performance art, and farm demonstrations.

Located 1.5 miles west of Rolla BC and 16 kms north of Dawson Creek, on the sprawling pastoral home and working ranch of the Mattsons, Sweetwater905 brings together a wide range of talent from the community, the province, and beyond.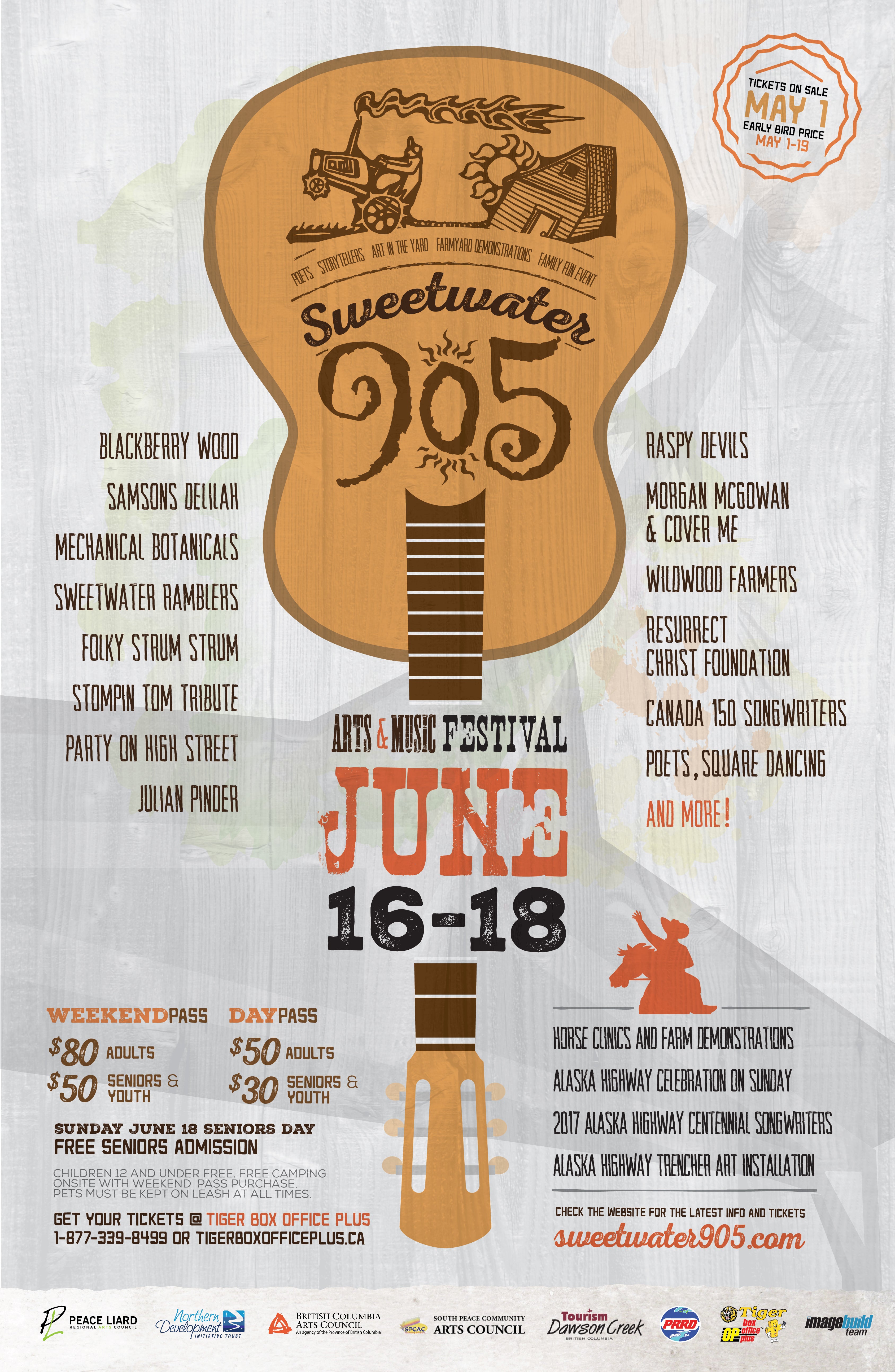 ​​
Schedule of events happening at Sweetwater905 this weekend!!!
Music schedule
FRIDAY
4:00 Revolution Sonics
5:00 Mechanical Botanicals
6:30 Raspy Devils
7:15 Sweetwater Ramblers
8:00 Stompin Tom tribute
8:45 Temujin
9:30 Blackberry Wood
10:30 Morgan Mcgowan
11:30 Party on High St
SATURDAY
10:00 Open Mic
11:00 Revolution Sonics
11:45 Tim Bennett
12:45 Raspy Devils
Stage break – music in Farmyard
3:45 Wild wood Farmers
4:30 Back Porch Swing
5:15 Sweetwater Ramblers
6:00 Mechanical Botanicals
6:45 Party on High St
7:30 Stompin Tom Tribute
8:15 Folky Strum Strum
9:15 Scott Dunbar
10:00 Samsons Delilah
11:00 Resurrect Christ Foundation
11:30 Blackberry Wood

SUNDAY
10:00 Gospel
10:30 Potluck Singers
11:30 Alaska Hwy Songwriters
Virginia Carraway Stark
Bill Dolan and Justin Michael Taylor
Barb Munro
Karree Philips
Dori Braun
Randy Jorgenson
Iyan Bruvold
3:30 Tim Bennet
4:00 Sweetwater Ramblers
4:30 Sampson's Delilah
5:00 Back Porch Swing

Alberts Loft
Saturday
1:30 Film Jesus Town USA by Julian Pinder
Sunday
11:30 Film by Julian Pinder
​6:00 Welsh film
Farm Yard
Petting Zoo & Farm Demonstrations throughout the weekend
Saturday
9am Yoga in the farm yard
3:30- Farm auction
Sunday
9am Yoga in the farm yard
ART in the Barn & the Farm Yard
Friday
Art in the Barn Opening at 7pm
Saturday
11- 2 Art in the Yard Plein Air Art Making
12:30- wine and snacks at Art in the Barn
1:00 Raku demonstration and loading into Kiln Kiln unloaded at 3:15
Showings
Friday, June 16, 2017 TBA
Saturday, June 17, 2017 TBA
Sunday, June 18, 2017 TBA
Sweetwater 905 Arts and Music Festival
1.5 miles west of Rolla BC
Jun 16 - 18, 2017

Tickets are available at the Gate or at the Rolla Store

Weekend Pass
Adult $80.00
Seniors & Youth $50.00

Day Pass
Adult $50.00
Seniors & Youth $30.00

Children 12 and under are free accompanied by a paid adult. Free camping on site with weekend pass purchase. Pets must be kept on a leash at all times.

Check www.sweetwater905.com for the latest info!