Flatley Lord of the Dance
Dangerous Games
Lord Of The Dance: Dangerous Games is a spectacular new staging of the much-loved traditional master piece. The show stars James Keegan, Morgan Comer, Mathew Smith, Cathal Keaney, Fergal Keaney and Andras Kren as the "Lords of the Dance" and is choreographed and directed by Michael Flatley.
"I'm blown away by the remarkable talent and abilities of the great cast we've gathered" says Michael.
With all the visceral precision and thrills of the original, Lord of the Dance: Dangerous Games features new staging, new costumes and choreography. With 40 of the world's most outstanding young performers directed by Michael, and new music by composer Gerard Fahy, this latest iteration combines the best of tradition with all the excitement of new music and dance.
Tickets are priced at $80.00, $70.00, $60.00 and $50.00 plus applicable fees. Tickets may be purchased online at www.tigerboxofficeplus.ca by phone at 1-877-339-8499, and in person at the 2 Tiger Box Office Plus locations at the Encana Events Centre and at Tiger Printing & Stationers.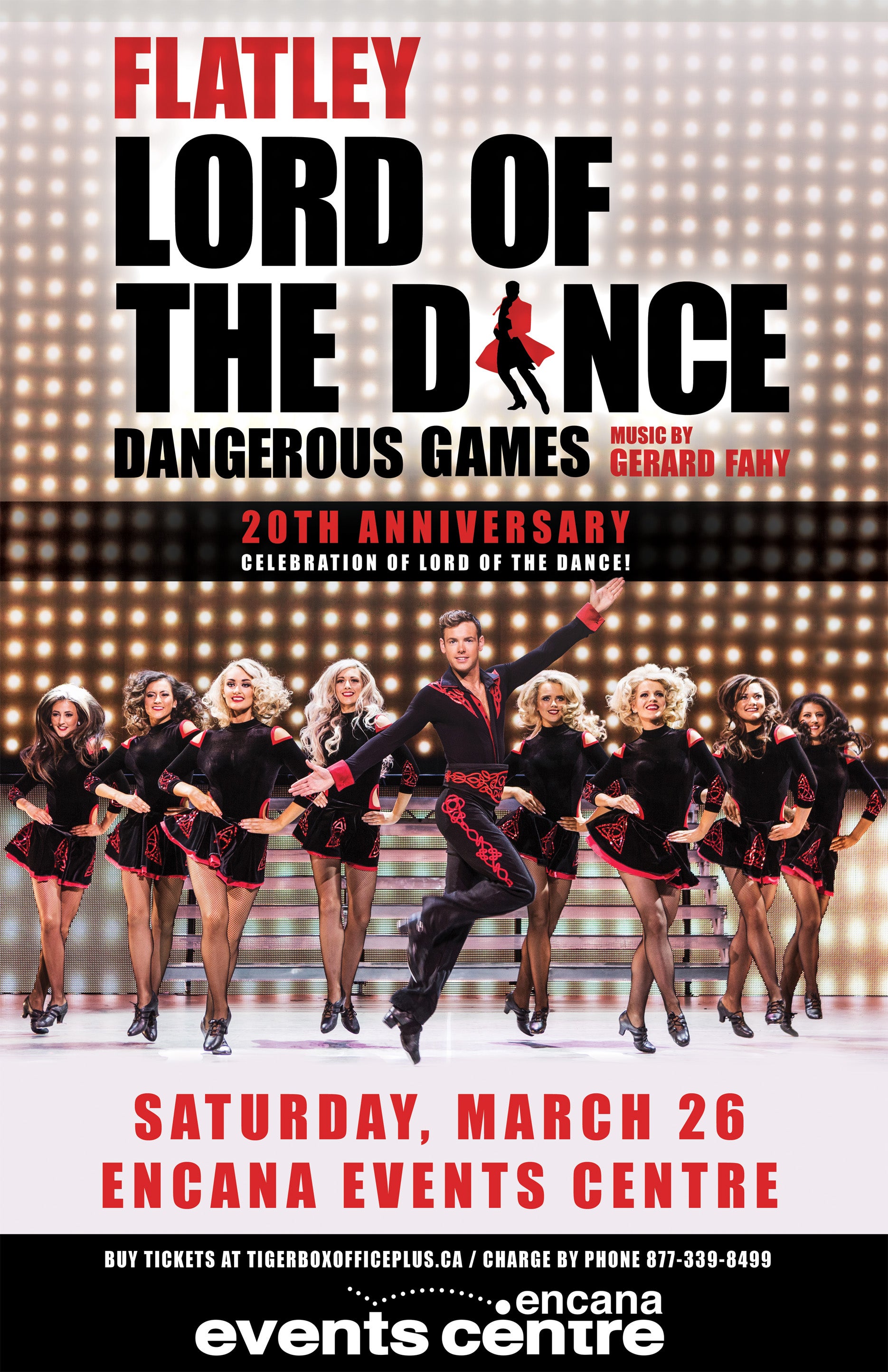 Flatley Lord of the Dance
Dangerous Games
Mar 26, 2016
7:30 PM
6:30

Tickets are priced at $80.00, $70.00, $60.00 and $50.00 plus applicable fees. Tickets may be purchased online at www.tigerboxofficeplus.ca by phone at 1-877-339-8499, and in person at the 2 Tiger Box Office Plus locations at the Encana Events Centre and at Tiger Printing & Stationers.


Suite Rentals: Jerimy Earl (250) 795-3308

Photography: NO CAMERAS / VIDEO / AUDIO RECORDING PERMITTED

Code of Conduct & Prohibited Items List: Click here to view our list of prohibited items and other frequently asked questions.

Accessibility: Click here for more information about Accessibility

Smoking and Re-Entry Policy: Click here to view our Smoking and Re-Entry Policy and other frequently asked questions.

$80.00, $70.00, $60.00, $50.00