Johnny Reid
Love Someone Tour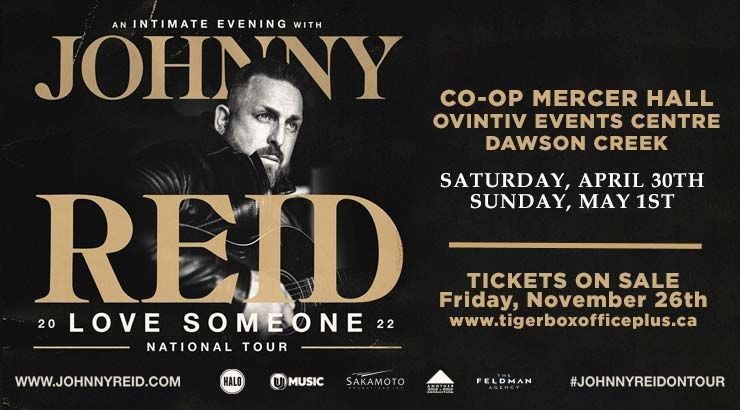 April 30th & May 1st
Co-op Mercer Hall
Ovintiv Events Centre
**SATURDAY, APRIL 30TH SHOW HAS SOLD OUT!**
The Tour Is Set to Be One of The Longest Running Artist Tours in Canadian History!
Toronto, ON – Today, Multi-Platinum, award winning artist Johnny Reid announced his 2022 Canadian tour, Love Someone: An Intimate Evening with Johnny Reid. The national tour kicks off on February 10 in London, ON at Centennial Hall and is set to be one of the longest running artist tours in Canadian history with over one hundred shows once all tour dates are announced. Boasting a stripped-down set and stops in smaller communities that rarely get to see an artist of Reid's caliber during a National tour, Reid is making it his mission to connect directly with fans across the country.
---
ABOUT CO-OP MERCER HALL
Co-op Mercer Hall—named partly after Dawson Creek namesake George Mercer Dawson and its naming rights partner Dawson Co-op, —is a 5,500-square foot multipurpose space in the Ovintiv Events Centre that hosts meetings, conventions, wedding receptions and smaller events that are not a fit for the arena.
Johnny Reid
Love Someone Tour
Apr 30 - May 1, 2022
6:30 p.m. Enter through lower lobby doors of the Ovintiv Events Centre

Tickets are priced at *$89.50 plus applicable fees. Tickets may be purchased online at www.tigerboxofficeplus.ca by phone at 250-782-7443

*Please note that applicable convenience fees and applicable service charges may apply and varies by point of purchase.

All reserved seating - $89.50 plus applicable fees