41st Annual Gun Show and Sportsman Show
Presented by the Dawson Creek Sportsman's Club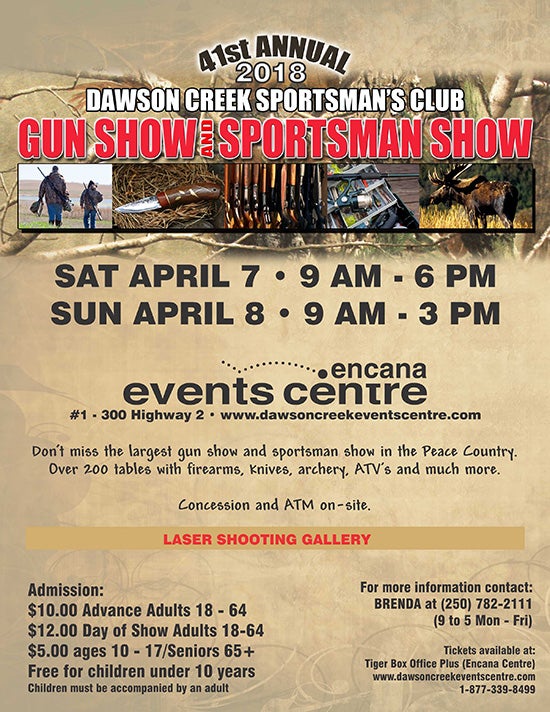 Dawson Creek Sportsman's Club will once again take over the Encana Events Centre on April 7 and 8, 2018 as they put on the 41st Annual Gun Show and Sportsman Show.
Tickets may be purchased online at www.tigerboxofficeplus.ca, by phone at 1-877-339-8499, and in person at the Tiger Box Office Plus in the Encana Events Centre.
This event attracts vendors and people from all over the region. The organizers expect over 200 tables with such goods as firearms, knives, archery, ATV's and more. This is the largest gun show and sportsman show in the Peace Country.
41st Annual Gun Show and Sportsman Show
Presented by the Dawson Creek Sportsman's Club
Apr 7 - 8 , 2018
9:00 A.M.

Tickets may be purchased online at www.tigerboxofficeplus.ca, by phone at 1-877-339-8499, and in person at the Tiger Box Office Plus location in the Encana Events Centre


$10.00 Adults 18-64 - Advance Purchase

$12.00 Adults 18-64 - Day of Show Purchase

$5 Youth 10-17

$5 Seniors 65+

9 and under are FREE - Children must be accompanied by an adult.

Please note that applicable convenience fees and applicable service charges may apply and varies by point of purchase.

Code of Conduct & Prohibited Items List: Click here to view our list of prohibited items and other frequently asked questions.

Accessibility: Click here for more information about Accessibility

Smoking and Re-Entry Policy: Click here to view our Smoking and Re-Entry Policy and other frequently asked questions.

$10 in Advance, $12 Day of Show, $5 ages 10-17/Seniors 65+, Free for children 9 years and younger