Grizfest Music Festival
Tumbler Ridge, BC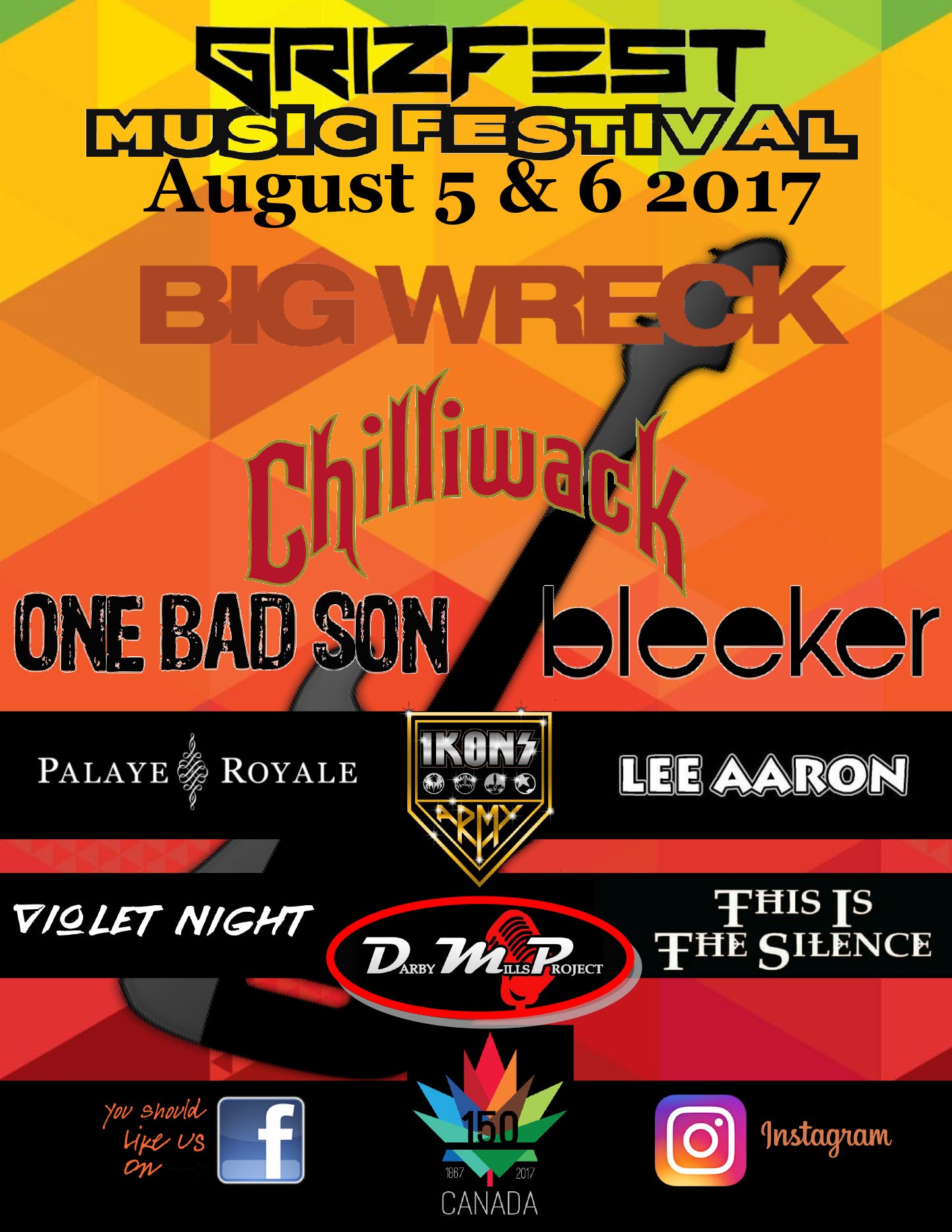 GRIZFEST brings you music from traditional to the edge of experimental. Focusing on Canadian talent the festival is a blend of various musical styles for your listening pleasure.
GRIZFEST is unsurpassed in its beautiful mountain setting, great music and a community who is committed to the success of the festival.
Reflecting Tumbler Ridge's community spirit, the festival is a family-oriented event that includes a wide variety of activities.
The festival is always held on the August long weekend (Saturday and Sunday).
Come for the music and stay for the adventure of Tumbler Ridge.
Saturday
Chilliwack
One Bad Son
Ikons
Darby Mills project
Violet Night
Sunday
Big Wreck
bleeker
Palaye Royale
Lee Aaron
This Is The Silence
Tickets on sale at www.tigerboxofficeplus.ca or call 250-782-7443. For Camping reservations call 250-257-4148
**Don't forget to bring your own chair**
Let us help you with what to expect and what to bring to GRIZFEST.
The festival is held in the Tumbler Ridge Secondary School Field just below the downtown core and directly off Southgate. The festival is within walking distance of the main street, restaurants and hotels. GRIZFEST is a festival with a diverse music selection, where everyone will find something to suit his or her listening pleasure.
For camping reservations, please call 250-242-4246
*Line Up Subject to Change
Showings
Saturday, August 5, 2017 TBA
Sunday, August 6, 2017 TBA
Grizfest Music Festival
Tumbler Ridge, BC
Aug 5 - 6 , 2017

Tickets may be purchased online at www.tigerboxofficeplus.ca by phone at 1-877-339-8499, and in person at the Tiger Box Office Plus location at the Encana Events Centre

Advance Pricing

VIP Weekend Pass - $260.00

Must be 19+ to purchase VIP Weekend Pass

Family Package (2 adult + 2 youth weekend pass) - $260.00

Adult Weekend Pass - $110.00

Youth (7-18) Weekend Pass - $75.00

Senior (65+) Weekend Pass - $75.00

Kids under 7 are free with paid accompanied adult/senior

Adult Day Pass - $65.00

Youth (7-18) Day Pass - $45.00

Senior (65+) Day Pass - $45.00