Bob Dylan
and His Band!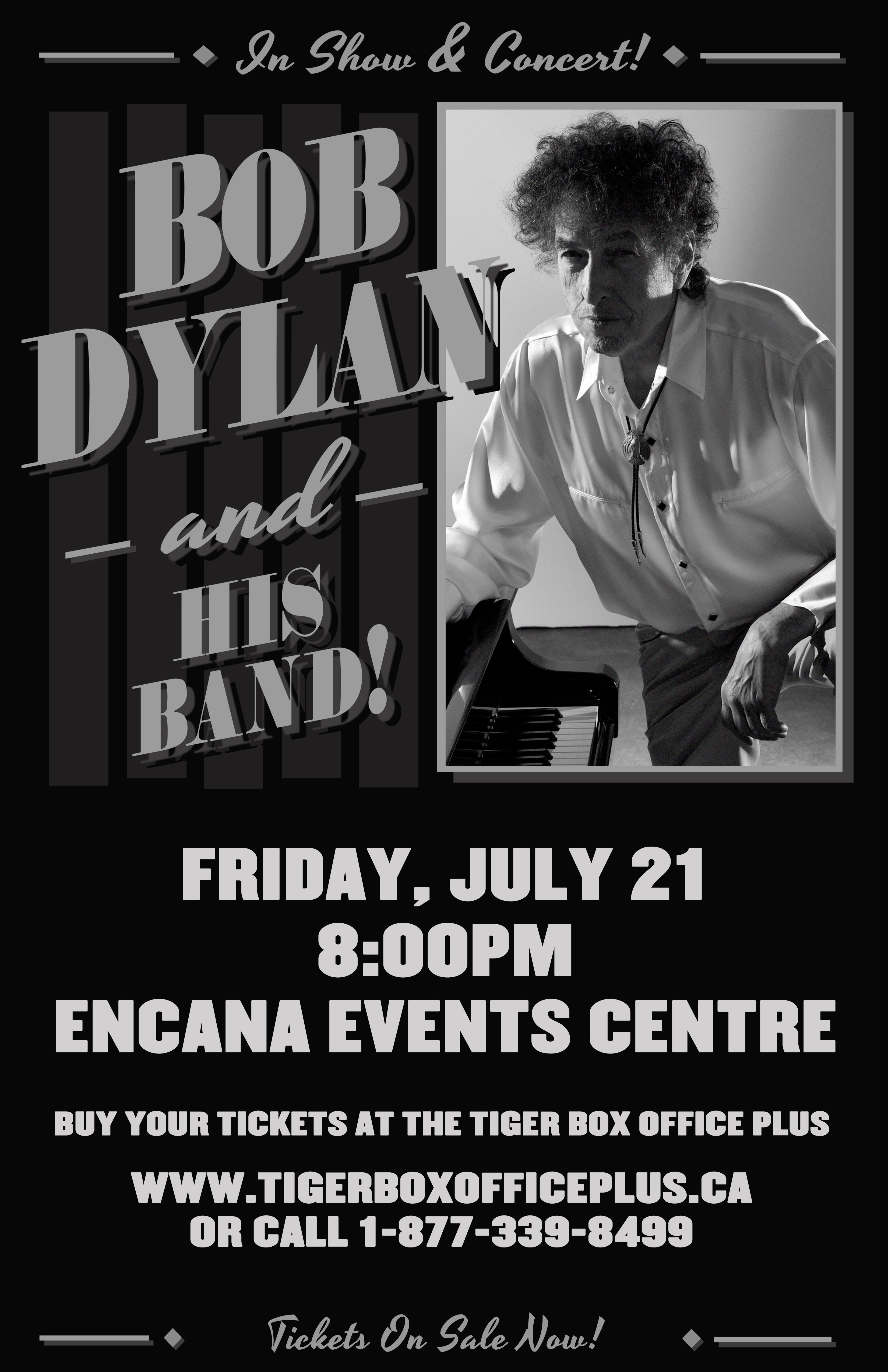 Bob Dylan
and His Band!
Friday, July 21, 2017
Encana Events Centre, Dawson Creek, BC
Doors: 7:00PM Show: 8:00PM
Purchase tickets by calling 1-877-339-8499, at tigerboxofficeplus.ca or
In person at the Tiger Box Office Plus at the Encana Events Centre
$85.00 and $69.00 – Plus Applicable Fees
Reserved Seating

Presented by Invictus Entertainment Group
​
Experience the Laureate Lounge Pre-Show Event! Join us for a pre-concert meal which includes: Smoke Spare Ribs, Corn on the Cob, Mac n' Cheese, Southern Style Greens, Corn Bread and Peaches & Cream. Plus access to a cash bar with beer, wine & spirits. CLICK HERE to PURCHASE!! **Must have tickets to the concert to attend the lounge.
Bob Dylan
and His Band!
Jul 21, 2017
8:00 PM
7:00 PM

Tickets are priced at $85.00 and $69.00 plus applicable fees.

Purchase tickets by calling 1-877-339-8499, at tigerboxofficeplus.ca or

In person at the Tiger Box Office Plus at the Encana Events Centre


Please note that applicable convenience fees and applicable service charges may apply and varies by point of purchase.

Suite Rentals: Jerimy Earl 250-795-3308

Photography: NO CAMERAS / VIDEO / AUDIO RECORDING PERMITTED

Code of Conduct & Prohibited Items List: Click here to view our list of prohibited items and other frequently asked questions.

Accessibility: Click here for more information about Accessibility

Smoking and Re-Entry Policy: Click here to view our Smoking and Re-Entry Policy and other frequently asked questions.

$85.00, $69.00