2019 Health, Wellness and Lifestyle Expo
FEBRUARY 16th 10:00 a.m. - 4:00 p.m.
Presented by the Dawson Creek Co-op, the 2019 Health, Wellness & Lifestyle Expo is featuring Tommy Europe: Best known as the tough love television host of the 'Last 10 Pounds Bootcamp' and 'Bulging Brides', Tommy Europe is Canada's most recognized Health & Fitness Coach!
Tommy is a CFL Grey Cup Champion, a frequent media commentator, best-selling author, award-winning coach and inspiring keynote speaker. Tommy will be speaking twice at the Expo in Co-op Mercer Hall:
11:00 a.m. - Healthy Body...Healthy Mind
2:00 p.m. - S.H.R.E.D.
Read more about Tommy Europe here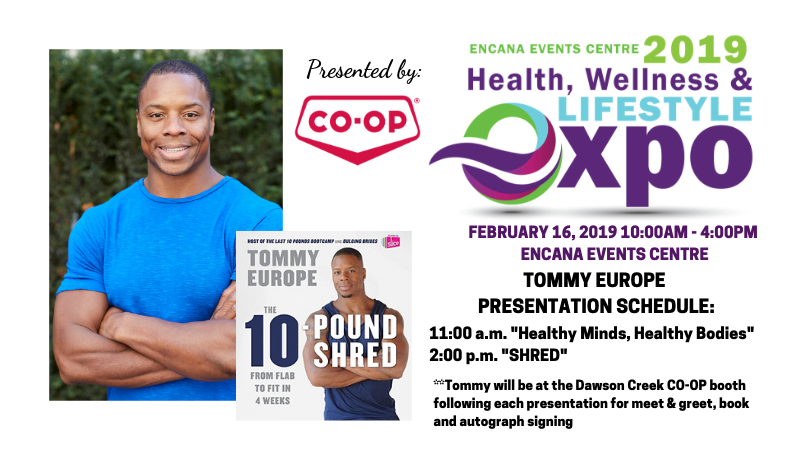 Are you interested in becoming a vendor for the Expo?
VENDOR INFORMATION
For more information please contact Expo Organizer:
Judy Kucharuk, Manager of Special Events
[email protected]
250-784-4237
---
APPROVED VENDORS (ADDING MORE DAILY!)
Isotonix Advanced Nutraceuticals
Isagenix
Dawson Creek Triathalon
Tower Gardens by Juice Plus +
Happy on Main Metaphysical Centre
Dawson Creek & District Hospital Foundation
Deep Physio
Dawson Creek KidSport
Simply Delish Soup & Salad
June & January Jewelry
Modere
Soothe it Natural
Kontinuum Naturopathic Medicine
Telus
Misty Meadows Soap
The Healing Hub
Young Living
True North Fitness
Rebel Fitness
Rainbow
Back to Nature with Essential Oils Skin & Body Products
Arbonne
Pampered Chef
Voxxlife
Oak Naturopathic Clinic
Embrace the Burn Fitness
Epicure
Corissa Feenstra Sleep Consulting
Crystal Wilson Designs
Jenns Intuitive Network
South Peace Chiropractic
Lake View Credit Union
Credential Wealth Management
Dawson Creek Booster Juice
Dawson Creek Chopped Leaf
Dawson Creek Co-op Food Store
Positive Living North NEBC
Community Opiod Action Team
Fitness 4 Life
Rodan & Fields
City of Dawson Creek
Glory for Education
Ideal Life Weight Loss
Claudia's Healing Hands
Established Boutique
MileZero Academy
TruFresh Meal Corp.
Life Vantage
Uniglobe Phillips Travel
Natures Way Holistic Health Centre
The Herbal Goose - Cannabis Educators
Zyia Active
CST Consultants Inc.
Tiber with Rhythm
Gentle Beginnings Birth & Infant Sleep Support
Better At Home



2019 Health, Wellness and Lifestyle Expo
FEBRUARY 16th 10:00 a.m. - 4:00 p.m.
Feb 16, 2019
10:00 AM
10:00 a.m. - 4:00 p.m.

Expo tickets are available the Day of Show

$5.00 admission (children 12 and under are free)

$5.00