2017 World Under-17 Hockey Challenge
Hosted by DAWSON CREEK AND FORT ST. JOHN
Excitement is building in B.C. as the World Under-17 Hockey Challenge returns to Dawson Creek and Fort St. John for the second time in three years. This year's edition of Canada's premiere showcase of the best 16-year-old players is Nov. 5-11, 2017, at the Encana Events Centre in Dawson Creek and the North Peace Arena in Fort St. John.
Single game tickets are available to be purchased online at www.tigerboxofficeplus.ca, www.hockeycanada.ca/wu17, by phone at 1-877-339-8499 and in person at the Tiger Box Office Plus at the Encana Events Centre or at the North Peace Arena.
TICKET PRICES: Per game, per city
Exhibition $5.00
Preliminary $15.00
Quarter Finals $20.00
Placement $20.00
Semi Final $25.00
Bronze $25.00
Gold $30.00
Ticket prices subject to applicable fees.
In partnership with the Canadian Hockey League, BC Hockey, and Hockey Canada, the 22-game tournament will include Team Canada Black, Team Canada Red, and Team Canada White will be joined by players from the Czech Republic, Finland, Russia, Sweden, and the United States.
Last year's silver-medallists, Team Canada Black, will open the tournament Nov. 5 at the Encana Events Centre at 2:30 p.m. PT (5:30 p.m. ET) when they play Team Canada White. Sweden, last year's gold-medallists, will wrap up opening day against Russia in Fort St. John. On Nov. 11, the bronze-medal game followed by the gold-medal game will be played at the Encana Events Centre. TSN and RDS, the official broadcasters for Hockey Canada will carry select games including the gold-medal game; exact broadcast details will be available closer to the event.
Prior to puck-drop on Nov. 5, fans will get an early look at the competition and future stars of the game as both communities will host two exhibition games each on Nov. 2.
For more information on the 2017 World Under-17 Hockey Challenge, visit www.hockeycanada.ca/wu17 or follow along via social media at www.facebook.com/worldu17 or www.twitter.com/hc_wu17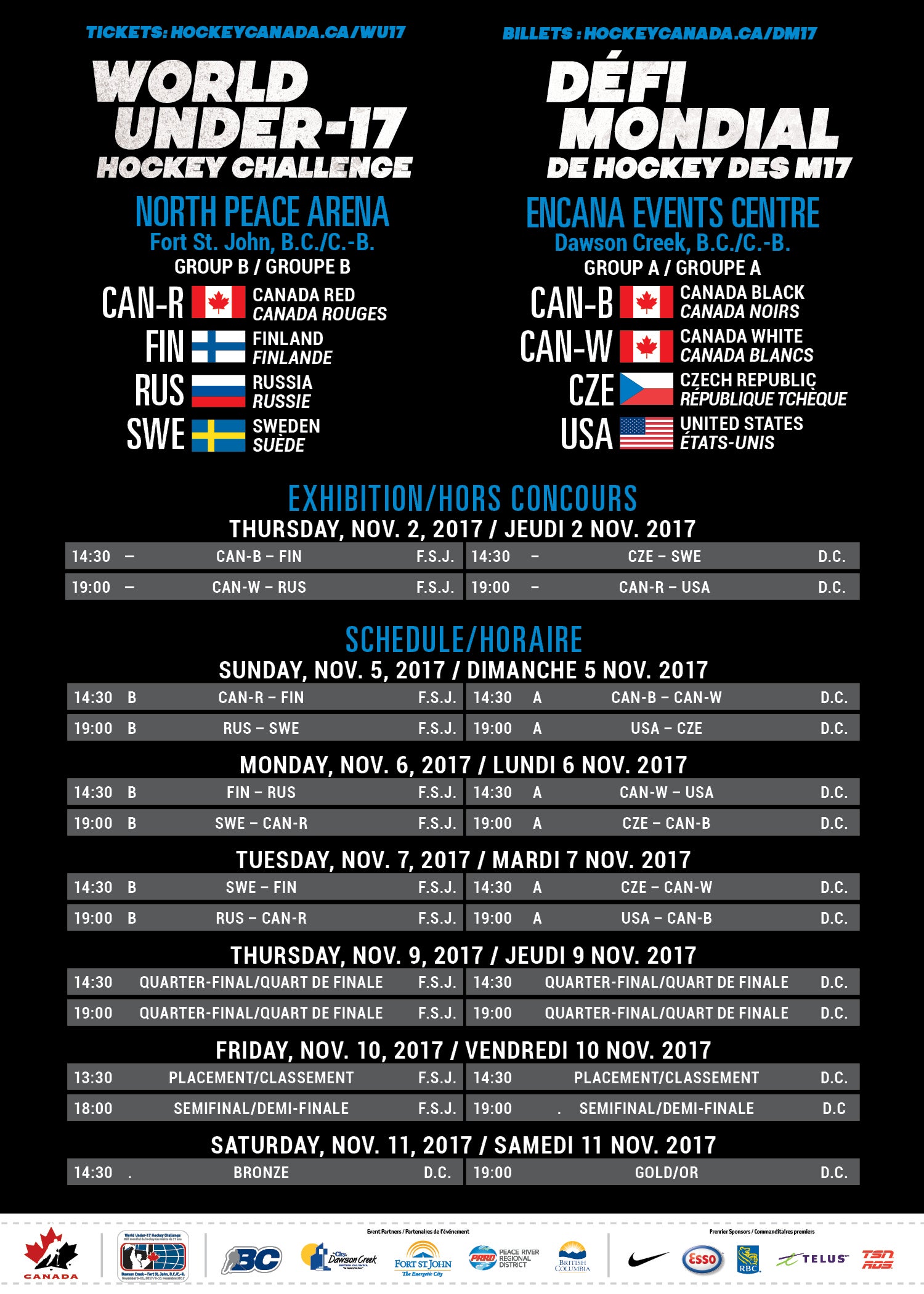 Showings
Sunday, November 5, 2017 TBA
Monday, November 6, 2017 TBA
Tuesday, November 7, 2017 TBA
Thursday, November 9, 2017 TBA
Friday, November 10, 2017 TBA
Saturday, November 11, 2017 TBA
2017 World Under-17 Hockey Challenge
Hosted by DAWSON CREEK AND FORT ST. JOHN
Nov 5 - 11, 2017

TICKET PRICES: Per game, per city

Exhibition $5.00

Preliminary $15.00

Quarter Finals $20.00

Placement $20.00

Semi Final $25.00

Bronze $25.00

Gold $30.00

TICKET POLICY: This ticket is a revocable license granted to the holder to attend the event on the reverse of this ticket and is subject to the following conditions: NO REFUNDS – NO EXCHANGES. Event date, time, location, artists, prices, seating arrangements, and audience capacity are subject to change. Holder voluntarily assumes all risks and danger of personal injuries and all other hazards arising from and incidental to event, whether occurring prior to, during, or after the event without limitation. RAIN OR SHINE. NO RE-ENTRIES.

$5, $15, $20, $25, $30