Getting our hands dirty in preparation for the Spring Rodeo!
Published: Apr 20, 2022
Wayne Kettner knows his dirt!
I sat down recently with Wayne, long-time resident of the Peace Country, to chat about the steps involved with getting regular soil turned into rodeo soil. It is quite an operation!
Wayne and his wife Wendy have owned WK Ventures Ltd. for 28 years. A business that began as a corral/feedlot cleaning business has evolved into a much larger operation with 10 employees.
Not only does Wayne and his team partner with rodeo organizations across the Peace Country to create that perfect mixture for rodeo action, they also handle everything from gravel to top-soil. I think this means that they know dirt better than most of us do!
The last week or so, WK Ventures Ltd. has been on site at the Ovintiv Events Centre screening soil in preparation for the Spring Pro Rodeo. Using an excavator to move the soil to the McCloskey 512 Trommel on tracks, where the machine screens out anything larger than 5/8 of an inch. The screening leaves the remaining soil free of dangerous rocks and particulate that can impact the safety of both rider and animal.
After the soil has been thawed and screened, it will be mixed with about 15% sand and 20% peatmoss rotted manure. This magic mix refreshes the soil making it perfect for the Spring Rodeo!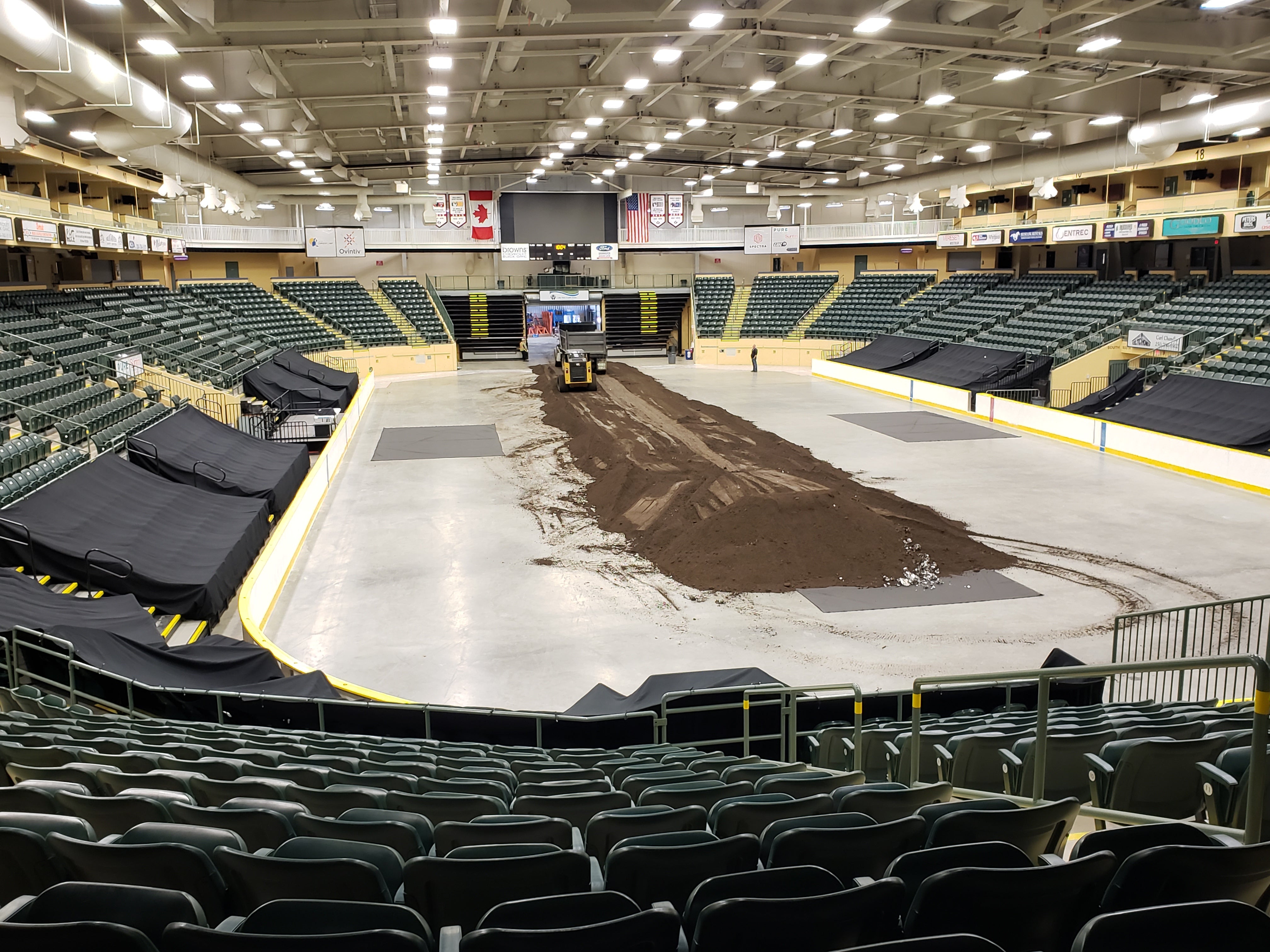 Approximately 630 yards of product will be loaded into the Ovintiv Events Centre for the rodeo, covering the entire 85' x 200' arena with 12" of soil.
This is the 3rd or 4th time this batch of soil has been used inside the Ovintiv Events Centre – definitely ticking off two of the 'R's – REUSE and RECYCLE! It might appear like a forgotten pile of dirt, but those in the know realize how costly it can be to truck in fresh soil for each event. Wayne takes that forgotten pile of dirt, adds additional and mixes it perfectly for the rodeo!
The effort to be more sustainable doesn't stop with the soil. Wayne explained that the sawdust that is brought in as bedding for the livestock has been created out of old wood pallets. WK Ventures Ltd. has machinery that grinds up pallets, waste wood, cardboard, hay and straw to create the bedding mixture. Any nails or foreign material are removed during the process. This strategy is cost effective and keeps the waste wood and pallets out of the landfill giving them a second chance to serve a purpose.
After hearing Wayne explain the process, I will not look at the soil in quite the same way. If you are coming down to the Spring Rodeo on Friday or Saturday, take a quick moment to appreciate the time, energy and consideration that goes into creating that perfect mix!
Judy Kucharuk, Director of Marketing - Ovintiv Events Centre
---
---