REVEEN - THE LEGEND CONTINUES
Published: Oct 10, 2023
Written by: Judy Kucharuk
Have you heard the old saying, "You can do anything you put your mind to?". I am sure we all have at one point in time: Perhaps it was a parent giving you encouragement or maybe it was a teacher nudging you to follow your dream.
What if I told you that you COULD accomplish more than you believed possible by relaxing and allowing your subconscious mind to take over from that naturally negative conscious mind? That 'Eeyore from Winnie the Pooh' mindset interferes with your ability to use your brain for maximum potential due to its natural tendency to be negative. What if there was a way to tap into that subconscious mind? The one that whispered in your ear, "Write that book" or "Sing that song".
After an almost 1-hour telephone conversation with Ty Reveen, I believe it! In fact, as Ty explained the science of hypnosis and how it can be used by professionals to help you kick a habit, build self-confidence, and even dim the switch on both physical and emotional pain, I couldn't help but be intrigued.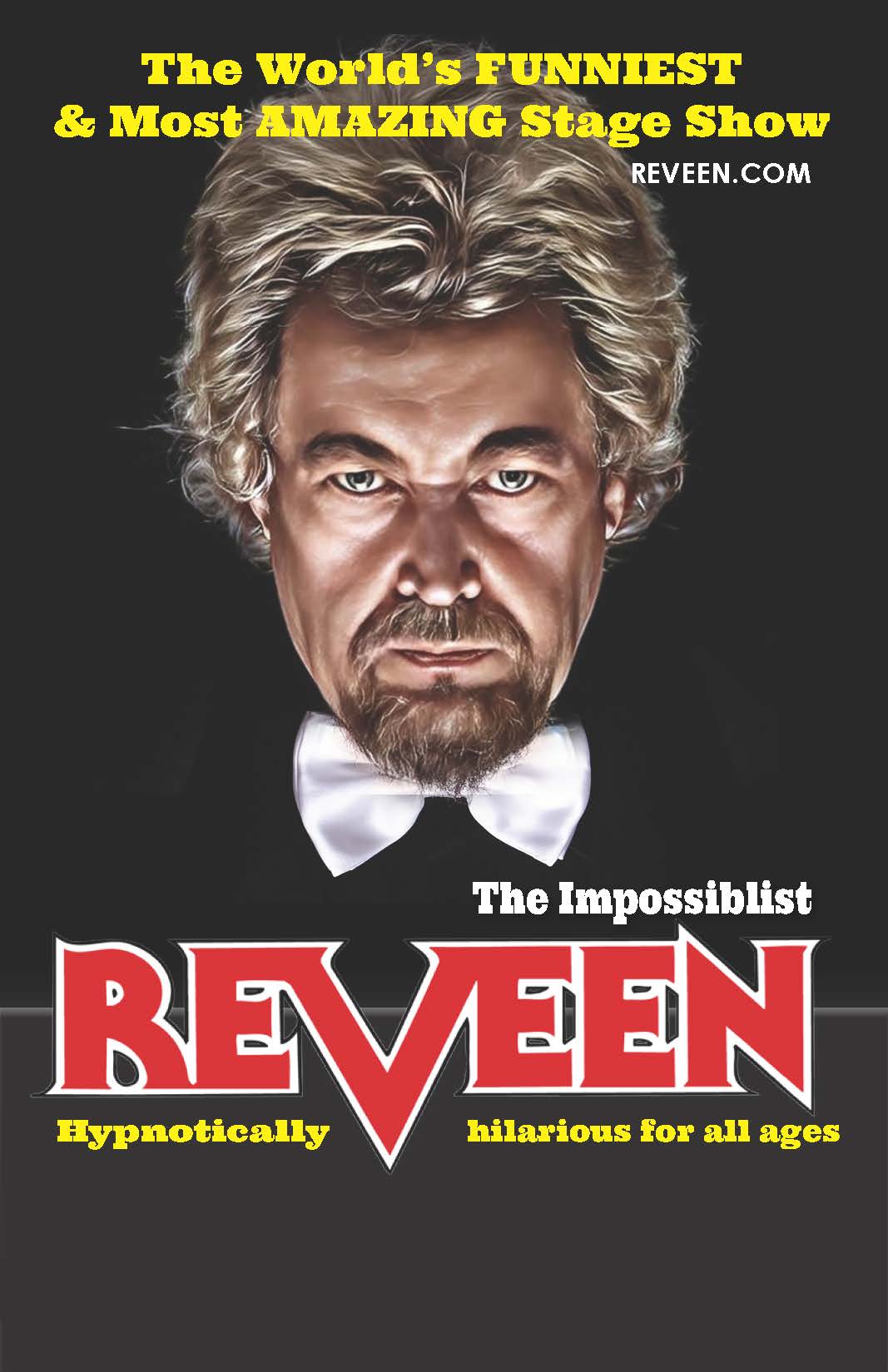 Tyrone Reveen, a second-generation hypnotist, is the son of Peter Reveen – THE MAN THEY CALLED REVEEN (hearing the words, I am transported back to the music jingle) who toured the world, selling out theatre after theatre with his family-friendly show that focused on the true powerhouse of the human mind. Although Ty inherently knew at the age of 5 that he would one day take over his father's legacy, his journey to becoming REVEEN was one of curiosity, creativity, and focus.
Chatting with Ty, it was clear that he was very proud of his father and his accomplishments. He shared stories about how as a young boy, Peter first began with magic and then as he got older, he turned his focus towards unlocking the mystery of hypnosis. He thoughtfully explained how his father wanted to take on misconceptions about hypnosis and separate fact from fiction. Hypnosis is a vital science when people know how to use their minds and the power of suggestion. The stage show showcases the organic power of the human mind – taking ordinary to extraordinary.
The conversation continued as Ty shared a unique perspective on something called "Genetic Inheritance" and how you can tap into genetic inheritance via hypnosis. What is genetic inheritance? It is like how we inherit our blue eyes from a great-grandfather or a facial gesture from a long-lost aunt. If we can inherit blue eyes from a grandfather, then what is stopping us from inheriting the ability to hit the highest note in opera like your great, great, great grandmother? Or how you have this uncanny ability to pick up languages from far-flung countries of which you didn't know you had a genetic connection that went back centuries.
The conversation delved into a rabbit hole of possibilities – my mind was racing!
Ty Reveen is naturally curious. He likes to challenge himself to come up with new ideas, and new concepts – he asks himself the question, "What would it take to blow my mind?". That mental challenge gave him the inspiration to build and patent the first confetti canon and subsequent streamer cannon. Can you imagine seeing a confetti cannon going off for the very first time? It WOULD blow your mind. Before he hit the stage with his father and continued the REVEEN legacy, Ty was driven to create amazing special effects and stage designs for some of the most notable musicians in the world: Dolly Parton, David Copperfield, ZZ Top, Siegfried and Roy. In fact, Ty Reveen was nominated as one of the top three stage designers in the world!
The REVEEN legacy is untouched in the world of magic and hypnosis. Sold-out show after sold-out show after sold-out show is proof that an evening with REVEEN is one of a kind and should not be missed.
We are truly excited to have Ty Reveen present REVEEN The Impossiblist in Co-op Mercer Hall on October 25th. This family-friendly show is a celebration of the human spirit: uplifting and positive and one that you do not want to miss. Tickets are on sale now at lakeviewtix.com, by calling the Box Office at 250-782-7443 or by stopping by the Lake View Tix Box Office located inside the Ovintiv Events Centre.
See you at the show!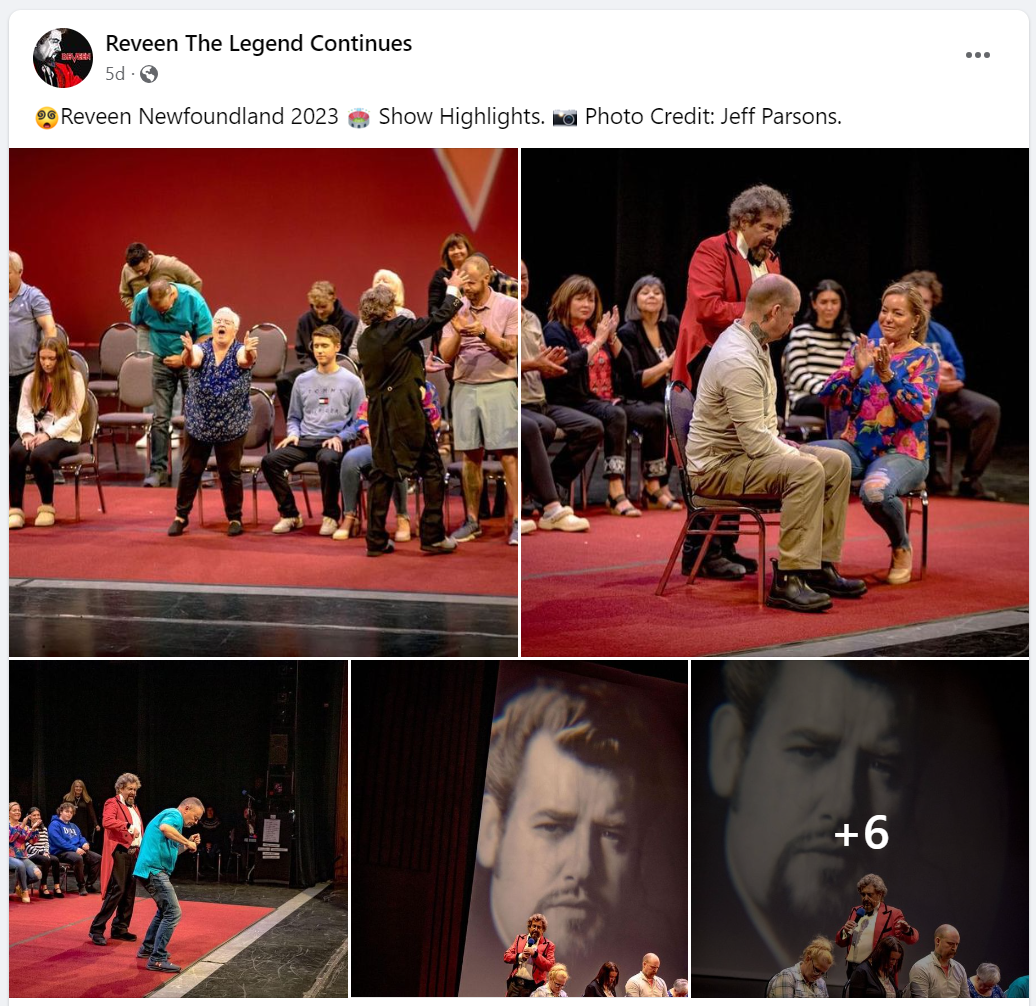 ---
---