Living while Dying - About the South Peace Hospice Palliative Care Society
By Judy Kucharuk
Published: Mar 27, 2023
I could hear the compassion and empathy in her voice as Lori Knutson, Program Coordinator and past Companion Volunteer/Board Member for the South Peace Hospice Palliative Care Society (SPHPCS), shared her journey and why the society is so valuable for our community.
During our conversation, Lori shared the WHY of her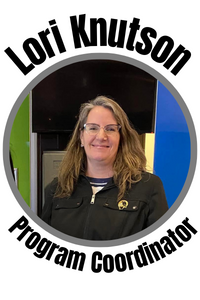 interest in Society and subsequent involvement of providing the means to be able to relieve suffering and improve the quality of life of those living while dying. "In my 20's, one of my good friends whom I worked with was diagnosed with cancer of the spine and tragically she passed away within a year of that diagnosis. The experience of having such a close friend struggle with death and dying at such a young age greatly impacted me and reinforced the importance of palliative care and the experience of dying. It was palliative support from colleagues and friends including the use of a Hospital bed from the Society's Bed Loan Program that enabled my friend to stay at home for as long as possible".
Years later, when Lori discovered she had some available time to volunteer with a local association, she recalled her experience with her dear friend and immediately thought of the South Peace Hospice Palliative Care Society. "This is where I want to give back".
I had so many questions: What is Palliative Care, what does it mean? Is Palliative the same as Hospice? How does someone initiate support from Society? How did the SPHPCS get its start in the community?
Palliative care means to be able to relieve suffering and improve the quality of life of those living and dying. It is end of life care and in Canada, both the term Palliative and Hospice are used interchangeably. Palliative or Hospice care is end of life care which can be provided to an individual and family in any setting; at home setting, in hospital or Long Term Care. The Society can offer Volunteer Companioning Services to provide comfort and emotional support for persons at the end of life as well as provide respite for family – another individual whom the family can lean on. A Companion Volunteer is someone who "is there", they are good listeners, comfortable with silence but also able to facilitate communication. This provides a mechanism where the client and their family can express their concerns, fears and hopes. Companioning Volunteers complete a two-day training program based on the Canadian Hospice Palliative Care Association Standard Hospice Palliative Care Training Manual.
The Society also provides library resources for issues related to dying, death and grief so that people in the community may become better informed and also provides public awareness and education. The mission for the SPHPCS is to advocate for quality Palliative Care in our community, therefore the Society plans public events to increase awareness and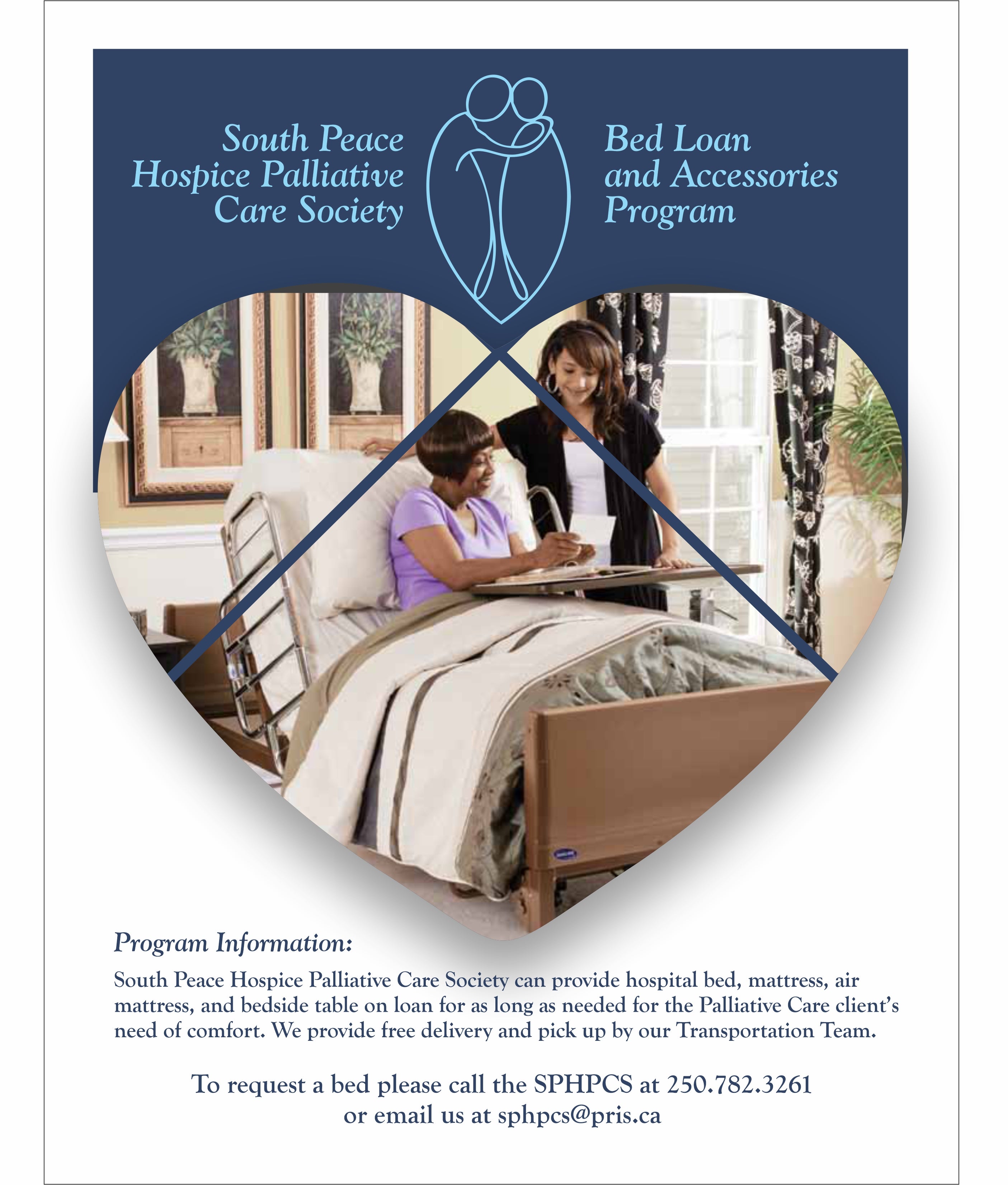 understanding of end of life needs and services.
Many may have also heard about the Hospital Bed and Mattress Loan Program where a family may request a hospital bed and mattress, including an air mattress, to be provided free of charge for their loved one receiving care at home at the end of their life. Advantage Relocation Systems, a local company, delivers the beds to the clients free of charge.
When does someone reach out to the South Peace Hospice Palliative Care Society? Is there a specific timeline that needs to be followed? Lori states that there is no rule book on when you should reach out. Some families reach out immediately upon receiving a diagnosis and others wait until their loved one shares how they wish to receive support during the end-of-life process. "Although not necessary, being able to provide information early in the experience allows the Society to provide information, support and guide them through the progression".
The origin story of the South Peace Hospice Palliative Care Society begins with Toni Hryciuk, a Registered Nurse who worked at the Dawson Creek and District Hospital (DCDH). In the early 1980's, Toni was on the board of the Dawson Creek and District Hospital and started the groundwork for hospice. She was instrumental in encouraging the DCDH to invite a Hospice Coordinator and Palliative Care Physician from Prince George to facilitate a presentation for the community. There were approximately 50 people in attendance and from that first meeting, a steering committee was formed. In November of 1989, the first training workshop was held and twelve people from the community became hospice palliative care volunteers. The SPHPCS became a reality on November 20th of the same month and over the next ten years, served as the only source of Grief Recovery Programs in the community.
Unfortunately, Toni was diagnosed with breast cancer and was the first hospice palliative care patient to receive care. Toni died in January 1990 but left her legacy behind to carry on in her memory.
On Saturday, April 29th, the South Peace Hospice Palliative Care Society is hosting "LIGHTS, CAMERA, AUCTION!" a fundraising gala inside Co-op Mercer Hall at the Ovintiv Events Centre. Tickets are on sale now priced at $100.00/each* or $720.00/table of 8* (*plus applicable fees).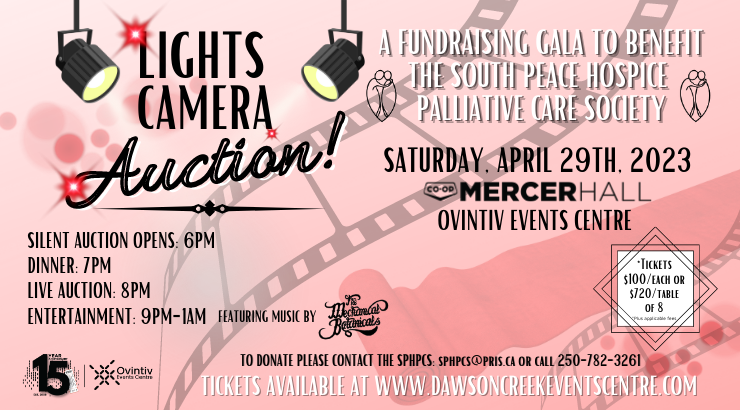 Money raised at the gala through both a silent and live auction will be fed back into the community by way of Companion Volunteer training, the Sheepskin loan program, the Comfort Care Bag Program, assist in providing support to the School District #59 counseling program, and facilitating public awareness and education.
Anyone interested in learning more about the Society or donating a live or silent auction item for the Gala are encouraged to contact Lori Knutson, Program Coordinator at 250-782-3261
"Hospice care is about more than helping people die with dignity, it's about helping them live out life with love"

Serving Life, Own Documentary,
---
Related Event
---