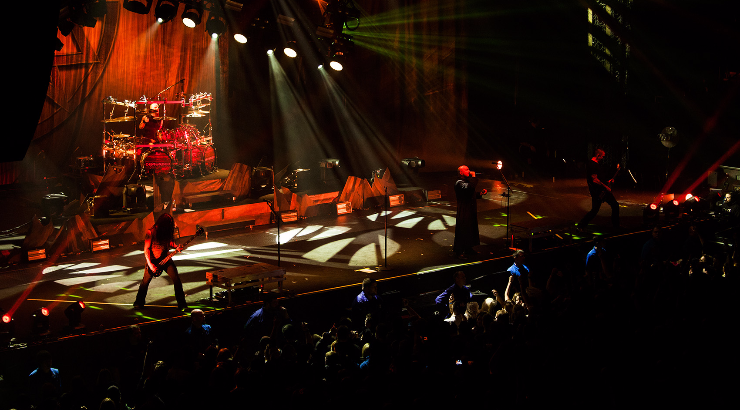 Encana Events Centre ranks in Pollstar Top 200 Arenas
Published: Jul 18, 2016
DAWSON CREEK - Spectra by Comcast Spectacor, the provider of Venue Management, Food Services & Hospitality and Ticketing & Fan Engagement to the Encana Events Centre in Dawson Creek, British Columbia is proud to announce that in the recent release from Pollstar of their mid-year report, the Encana Events Centre has placed #196 in the Top 200 Arena Venues worldwide. Thirteen other Spectra properties are among the list in the report.
Pollstar Magazine is the only trade publication covering the worldwide concert industry. The mid-year report showcases the top tours, arenas, theatres and more as 2016 reaches the halfway point. In the report, the Encana Events Centre places #196 with 24,726 tickets sold from 1/1/16 to 6/30/16 as reported to Pollstar. The #1 arena in the world was The O2 in London, United Kingdom at 872,809 tickets sold.
"This year we have seen some great shows come through Dawson Creek and region including Disturbed, Megadeth, Heart and Joan Jett, Jeff Dunham, ZZ Top, Theresa Caputo and many others," said Spectra's Ryan MacIvor, General Manager, Encana Events Centre. "With such a variety of entertainment this year, we welcome the news today that we place #196 in the world for ticket sales."
"It is amazing to have the Encana Events Centre rank as one of the top 200 arenas worldwide. I always knew we had something special, but to be ranked in the top 200 just reinforces the value of the Encana Events Centre to our Region." Dale Bumstead, Mayor of the City of Dawson Creek.
With the rankings, the Encana Events Centre places #17 for all venues listed for Canada in terms of ticket sales, with the Centre placed as the #5 venue for Western Canada (British Columbia & Alberta). With capacity as a factor, the Centre would be ranked the #2 venue in Western Canada for venues with smaller capacities (Under 8,000 capacity).
This is the first year the Encana Events Centre has been placed in Pollstar's midyear report. Spectra by Comcast Spectacor has four other venues in Canada that placed with fourteen properties company-wide on the list. Included on the list is the company's flagship arena ranking number eight in the United States and 26th overall with 232,660 tickets sold.
Canadian Spectra venues include:
#64 - Budweiser Gardens – London, Ontario – 123,566 tickets sold
#80 - Core Entertainment (First Ontario Centre) – Hamilton, Ontario – 103,356 tickets sold
#115 – Abbotsford Centre – Abbotsford, British Columbia – 58,439 tickets sold
#144 - General Motors Centre – Oshawa, Ontario – 42,684 tickets sold
#196 - Encana Events Centre – Dawson Creek, British Columbia – 24,726 tickets sold
Other Spectra venues:
#26 – Wells Fargo Center - Philadelphia, PA – 232,660 tickets sold
#109 – Chaifetz Arena – St. Louis, MO – 59,581 tickets sold
#126 – Boardwalk Hall – Atlantic City, NJ – 52,794 tickets sold
#130 – Ted F. Constant Center – Norfolk, VA – 49,695 tickets sold
#139 – CFE Arena – Orlando, FL – 45,979 tickets sold
#140 – Wells Fargo Arena – Des Moines, IA – 45,862 tickets sold
#149 – PPL Center – Allentown, PA – 39,341 tickets sold
#155 – XL Center – Hartford, CT – 36,308 tickets sold
#192 – Sun Dome – Tampa, FL – 25,392 tickets sold
ABOUT SPECTRA
Spectra by Comcast Spectacor is the expert in hosting and entertainment, partnering with over 300 clients at 400 global properties to create memorable experiences for millions of visitors every year. Spectra's expertise is embodied within three divisions: Venue Management (formerly Global Spectrum), Food Services & Hospitality (formerly Ovations Food Services) and Ticketing & Fan Engagement (formerly Paciolan). Learn more at SpectraExperiences.com.
Comcast Spectacor is part of Comcast Corporation, a Fortune 50 media and technology company that operates Comcast Cable and NBCUniversal. Headquartered in Philadelphia, Pa., In addition to Spectra, Comcast Spectacor owns and operates the National Hockey League's Philadelphia Flyers and the Wells Fargo Center venue. Visit us at ComcastSpectacor.com, PhiladelphiaFlyers.com and WellsFargoCenterPhilly.com for more information.
---
Download Attachment
---