BIG CHANGES - BRIGHT FUTURE!
Published: May 31, 2021
FOR RELEASE: MONDAY, MAY 31ST , 2021 AT 10:00 LOCAL DAWSON CREEK TIME (MST)
BIG CHANGES – BRIGHT FUTURE
ENCANA EVENTS CENTRE RENAMED
OVINTIV EVENTS CENTRE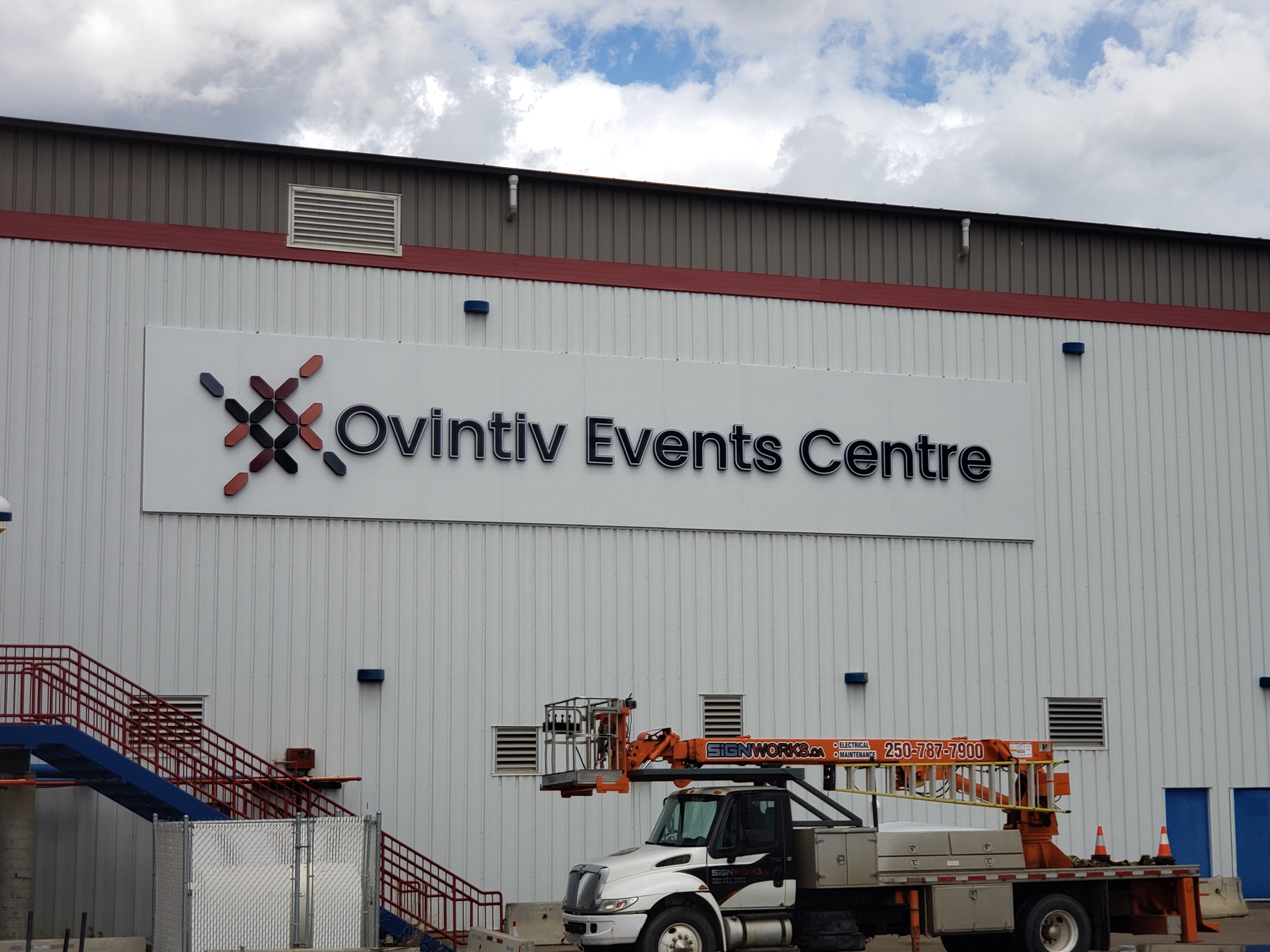 Dawson Creek, British Columbia: There are exciting changes happening at the Events Centre in Dawson Creek as the Encana Events Centre signage is taken down and replaced with the new Ovintiv Events Centre signage and brand.
In 2020, Encana Corporation underwent a reorganization that resulted in a rebranding under the name of Ovintiv Inc. The Event Centre name-change, new branding and signage changes demonstrates the commitment by Ovintiv Inc. to a long-standing naming rights relationship and strong community partnership with Spectra Venue Management and the City of Dawson Creek.
"Having a strong community partner such as Ovintiv is so important and is a great example of partners working together to enhance our quality of life in Dawson Creek. When the time comes, I can't wait to attend the first big event or concert at the Ovintiv Events Centre!" says Mayor Dale Bumstead.
"Contributing to community life where we operate is a key focus for Ovintiv," said Mike Selleck, Vice President and General Manager of Ovintiv's Canadian Operations. "Our investment in the Ovintiv Events Centre aims to enrich the lives of the citizens of Dawson Creek, where our employees also live and work. We look forward to continuing our strong community partnership and to welcoming events back to the space."
Over the next few weeks, fans will notice the gradual changeover of the building brand from Encana Events Centre to the Ovintiv Events Centre. Starting with the exterior signage, the new logo will populate the website and social media. Our website domain will remain www.dawsoncreekeventscentre.com.
The rebranding, coupled with the recent announcements by the British Columbia Provincial government regarding the plan to reduce restrictions on mass gatherings, has General Manager, Dustin Bodnaryk optimistic about the future and the post-pandemic reopening. Stated Bodnaryk, "Continuing our strong partnership with our naming rights partner Ovintiv (formerly Encana) under a new brand is an exciting step as we gain momentum with renewed excitement and welcome fans back into the venue".
--
The Ovintiv Events Centre is a state-of-the-art multi-purpose venue located in Dawson Creek, BC. Spectra provides Venue Management, Food Services & Hospitality, and Partnerships at the Ovintiv Events Centre.
About Spectra Venue Management
Spectra's Venue Management division is the industry leader across a full range of services that impact the bottom-line success of public assembly venues, including marketing and sales, corporate partnerships, event booking, ticket services and box office management, customer service, operations and engineering and finance and administration.
About Spectra Food Services & Hospitality
Spectra's Food Services & Hospitality division delivers the industry's most innovative and profitable solutions through its Everything Fresh™ philosophy at sports arenas, stadiums, casinos, convention centers, cultural attractions, fairgrounds, and other specialty venues. Spectra Food Services & Hospitality serves over 250,000 events and 40 million guests each year.
About Spectra Partnerships
Spectra Partnerships is a leader in sales representation, strategic consulting, and analytics for sports and entertainment properties across North America. Our experienced sales team drives revenue for our clients and their properties via the marketing and sale of naming rights, corporate partnerships, advertising, premium seating, and hospitality.
Spectra is an industry leader in hosting and entertainment, partnering with clients to create memorable experiences for millions of visitors every year. Spectra's unmatched blend of integrated services delivers incremental value for clients through several primary areas of expertise: Venue Management, Food Services & Hospitality, and Partnerships. Learn more at SpectraExperiences.com. Follow Spectra on Facebook, Instagram, Twitter and LinkedIn.
Venue PR/Marketing:
Judy Kucharuk
Director of Marketing
Ovintiv Events Centre
250-795-3305
jkucharuk@dawsoncreekeventscentre.com
---
---