---

---

Passion, commitment, talent, and community support are important elements contributing to the success of any elite athlete. November 5th – 11th, Dawson Creek will welcome the best and brightest talent from across Canada to play in the Women's U18 National Hockey Championship. What did it take to get this far? Let's ask one such local, elite talent who played for Team BC in the 2016 and 2017 Championships.
MEET MIKAYLA CAPELLE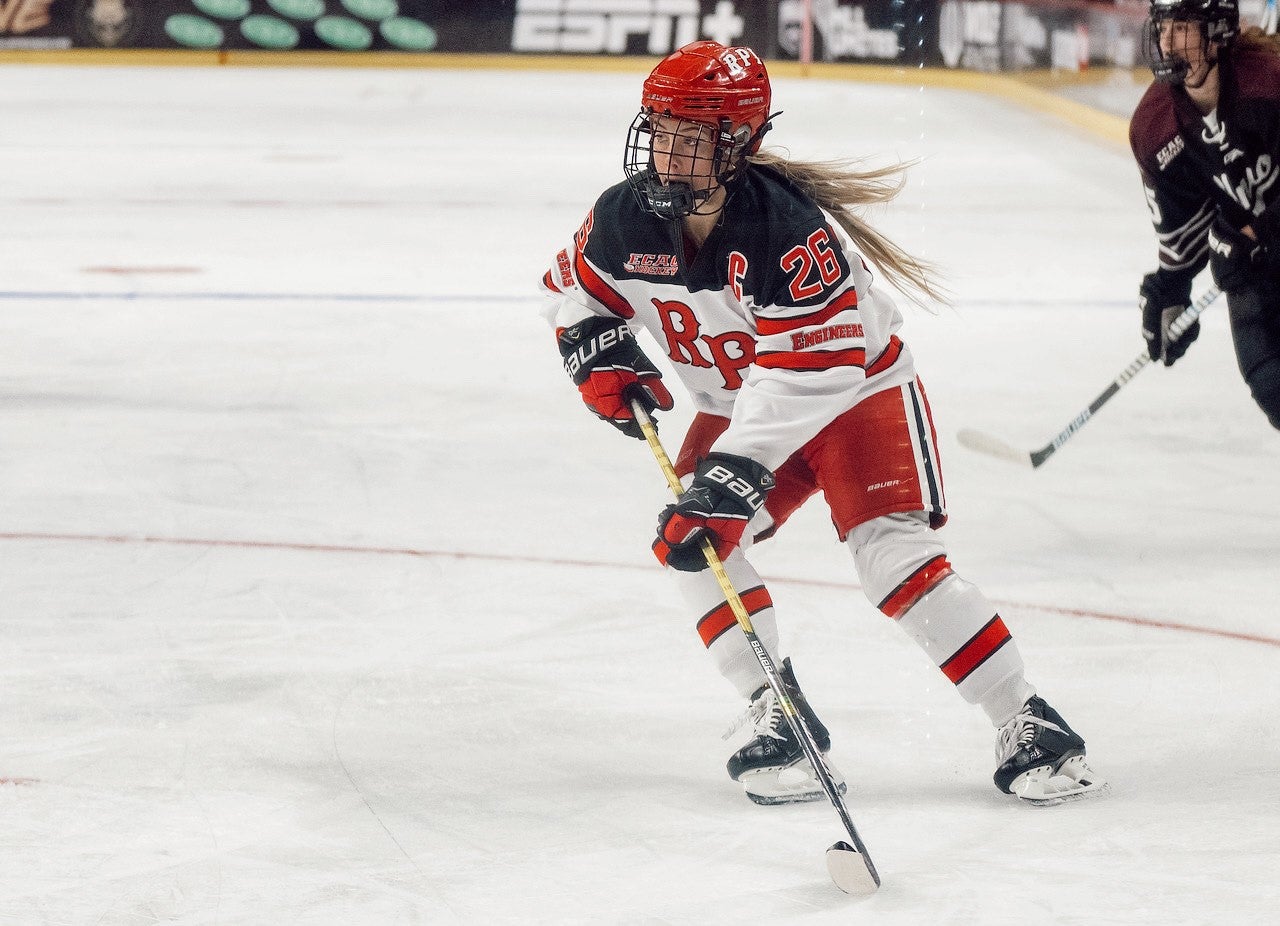 Q: At what age did you begin playing hockey?
A: I was a late bloomer with my hockey career. I started at the age of 8.
Q: What inspired you to play hockey?
A: Growing up, I spent many hours at the rink either watching my Dad play the game or coach the game. I was always so interested in learning more about the game, especially from him. He is truly one of the smartest hockey players I've ever met and I knew I wanted to gather his knowledge. He was my inspiration to play hockey and continues to be my inspiration along with the rest of my family, in my everyday life. I am forever grateful to have had my Dad as my hockey inspiration and for the rest of my family who inspired me to keep going.
Q: Who were your hockey heroes?
A: In 2009, the Women's National Team came to Dawson Creek to prepare for the Olympics. We hosted 3 players to stay at our house while they were in town: Kim St-Pierre, Hayley Wickenheiser and Tessa Bonhomme. Since that time, I formed a great connection with Tessa and to this day we keep in touch. She grew to be one of my hockey heroes.
Q: What is the best part about playing hockey in a small town?
A: I think for myself playing hockey in a small town, especially as a female hockey player, came with great benefits but also some challenges. In my younger years, there weren't plenty of opportunities if you wanted to play girls' hockey. I played for the Dawson Creek Canucks boys' team until Bantam. I am fortunate to have had a support system from my family, teammates, and coaches. Even at such a young age, I had goals and aspirations to make it as far as I possibly could with hockey, and they made that possible for me.
At the age of 14, I moved away from my family down to the Okanagan to pursue my passion for hockey with hopes of receiving my NCAA full-ride dream. I played for the Okanagan Hockey Academy!
Since that time - the community has blossomed with opportunities for girls wanting to play hockey and it's amazing to see. As a small town, we have recognized what is needed for girls wanting to pursue their career in hockey and have continued to put their best foot forward for them to do so.
Q: Did you have local inspiration?
A: One of my local inspirations was my childhood coach, Kip Noble. Kip truly helped me achieve my childhood goal, which was to play NCAA Division 1 Hockey. I am fortunate to have had the opportunity to have played for him for as many years as I did. He devoted much of his time to help me on the ice - off the ice shooting pucks, off-ice conditioning, and much more. Another one of my local inspirations was my neighbour, Kevin Pettit. Kevin was someone who continuously brought positivity into my life and ensured that everything I was doing, was for the love of the game. I always admired his humble success as an athlete and his desire to help me despite his own life activities.
Q: Were you a part of Team BC or another provincial team?
A: I was fortunate enough to represent BC at two different U18 Championships.
My first year with Team BC was in 2016 when the U18 Championships were held in Regina. We won bronze!
In 2017 I was honoured to represent BC again this time, however, as an assistant captain. The U18 Championships were held that year in Québec where we also won bronze!
Some of my favourite memories throughout my hockey career have been my time spent with Team BC. When you have a group of girls all from your respected province come together in such little time to compete for one another and for their province, it's a feeling like no other.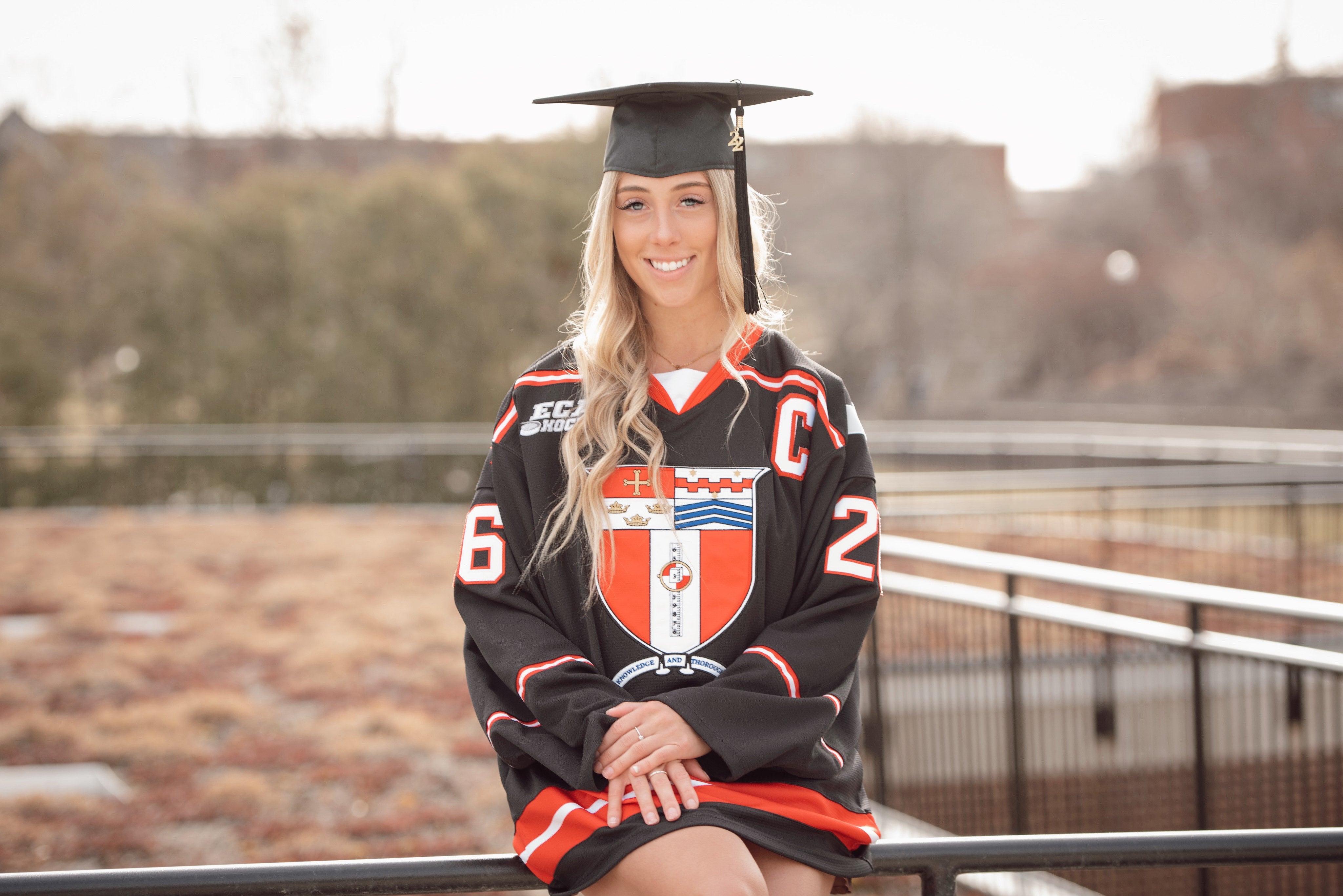 Q: What are you doing now?
A: I graduated from University, Rensselaer Polytechnic Institute where I played on their NCAA Division 1 hockey team and received my Bachelor's Degree in Business and Management.
Q: Did playing Women's Hockey prepare you for anything else in your life/career?
A: Yes, now being in the workplace environment, I've realized that hockey has prepared me for so much more than just hockey: Being a part of a team, juggling time management, having discipline every day to continue to get better, winning/losing, these are all things that happen day to day outside the arena and are skills that not everyone is always taught or prepared for. Althletics are so important and teach children so many different life lessons and I could not be more grateful to have been given those lessons throughout my career.
Q: What would you say to your younger self?
A: I would tell my younger self not to be afraid of the hard days and to be kind to herself. You are doing great things and you are enough and that is all that matters.
---

They say it takes a village to raise a child, but what does it take to raise an elite athlete?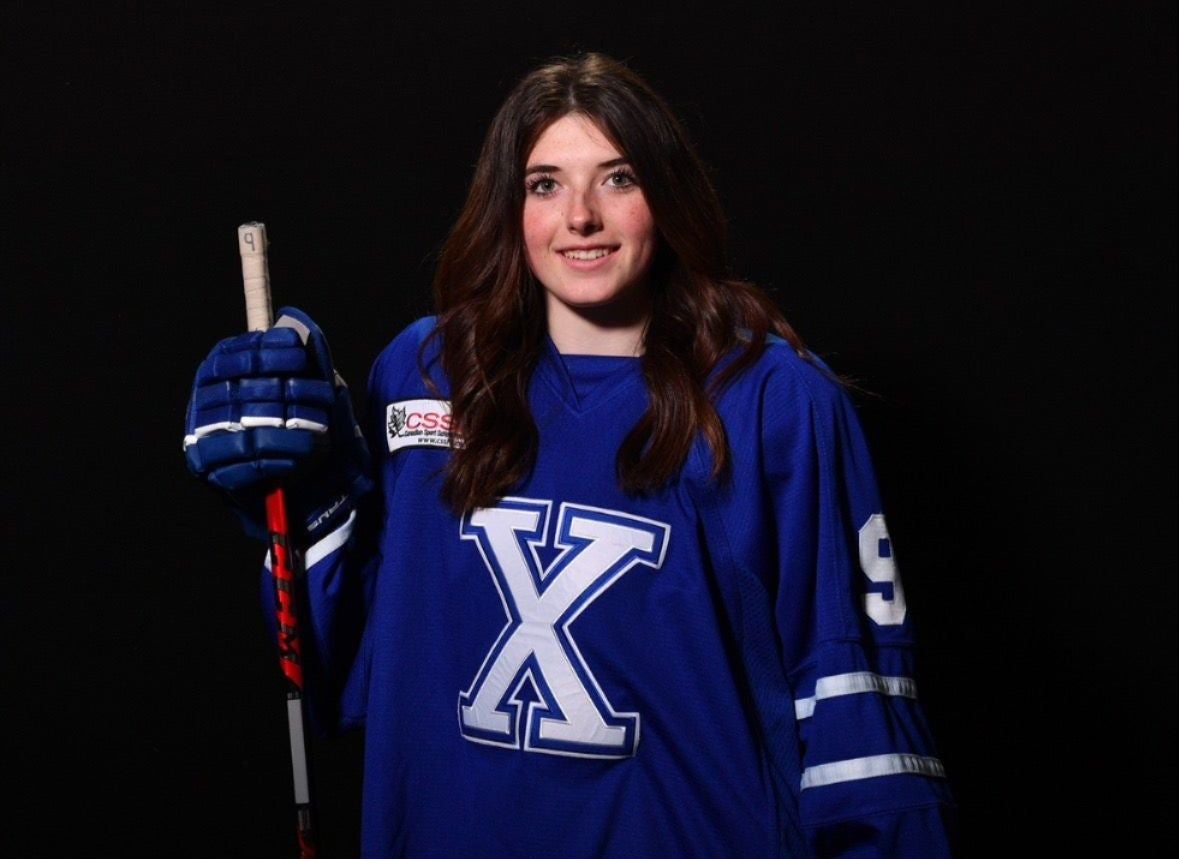 Seventeen-year-old Molly Hamilton, formerly of Dawson Creek and Baytree was recently selected to play for Team Alberta U18 Women's squad who will compete at the National Championships in Dawson Creek November 5th – 11th.
We caught up with her father, Dave Hamilton to find out more about Molly, her hockey journey, and how the family navigated through the trials and triumphs on the road to success.
Dave, his wife Bree, and two children Simon and Molly relocated from Dawson Creek, BC to Baytree, Alberta in 2011. They own and operate the Baytree General Store which serves a much broader, rural area with everything from fuel to piping hot coffee including food items, and acts as a community gathering point for the summer Farmer's Market. Did I mention that Dave built a full outdoor hockey rink beside the store about 6 or 7 years ago? Yup! He maintains it and floods it and it even has lights for those evening skates.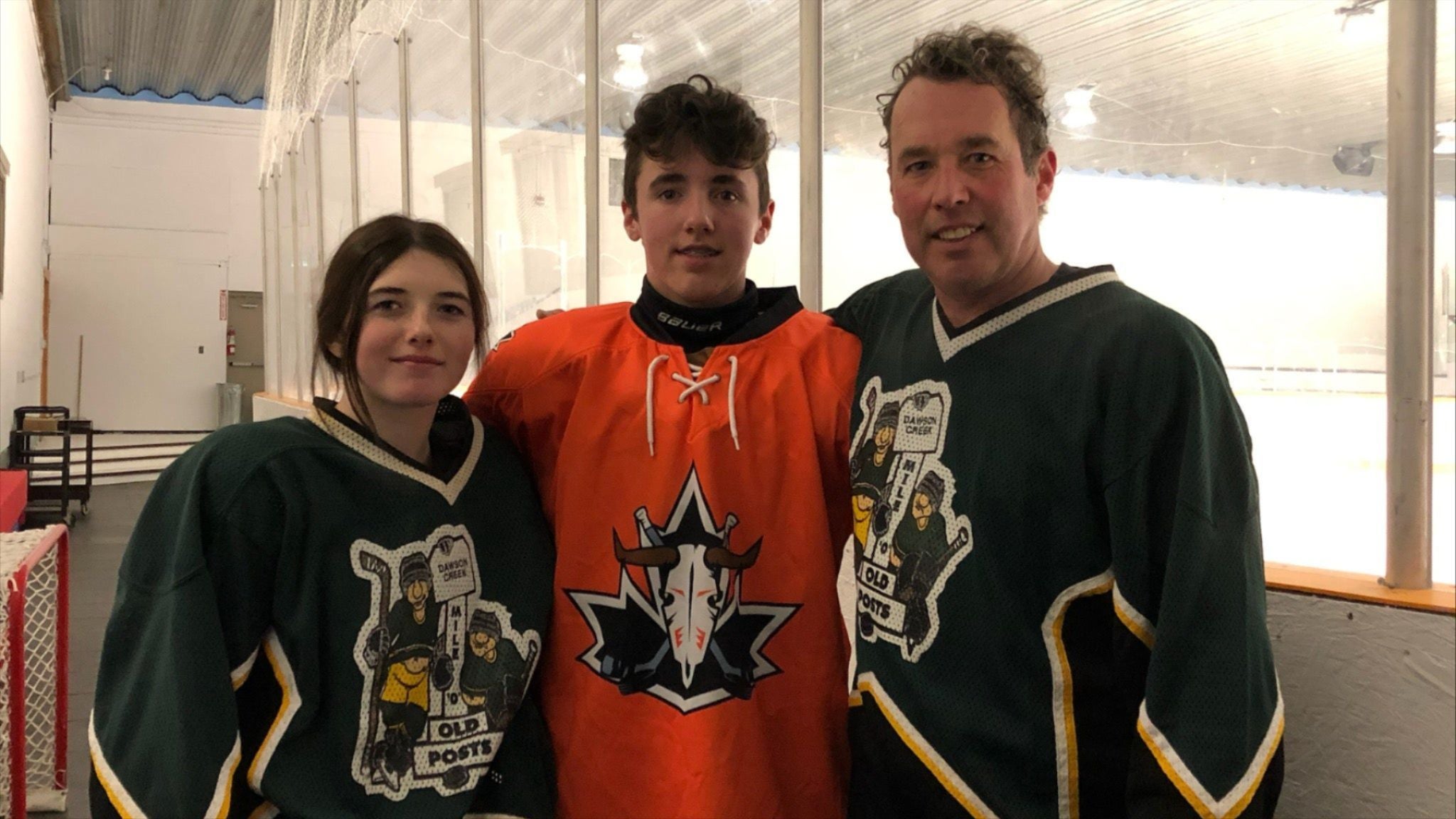 They love living in the rural community and both are committed to the area through coaching, volunteering, and supporting local initiatives through sponsorship.
I asked Dave how he found out that Molly had advanced to the U18 Alberta Team and he told me that, "It was announced on the Hockey Alberta website at 4 pm on a Thursday". He laughed when adding, "But I was out of cell service until the day later when Simon (Molly's brother) gave me the good news".
"It feels wonderful that she is moving forward and was selected for the Team. It is her way of showing that you can come out of a small town and accomplish great things!"
Molly hit the ice before the age of 5 when she would watch her father and brother on the ice at the Memorial Arena in Dawson Creek. Her voice would carry in the large arena as she vocally demanded to put skates on and join them on the ice. This enthusiasm created the perfect opportunity to sign Molly up for CanSkate where her first coach was Lindsey Borek (then Lekstrom).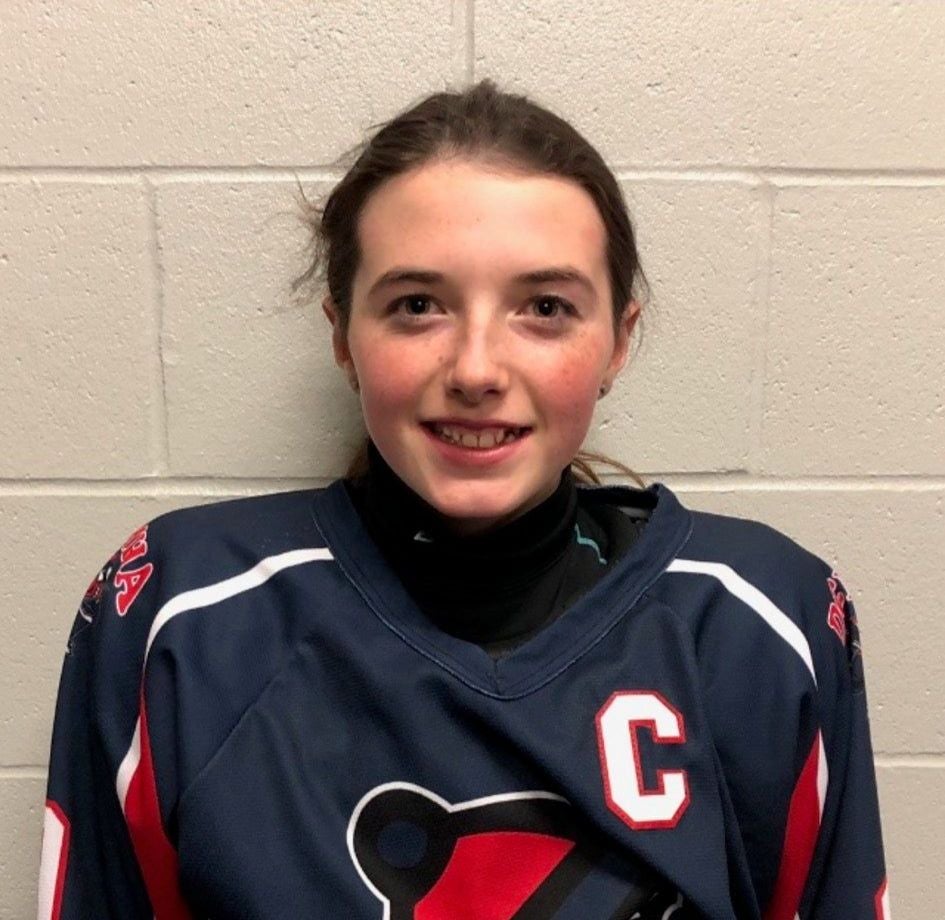 The CanSkate program was simply the beginning for Molly as she moved up into playing minor hockey on mixed teams (both boys and girls) until the U13 level. In her last year of U13, Molly was voted Captain of the team.
After playing U13 Hockey, Molly continued honing her talent by playing for the PCFAC Elite U15 Storm team in Grande Prairie as well as the Predators all-female team, while balancing school and life and everything involved with being a young teenager.
After the Bantam Elite team, a decision had to be made. There were no AAA Teams north of Edmonton and if Molly wanted to continue, she would need to relocate even further from home. Her next stop was Devon, Alberta where she joined the Northern Alberta Xtreme Hockey program.
How does one get chosen to represent their home province on the Women's U18 Hockey team? It starts with being selected to attend the Team Alberta U18 Women's Hockey camp this past July in Red Deer Alberta. The intensive training camp tests the strength and abilities of each prospective team member and when you leave, you don't know if you are going to be called back to attend the Fall Camp which is the final stage in the selection of the team.
Fortunately, Molly was selected to continue and was invited to the Fall Camp in Edmonton this past September. She is quoted in a Central Peace Signal article dated August 7th, that ahead of the camp, "I just want to be a very good shape physically and be mentally prepared for what's about to come" and that "I'm just excited for the opportunity to learn something new every single time I step on the ice while making new friends too". The entire article titled, "From a Tag-along to a Warrior on ice" was written by Beverly Lomosad for the Central Peace Signal. Check it out! It's a great read.
I asked Molly's father how they approached this opportunity. Did they have any sage advice they offered before she left for the camp? "We were excited and wanted to support Molly. At this level, she puts so much pressure on herself that we just want to support her and have fun watching her. Her hockey IQ is on a different level from when I coached her, so we just provide support unless she specifically asks for something".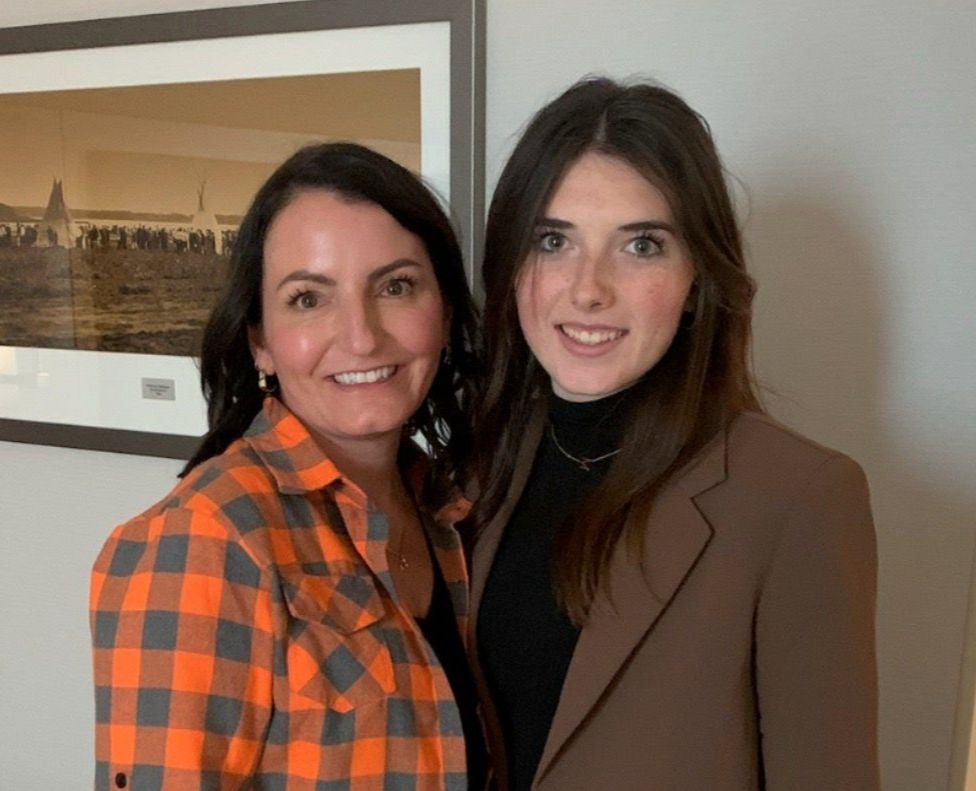 It is obvious that Dave and Bree have tremendous pride in Molly, but are quick to say that "Molly is talented, but it came with a lot of hard work – she worked for everything she has received. She has bounced back from character-building setbacks and become even stronger and more competitive".
What does the future hold for Molly? After graduation from high school, she is headed to New York where she will attend the Rensselaer Polytechnic Institute (RPI) and play on the NCAA Division I level women's ice hockey team. If the name of the institute sounds familiar to you, we most recently wrote about Mikayla Capelle, another local hockey athlete, and how she attended RPI and played hockey. Dave wants to mention his thanks to Mikayla for providing important guidance and support for Molly.
First though, Molly joins a full squad of extremely talented female hockey players in Dawson Creek at the Ovintiv Events Centre from November 5th through 11th. Team Alberta takes the ice in the preliminary round on Sunday, November 5th at 4 p.m. – Monday, November 6th at 10 a.m. – Tuesday, November 7th at 4 p.m. Get out and support Molly! There are single-game tickets available, Team Alberta and Team BC packages available as well as quarter-final, semi-final, bronze, and gold medal game tickets available.
Head on over to lakeviewtix.com, visit our box office inside the Ovintiv Events Centre, stop by our downtown ticketing outlet at Software Emporium, or call 250-782-7443.
---
Introducing: Makena Lloyd-Howe, a proud "PRODUCT OF THE PEACE" and a member of
TEAM BC
Nestled in the mountains approximately 1.5 hours southwest of Dawson Creek is the idyllic community of Tumbler Ridge. Surrounded by majestic mountains, pristine lakes, and rivers, including the breathtaking Kinuseo Falls, it is no wonder that Tumbler Ridge is a haven for both summer and winter sports enthusiasts.
Tumbler Ridge was where Will and Heather Howe would raise their two children Logan and Makena, and a place they still call home.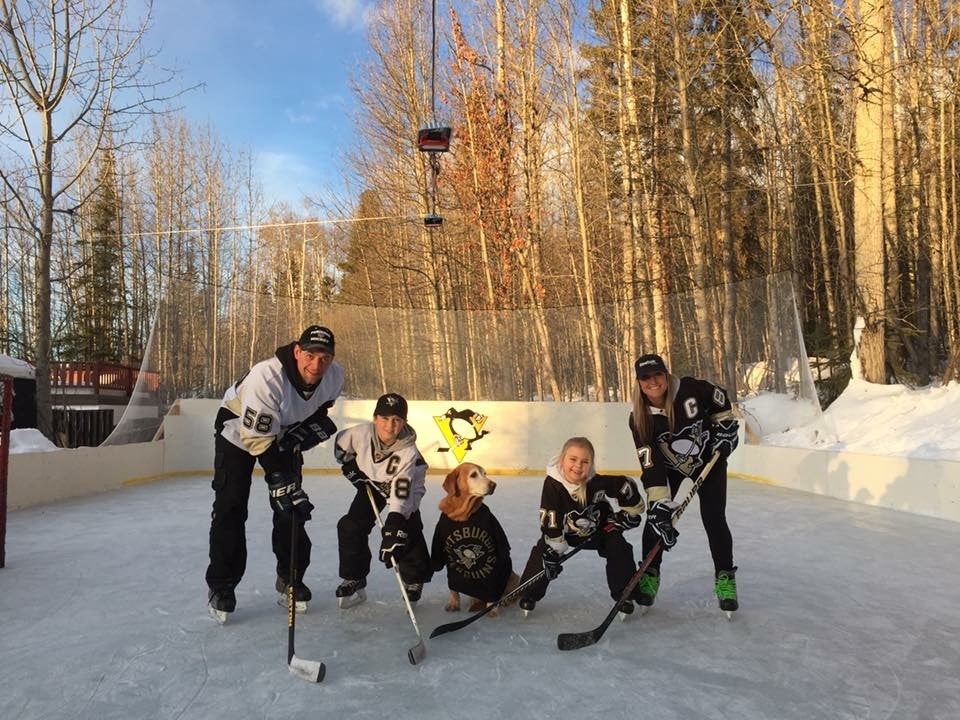 Who knew that wee Makena Lloyd-Howe, learning to skate on the rink that her father built in the backyard, would someday be playing for her home province on Team BC at the Women's U18 National Hockey Championship!
We caught up with Heather, Makena's mother, to chat about the journey from that little girl skating on the driveway rink to now living in Kelowna and attending the RINK Academy.
It is no surprise that many elite hockey athletes are molded and inspired by one or both of their parents and their love for the game. It is no different in the Howe family – Heather noted that "Will had a great influence over Makena. The fact that they have spent so much time together and speak the same language (hockey) helped develop a very close father/daughter relationship. Makena looked to her father and brother for inspiration, and it wasn't long before she joined pre-novice hockey at the age of 4".
I asked Heather, "Would you say that Makena was fearless?" to which Heather responded, "Makena is gritty. When she is on the ice, she has the tenacity to go after the puck. She plays a hard game".
Makena played hockey in Tumbler Ridge up until her 1st year of Pee Wee level hockey. She then played on the Dawson Creek Canucks AA Pee Wee boys' team. When Makena was in Grade 8 and beginning Bantam level hockey, the decision was made to go through the process to play on an Alberta female team in Grande Prairie where she played for the Grande Prairie Storm. Makena also had some awesome experiences playing for the Peace Regional Predators program, where she was exposed to many other girls who loved the game like her, and some excellent coaches and volunteers.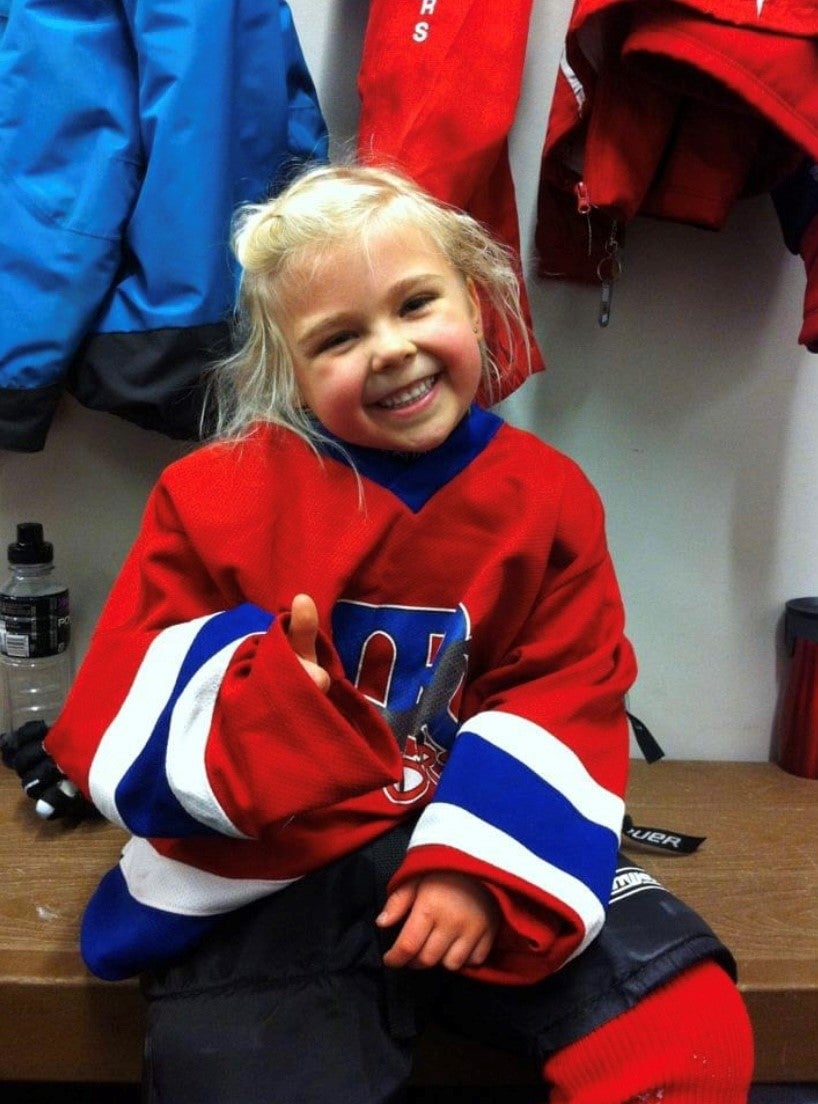 Heather noted, "Makena has always been a go-getter and has a competitive nature. She is a very spirited and kind person – she always wants to help people. Her competitive nature was often triggered by her brother. Makena would see her brother (Logan) doing some hockey trick and would practice it until she could master the move".
The decision to play in Alberta would not come without some sacrifices for Makena and the Howe family. "It takes approximately two and a half hours to travel from Tumbler Ridge to Grande Prairie and Will would travel back and forth with Makena for practices during the week and then back again for games," said Heather. "Makena would need to leave school early and ended up being home-schooled in some subjects to ensure she kept up with her class".
"Yes, it was exhausting. Both Will and I worked full time and Logan also played hockey, so we spent a lot of time apart driving the kids to their respective practices and games, but it's just what so many of us parents do for our children"
It was at this pivotal time that the family began to think about making other arrangements including relocating. Makena tried out for the Okanagan Hockey Academy (OHA) in Penticton and was subsequently accepted. The family relocated to Penticton and Makena played for the OHA for two years during grades 9 and 10. More recently, Makena decided that she wanted to try out for the RINK Academy in Kelowna. She was successful and now resides in Kelowna where she attends the Academy.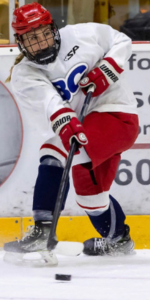 How did growing up in a small town contribute to Makena's success? Heather says that it is the support of the community – consistent coaches, including her father, year after year. Having access to the local Community Centre and free public skates provided opportunities for the kids to get out on the ice regularly. "Tumbler Ridge is small, people know you and support their own including teachers who assisted and provided flexibility for Makena".
As you can imagine, the road to making the TEAM BC roster is not easy. There are tryout camps that put all the players through the paces, testing their skill, strength, endurance, and compatibility. If you make the cut, you are invited to the next camp. The final camp was held in September, and I asked Heather how she and the rest of the family heard the good news.
"At the last BC Hockey camp, Will was in the parking lot waiting and I was in Kelowna. You are nervous for your daughter as it must be incredibly stressful. Will didn't see Makena and we had no idea until the phone buzzed and looked at the group family chat: OH MY GOD, I MADE IT!, wrote Makena!".
How does a family support their child, who is not only going to school and managing all those teenage formative experiences AND is playing hockey at such a high level? Heather said, "The girls are still developing, still learning. They have so much more on their shoulders. I just try and give her the mom support she needs and help her balance everything".
So, what happens after the Women's U18 National Championship? Makena has made a verbal commitment with a scholarship to attend the University of Vermont where she will play NCAA Division 1 hockey. Will and Makena recently went for a visit to the University, checked it out, and toured the campus. It is about making sure that you are the right fit for each other.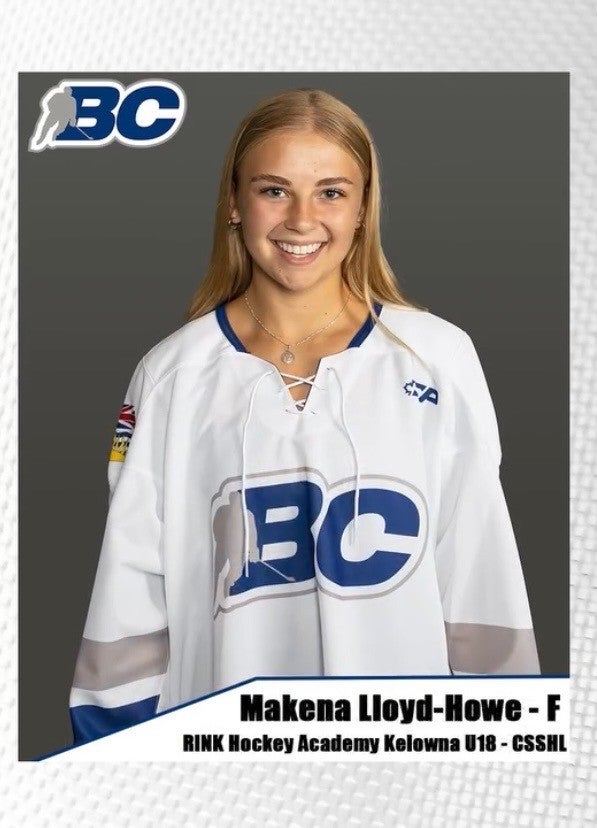 We encourage everyone to come out and support Makena at the Women's U18 National Hockey Championship from November 5th through 11th at the Ovintiv Events Centre. Makena will be on the ice during the preliminary games scheduled for Sunday, November 5th at 7:30 p.m., Monday, November 6th at 7:30 p.m., and Tuesday, November 7th at 7:30 p.m. The quarter-finals and semi-final games begin Thursday, November 9th with the Bronze and Gold medal games scheduled for Saturday, November 11th
Tickets are on sale now online at lakeviewtix.com, by calling the Box Office at 250-782-7443, inside the Ovintiv Events Centre at the Lake View Tix Box Office, or at the downtown ticketing outlet located at Software Emporium in Dawson Creek.
---

The Sky is the LIMIT for this Peace Country Athlete! Introducing: Sarah Kjemhus, member of TEAM ALBERTA
Valhalla, Alberta is a picturesque Hamlet located in Northern Alberta, approximately 20 kilometres northeast of the Village of Hythe. Driving through Valhalla Centre, and looking towards the countryside, you can fully appreciate why the local economy is centered on farming and raising stock. The horizon is limitless – the bluest of blue Peace Country sky meeting the landscape can take your breath away.
Valhalla is where Greg and Kerri Kjemhus reside and raised their three children: Logan, Matt, and Sarah.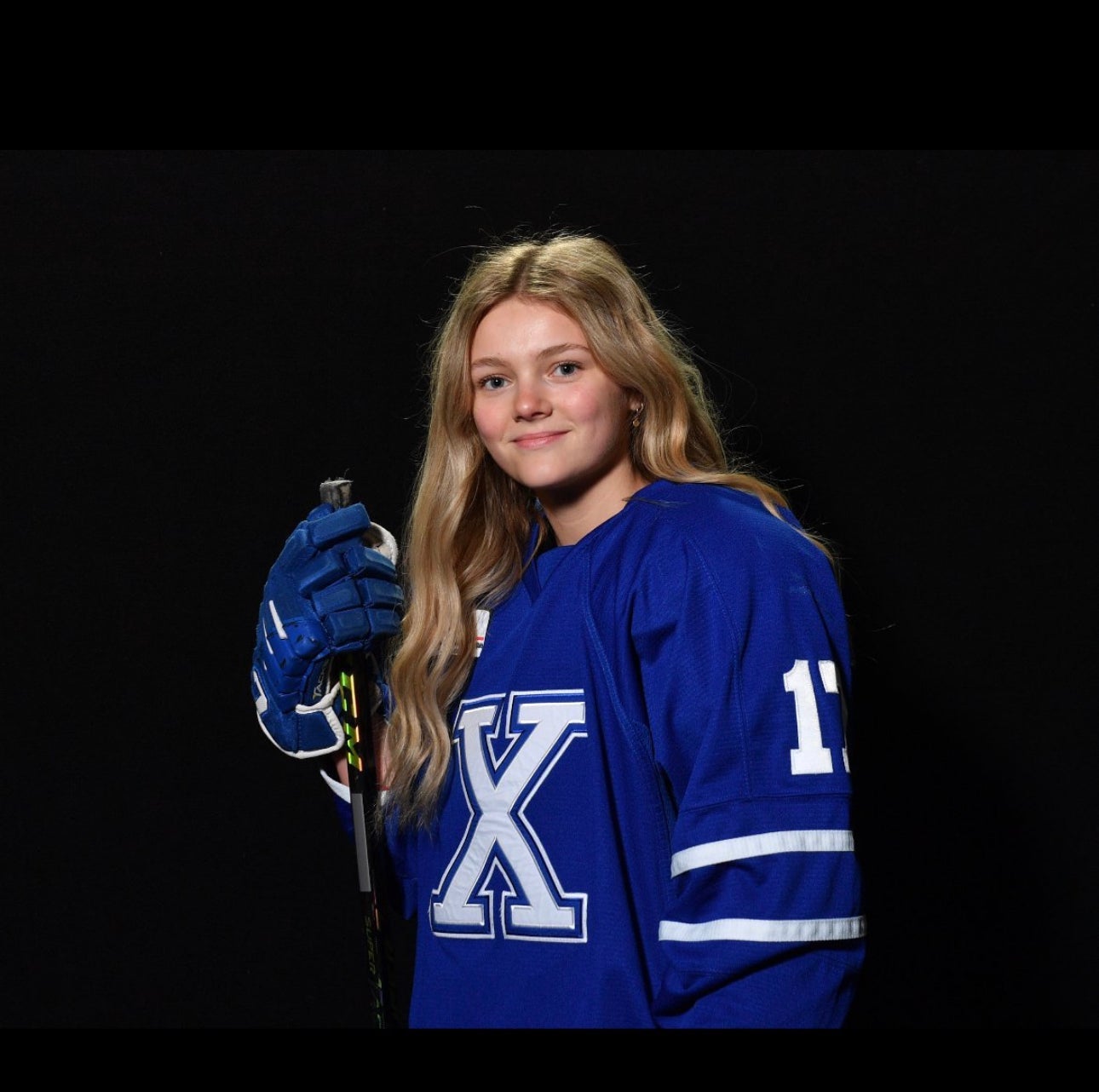 The Kjemhus family is a ranching family and one of five generations dedicated to bison on their 3300-acre ranch in the Valhalla area. This ranch is where 17-year-old Sarah Kjemhus; a high-performance hockey player and member of U18 Team Alberta, calls home.
We had an opportunity to speak with Greg about Sarah's journey thus far and what it takes to raise an athlete of Sarah's caliber.
Sarah began playing hockey in Hythe at 4 years of age. Her father and older brothers were playing, and Sarah wanted to play as well. Greg says that Sarah was the "quickest to learn to skate" and was a "natural defense player". Having an outdoor rink at the farm for the kids to enjoy was also beneficial for Sarah and her brothers.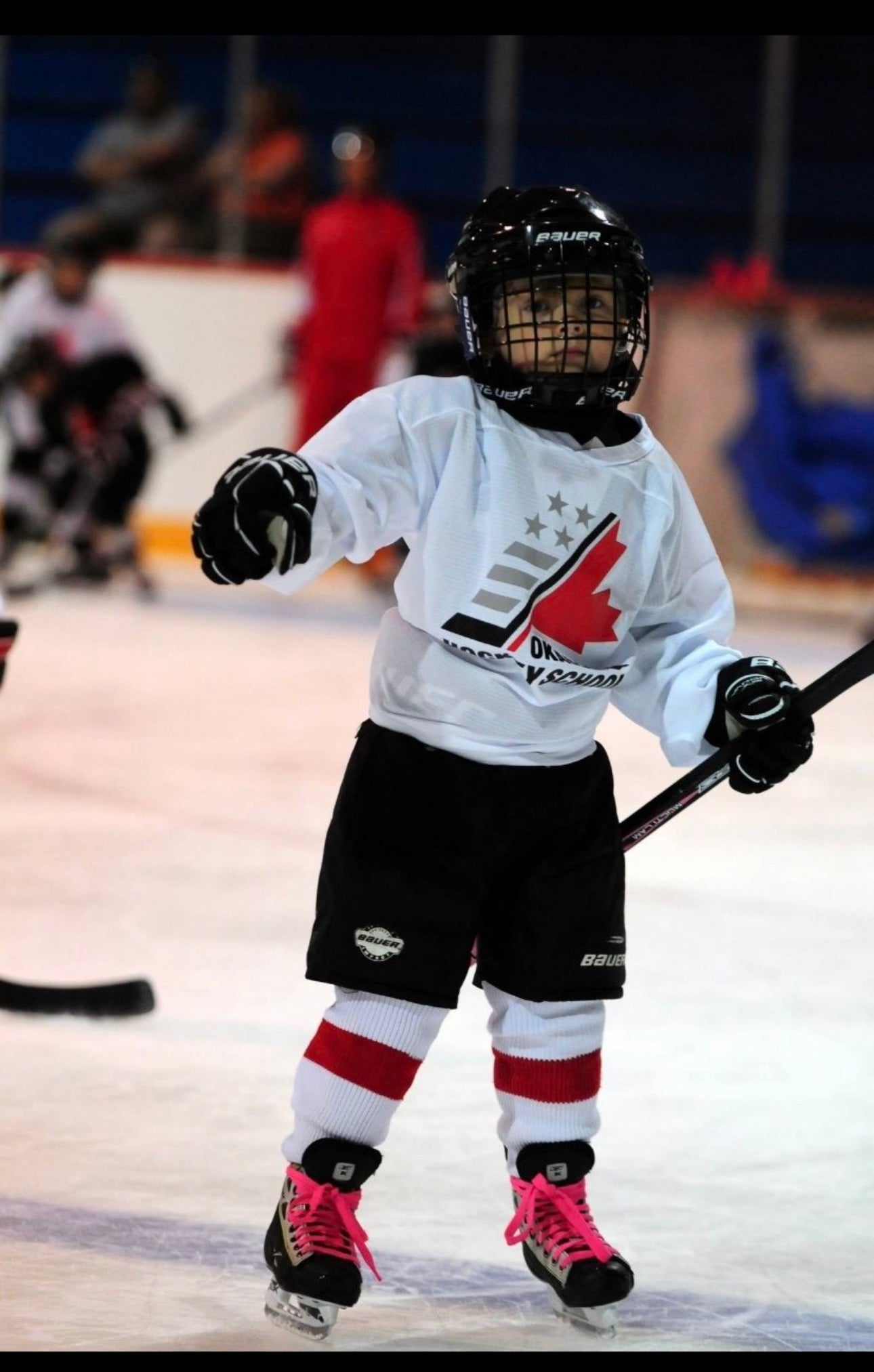 One of the advantages of playing hockey in a small town is the opportunity for children to hit the ice earlier than that of their counterparts in larger centres who may have to wait until the age of 6. While attending school in Hythe, Sarah played with the boys on a mixed team in Hythe until Pee Wee when the decision was made to begin competitive female hockey in Grande Prairie. Sarah played hockey in Grande Prairie for the next four years, getting the opportunity to travel all over Alberta gaining experience and improving her skill set.
The COVID years were difficult to manage. There were different pandemic rules in Alberta and British Columbia particularly around practicing and game playing. The decision was made mid-way through Sarah's grade nine year to relocate to the Okanagan Hockey Academy (OHA) in Penticton where her brother Matt also attended. Kerri moved with the children, now teenagers, to Penticton.
After Sarah's brother Matt graduated from OHA, she chose to relocate closer to home and made the switch to the Northern Alberta Extreme Academy (NAX) in Edmonton/Devon for her grade 11 and 12 years in high school. At NAX, Sarah has developed into a strong player in the CSSHL. Kerri splits her time between Edmonton and the ranch.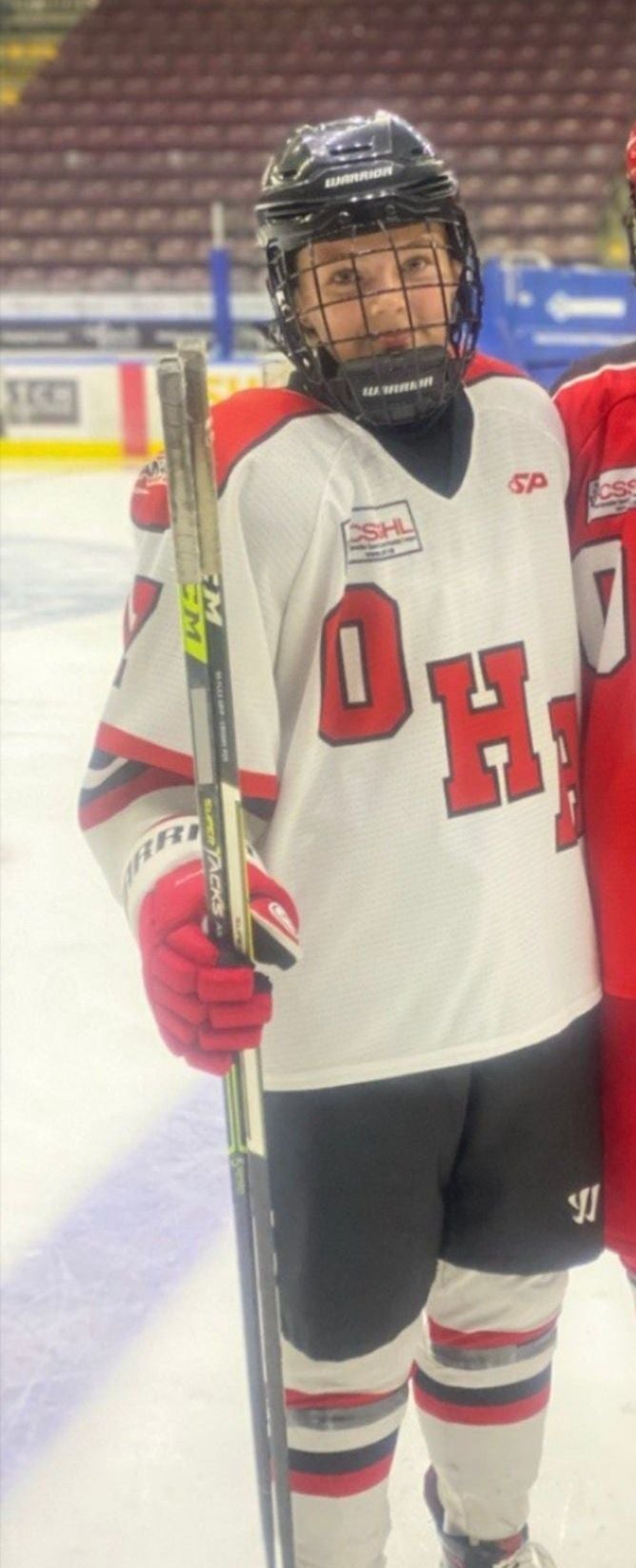 Greg is very close to his daughter. Not only do they share their love and knowledge of hockey, but Sarah is also the youngest child and only girl. He said that the instant he saw her, "she had me wrapped around her finger".
As the years went on and it was clear that Sarah's hockey IQ was growing, the support from her family changed. Of course, there is financial support, but there becomes a point where you are no longer trying to coach your child any longer – you become a sounding board, a place for her to air her frustrations and vent. "There is a lot of pressure on these girls," said Greg "For them (as opposed to male counterparts), they have a trajectory that goes from high school and U18 Hockey directly to a university program. There is no break in that time to find a team to grow with as the pressure is on to find a scholarship".
As Sarah completes her grade 12 year at the NAX she has committed to the Nipissing University in North Bay, Ontario where she will play for the Nipissing Lakers women's hockey team and begin her studies in science.
Does growing up in a small, rural community impact the growth and trajectory of a promising athlete? Greg says "Growing up on a buffalo ranch with the work ethic and rural values contributes to not only Sarah's character but also shapes her as an athlete. Having a lifestyle commitment to sport, and always loving to play the game of hockey also factors heavily. Sarah is a smart and efficient hockey player and an elite passer. She is very calm and calculated and lets the game come to her". Greg added, "Sarah is a good teammate. She is a quiet leader, leading by example".
We had to ask Greg where he was when he heard the great news that Sarah had made Team Alberta. "They didn't announce until about two weeks after the last camp. We knew it was happening that day, so we were watching social media posts. I was at work when Sarah called me, and I was very excited and very proud".
How can we support Sarah and all the other amazing athletes heading to Dawson Creek from November 5th through 11th for the Women's U18 National Hockey Championship? We can get out and cheer as loud as we can! Dawson Creek is approximately one and a half hours from Grande Prairie and less than an hour from Hythe and Valhalla. Tickets are on sale now at lakeviewtix.com or by calling the Box Office at 250-782-7443. Team Alberta plays in the preliminary rounds on November 5th at 4:00 p.m., November 6th at 10:00 a.m., and November 7th at 4:00 p.m.