The Mentalists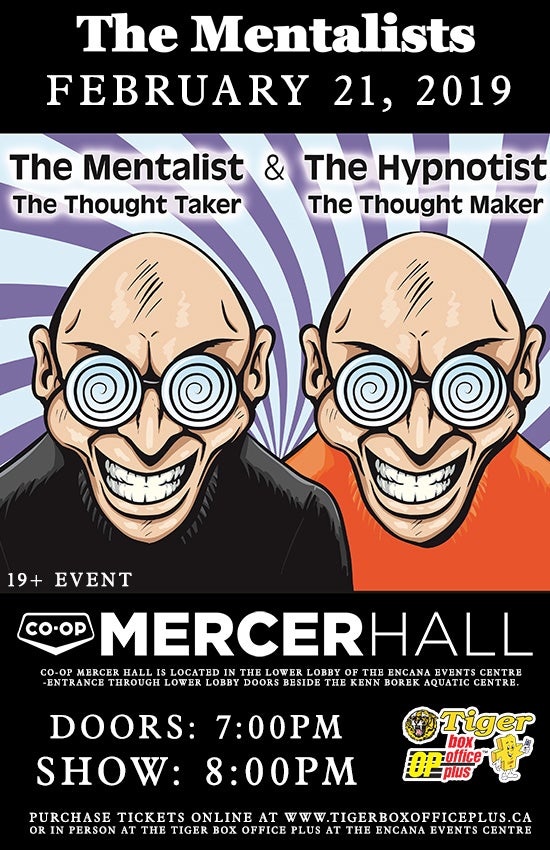 One mentalist, one hypnotist, and one mind bending evening full of fun. Award winning Magician and Mind Reader Edward Stone has teamed up with Comedian and Hypnotist Ray Anderson for a night of mind reading and hypnosis like you've never experienced. Predictions will be made. Thoughts will be controlled. Minds will be blown.
Thursday, February 21 at Co-op Mercer Hall
Doors: 7:00PM Show: 8:00PM
$30 Each, $50 for Two Tickets Purchased in Advance, $180 for a table of 8
This is a 19+ event. Tickets on sale Friday, January 25 at 10:00 AM MST online at www.tigerboxofficeplus.ca or in person at the Tiger Box Office Plus at the Encana Events Centre.


Edward Stone

Edward Stone started his Magic career at the age of 10 when he was lucky to cross paths with the famous Canadian Illusionist Doug Henning. By the age of 12, Edward was performing for corporate functions and private events. This won't be your ordinary magic show, but an interactive experience full of deception and illusion. From the moment he begins, the audience become the true stars of the show when they take the stage to perform impossible feats of magic, engage in mind reading demonstrations, and be a part of the amazement first hand. Edward's show will leave your audience with memories that will last a lifetime.

Ray Anderson

Toronto comedy magician and illusionist Ray Anderson has performed over 3000 shows in his 25 years in the business. With six national tours under his belt, he has performed from New Brunswick to Vancouver Island, and in NYC, Vegas, Chicago, Orlando, New Orleans and even Bermuda. He has performed on TV, radio, corporate events, casinos, trade shows, theatres, and family events, and has even performed at a funeral home! Spend quality time with Ray while he is performing and you will be one of the many wiping tears from your eyes from laughter and saying "Wow, I'm not sure if he should be out in public!"
The Mentalists
Feb 21 , 2019
8:00 PM
7:00 PM

$30 Each, $50 for Two Tickets Purchased in Advance, $180 for a table of 8

This is a 19+ event. Tickets on sale Friday, January 25 at 10:00 AM MST online at www.tigerboxofficeplus.ca or in person at the Tiger Box Office Plus at the Encana Events Centre.

Please note that applicable convenience fees and applicable service charges may apply and varies by point of purchase.

Photography: NO VIDEO / AUDIO RECORDING PERMITTED

Code of Conduct & Prohibited Items List: Click here to view our list of prohibited items and other frequently asked questions.

Accessibility: Click here for more information about Accessibility

No Smoking and Re-Entry Policy: Click here to view our No Smoking and Re-Entry Policy and other frequently asked questions.

$30 Each, $50 for Two Tickets Purchased in Advance, $180 for a table of 8