4th Annual Health & Wellness Expo
Featuring Body Break duo Hal & Joanne
Let's Celebrate Health & Wellness in style! The 4th annual Health & Wellness Expo is thrilled to announce that Hal Johnson and Joanne McLeod will be coming to the 2018 Expo as our Keynote Speakers! Hal and Joanne will inspire our audience to create more wealth with their health and reinforce the message that "what habits we have today will impact on our tomorrow".
The dynamic duo, known for their quirky sense of humour, have always tried to deliver the serious message of health and activity with a dose of levity. The former Amazing Race Canada team will be on the main stage presenting twice throughout the Expo and attendees will also have an opportunity meet and greet the pair following each presentation.
The 2018 Expo will be host to dozens of Regional and local guests and vendors specializing in a wide range of health enhancing products & services; gluten-free food, physiotherapy, reiki, massage therapy, health-minded cosmetics and skin care, fitness studios, yoga, and much more. The Health & Wellness Expo is built on the sharing of ideas, techniques and products of both local and international communities. This coming together of like-minded community members creates a melting pot of healthy living options with limitless potential for healthier, more sustainable communities.
2018 Vendors include (adding more every day!):
Arbonne - Allison Crandall
Back to Nature Oils
BC Responsible & Problem Gambling
Bloom Family Wellness Collective
Booster Juice
Captured Wishes
Chopped Leaf
City of Dawson Creek
Claudia's Healing Hands
Crystal Wilson Designs
Curastream Health Services
Dawson Creek Coop
Diamond C Catering
DC & District Hospital Foundation
Energetic Health & Wellness
Epicure
Equine Edge
Everlasting Footprints
Gentle Beginnings
Gut Health with Rebecca McCord - Plexus
Habbit Hobit Curios
House of healing
Isagenix
Jessica Kulla Discovery Toys
Journey Tree
Juice Plus
Karma Rub Canada
Kontinuum Naturopathic
Lipsense
Luv Yourself
Meals for You
Misty Meadows Soap
Modere
Monat
NEAT
Nerium
Nimitz Beef Jerky
Norwex
Nutra Crave
Oak Naturapathic Clinic
One Fitness
Organo
Pampered Chef
Peace Pregnancy Support Centre
Peekaboo beans
Portal to Vital Health
Positive Living North
Rainbow
Simply Delish
Skin Medica
Soak it
South Peace Wellness Action Team
Sweet Legs Grande Prairie
True North Fitness & Rebit Fit Nutrition
Voxxlife
Yanndeau's Health & Wellness (XYNGULAR)
84 Logic
New for 2018 is the introduction of two POD CHAT areas which will create a more accessible and interactive area for guest speakers and product demonstrators. These 20 Min POD CHATS will be scheduled throughout the day and will create an atmosphere of learning, with talks that are not only eye-opening, but highly educational and entertaining as well.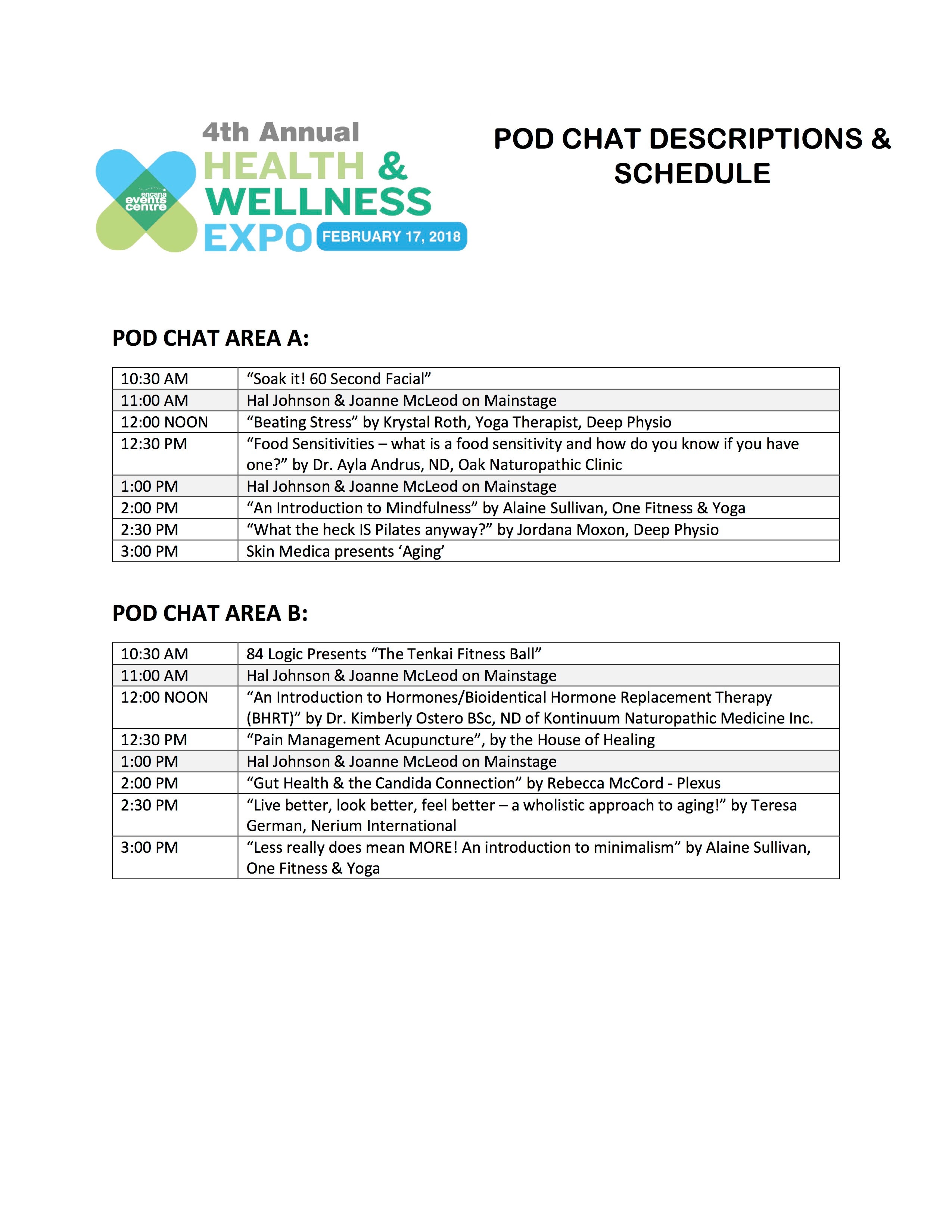 POD CHAT SCHEDULE CLICK: Pod chat schedule Final Version.pdf
The Expo looks to strengthen partnerships, increase public awareness, and enhance the capacity for health promotion while developing and expanding wellness initiatives in our Region. It offers people a day of learning while providing businesses a chance to connect with customers in a fun and intimate setting.
Vendor applications are still being accepted! Don't miss out on this incredible opportunity to showcase your business. Book your expo booth now, before they are sold out. 2018HWExhibitorPackageFinalVersion.pdf or sign up using the form below.
Tickets are available day of the event through the Tiger Box Office Plus at the Encana Events Centre for $5 per person with a portion of ticket sales going to the Have a Heart Radiothon Campaign.
Thank you to our media partners:
890 CJDC
101.5 The Bear
SUN FM
CJDC TV
Tickets are available day of the event through the Tiger Box Office Plus at the Encana Events Centre for $5 per person with a portion of ticket sales going to a local charity.
4th Annual Health & Wellness Expo
Featuring Body Break duo Hal & Joanne
Buy Tickets
Feb 17 , 2018
10:00 AM
10:00 AM

Tickets are available day of the event through the Tiger Box Office Plus at the Encana Events Centre for $5 per person with a portion of ticket sales going to a local charity.

Please note that applicable convenience fees and applicable service charges may apply and varies by point of purchase.

Code of Conduct & Prohibited Items List: Click here to view our list of prohibited items and other frequently asked questions.

Accessibility: Click here for more information about Accessibility

Smoking and Re-Entry Policy: Click here to view our Smoking and Re-Entry Policy and other frequently asked questions.

$5
On Sale Now