DJ's & PJ's - Sudeten Hall
Presented by Unique Events & Promotions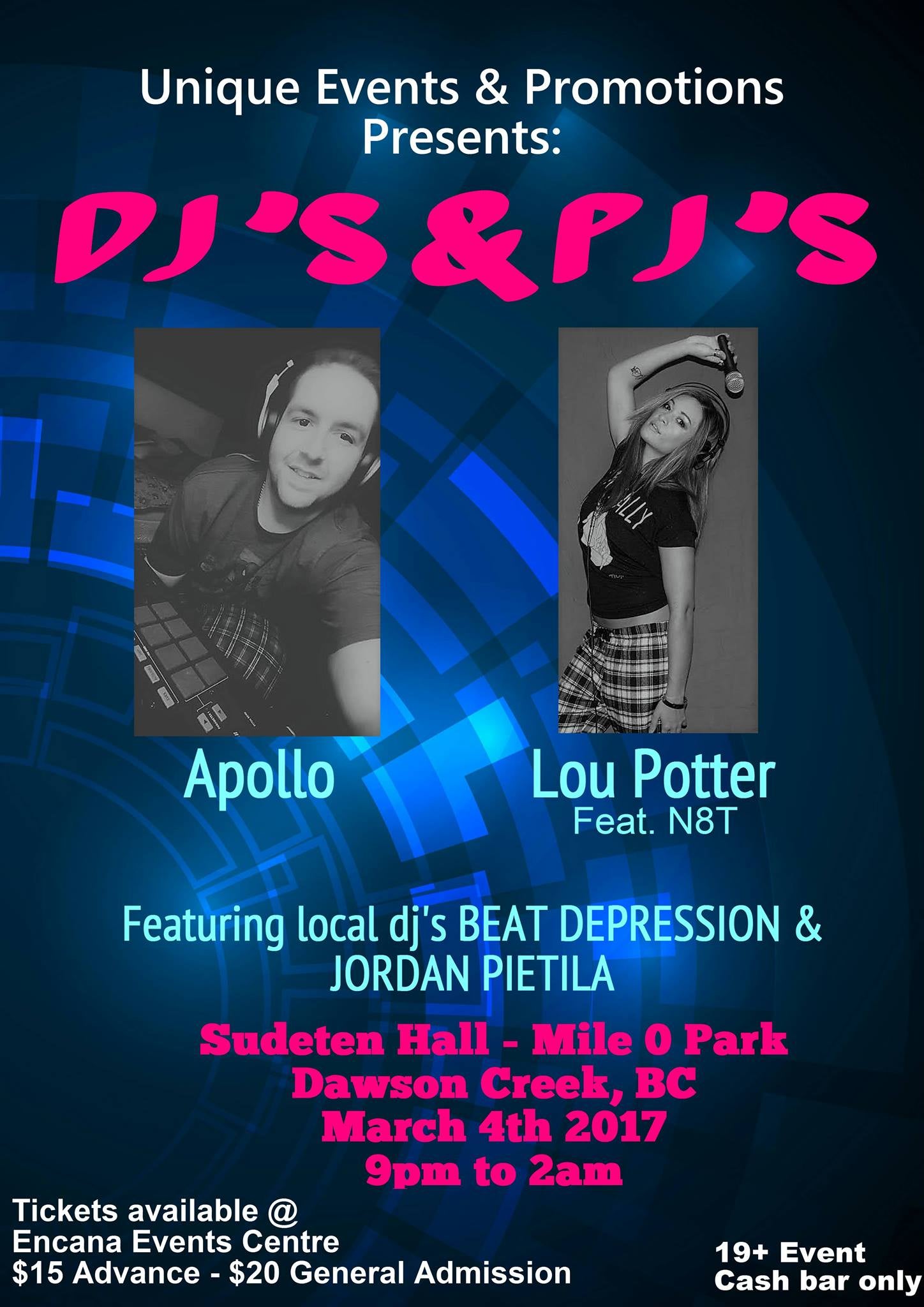 Unique Events and Promotions Presents: DJ's and PJ's
Sponsored by the Encana Events Centre

MARCH 4 2017 @ Sudeten Hall - Mile 0 Park 9 pm - 2 am
Tickets are available at the door

DJ Lineup
Beat Depression 9:00 pm - 10:00 pm
Lou Potter Feat. N8T 10:00 pm - 11:00 pm
Jordan Pietila 11:00 pm - 12:30 am
Apollo 12:30 am - 2:30 am

*19+ event - Must have government issued ID*
*Cash only! There is no debit onsite*


Slip into something a little more (or less) comfy and dance the night away while experiencing four very talented and very different DJ styles. Bring your own pillow to participate in the Mosh Pit Pillow Fight! Throughout the evening we have a couple giveaways, one of which is large stuffed animal that will be given away before Apollo takes the stage. An assortment of ring pop pacifiers will be tossed out from the DJ's so keep your eyes on the stage!


BEAT DEPRESSION - DAWSON CREEK BC

To start the night off we have Dawson Creek's very own Beat Depression. He is a performing artist, singer, on the fly lyricist and an eclectic styled DJ. His love of music could never tie him down to one genre. Don't miss out! Come early to watch him play.

LOU POTTER FEAT. N8T
Cindy Lou Music Enterprises / Dawson Creek BC
www.loupotter.ca

Next we have the first of our double headliners, Lou Potter Feat. N8T. This power house duo will have you on your feet in seconds. Using a combination of live vocals and elctro house, Lou can be compared to the likes of Britney Spears, Lights, and Krewella. Her hit single "Tragic" made #36 for four weeks in a row on Billboard top 40 indicator charts with over 500 spins in the USA and Canada. Lou is the Owner/Director of Cindy Lou Music Enterprises as an independent singer/songwriter/performer and recording artist. Her extensive industry experience and talent is taking her all the way up to the top.

JORDAN PIETILA - DAWSON CREEK BC

Jordan Pietila's performance will transform the space into bone vibrating mix of bass house, dub step, and trap paving the way into our second headliner. His knowledge of sound combination and forever expanding music collection has made him a party favourite.

APOLLO - PRINCE GEORGE
www.facebook.com/DjApolloOfficial
twitter.com/coltonfawcett
www.youtube.com/user/coltonfawcett

Ascending from Prince George, British Columbia, Apollo is renowned in the electronic dance scene. Particularly caused by his filthy taste in heavy electronic dub step, trap, electro and mid tempo genres. Apollo quickly grasped the art of a DJ while adding his own sound to many stage performances. From headlining packed parties to travelling across the country for music. Apollo is quickly becoming part of Canada's underground music scene.
DJ's & PJ's - Sudeten Hall
Presented by Unique Events & Promotions
Mar 4 , 2017
9:00 PM
9:00 PM

Unique Events and Promotions Presents: DJ's and PJ's
Sponsored by the Encana Events Centre

MARCH 4 2017 @ Sudeten Hall - Mile 0 Park 9 pm - 2 am
Tickets are available at the door

*19+ event - Must have government issued ID*

There will once again be Key's Please drivers on call for safe transportation home. For $20 they will bring you and your vehicle home safely. We are also offering designated drivers free pop and water. Be safe everyone!

$15 Advance tickets until February 25, ​$20 General admission until March 3