BEER BACON BANDS
XA PROUDLY PRESENTS
BEER BACON BANDS
FRIDAY FEBRUARY 23rd, 2018
Encana Events Centre, Dawson Creek, BC
Show 7PM - 12AM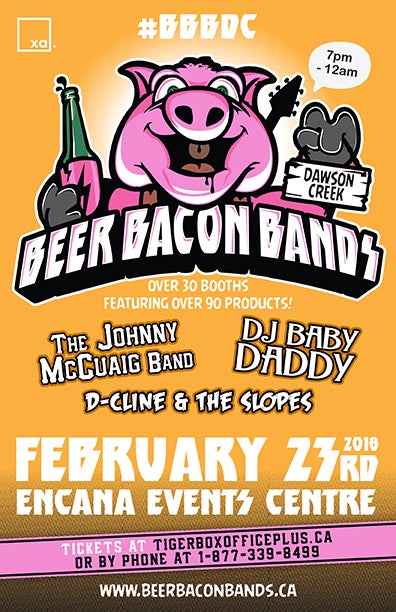 DAWSON CREEK - Beer, Bacon and Music aficionados unite to discover cold brews, taste unique bacon creations and listen to awesome live music while having fun with a couple thousand of their closest friends!
It's a beer fest, it's a bacon fest and it's a music festival! BEER – BACON – BANDS!
Advance tickets are available at TigerBoxOfficePlus.ca, by Phone at 1-877-339-8499 or in person at the Tiger Box Office Plus at the Encana Events Centre. Advance Tickets are $39.99 single ticket. This is a 19+ Event.
For one incredible night in February, these three worlds collide for an action-packed weekend of fun!
Dawson Creek's Encana Events Centre will be transformed into one massive party to celebrate great beer, ingenious bacon creations by local chefs, and feature some of the top musical talents in Western Canada including The Johnny McCuaig Band, DJ Baby Daddy and D-Cline & The Slopes.
Don't miss out on this incredible party.
For more information visit: beerbaconbands.ca
BEER BACON BANDS
Feb 23 , 2018
7:00 PM
7:00 PM

Advance tickets are on sale at TigerBoxOfficePlus.ca, by Phone at 1-877-339-8499 or in person at the Tiger Box Office Plus at the Encana Events Centre. Advance Tickets are $39.99 single ticket. This is a 19+ Event.

Please note that applicable convenience fees and applicable service charges may apply and varies by point of purchase.

Suite Rentals: Jerimy Earl 250-795-3308

Photography: NO CAMERAS / VIDEO / AUDIO RECORDING PERMITTED

Code of Conduct & Prohibited Items List: Click here to view our list of prohibited items and other frequently asked questions.

Accessibility: Click here for more information about Accessibility

Smoking and Re-Entry Policy: Click here to view our Smoking and Re-Entry Policy and other frequently asked questions.

$39.99 Each