BE MY VALENTINES Workshop & Dinner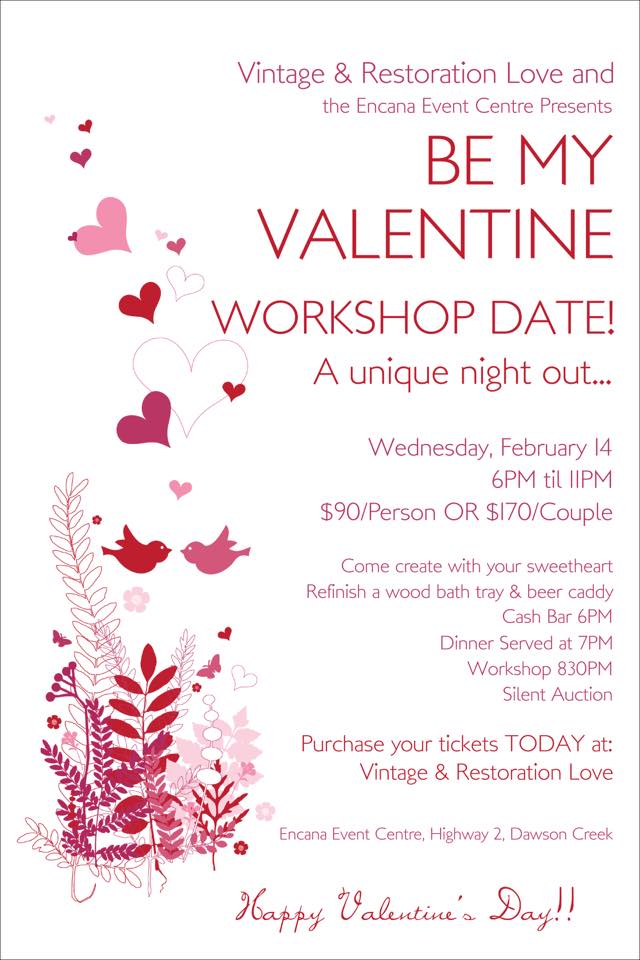 A unique date night for Valentines.

The event will start off with cocktails and entertainment at 6 pm. Followed by the dinner & dessert served at 7 pm. Then get your creative on with your sweetheart when you finish a bath tray & beer caddy at 830pm. A silent auction will end at 10 pm. $5 from each ticket and the money raised that evening will be going towards a new non-profit that will soon be offering compassionate care for families going through a miscarriage, stillbirth, or infant loss.

Single tickets are $90 and $170 per couple
Please note that tax will be added at the time of purchase.
Tables of 8 or 10 are available for reservation.

If you would like to make a donation for the silent auction or purchase tickets please contact Natasha at Vintage 250-782-4441
BE MY VALENTINES Workshop & Dinner
Buy Tickets
Feb 14 , 2018
6:00 PM
6:00 PM

Single tickets are $90 and $170 per couple
Please note that tax will be added at the time of purchase.

Tables of 8 or 10 are available for reservation.

If you would like to make a donation for the silent auction or purchase tickets please contact Natasha at Vintage 250-782-4441

Single Tickets $90, Couple $170
On Sale Now