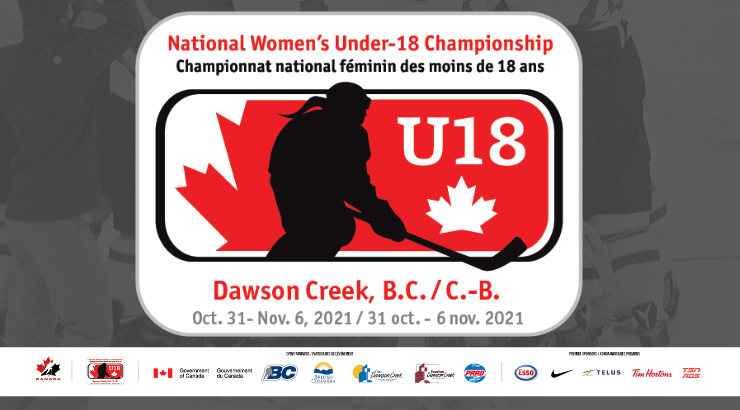 ---

---
VOLUNTEERING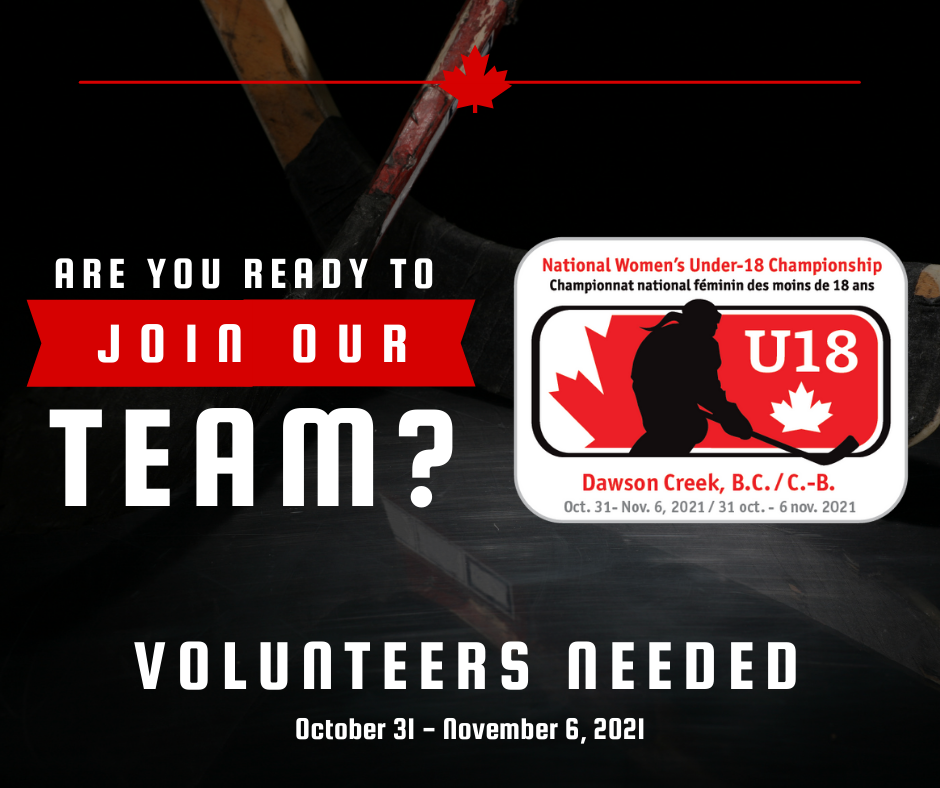 Have you considered volunteering for the 2021 Women's U-18 Championship? Details and volunteer registration can be found here

---

---
CHAIR - CHANTE PATTERSON-ELDEN
LOGISTICS - PAM EALES & HOLLY LARDEN
TEAM OPERATIONS - JUDY EAGLES
COMMUNICATION/MEDIA - DARCY HEARTT
EVENT OPERATIONS - ERIN OLIVER
SPONSORSHIP - LINDSEY BOREK & AARON POWELL
EVENT STAFF - GLEN JENSEN
GAME OFFICIALS - CHRISTINA WARDS
DIRECTOR, VOLUNTEERS - EMILY MORRIS
DEVELOPMENT & COMMUNITY ENGAGEMENT - MEGAN WARD
50/50 - DCMHA REP - NICOLE GRAFF
VENUE LIAISON - STEFANIE CHYMKO, DIRECTOR OF EVENTS - OVINTIV EVENTS CENTRE
COORDINATOR - LISA WARD
MEET THE COMMITTEE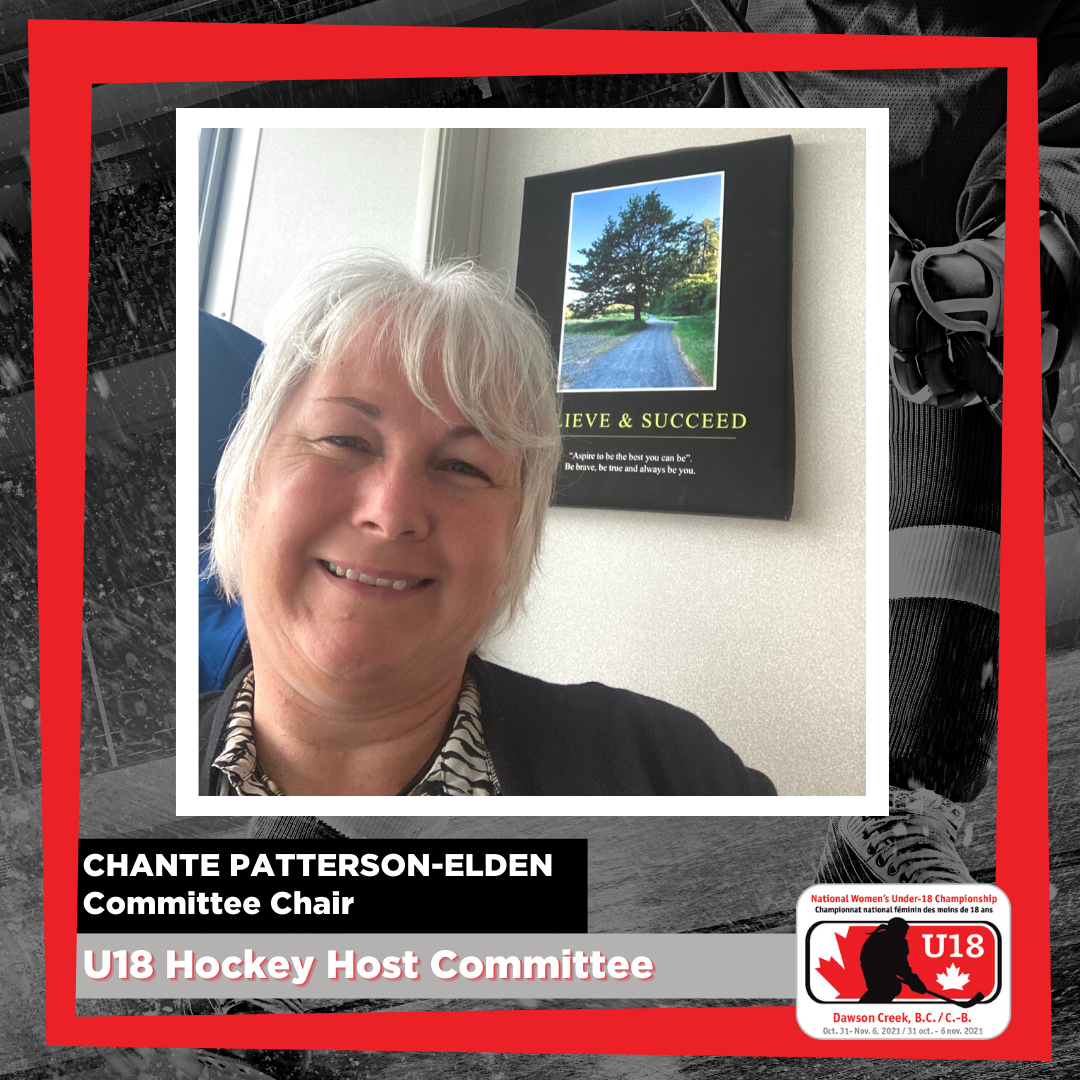 As the Chair of the U18 Hockey Host Committee, Chante Patterson-Elden brings a wealth of knowledge and experience. She has been involved with hosting the Hockey Canada events since 2009 and we are so lucky to have her at the helm!
Q & A with Chante:
What is your favourite part of these events?
Bringing people together to promote the game of hockey. Giving back to the community and working with the volunteers, sponsors, players and coaches. It is like 'baking the cake' (the event) and adding all of the extras (sprinkles).
Serving on the committee can be time consuming - how do you manage?
Family and work are very supportive - am grateful.
What are your memorable moments from a past Hockey Canada event?
2009 - Hosting an Olympic Team
Giving Silver & Bronze Medals
Being a host to the referees - getting to meet them
Working with this group since 2012 - Growing together!
Bringing events to our community and showcasing the facility and volunteers
Successfully hosting 5 events
Working with the many volunteers; their smiles, passion and love for our community
---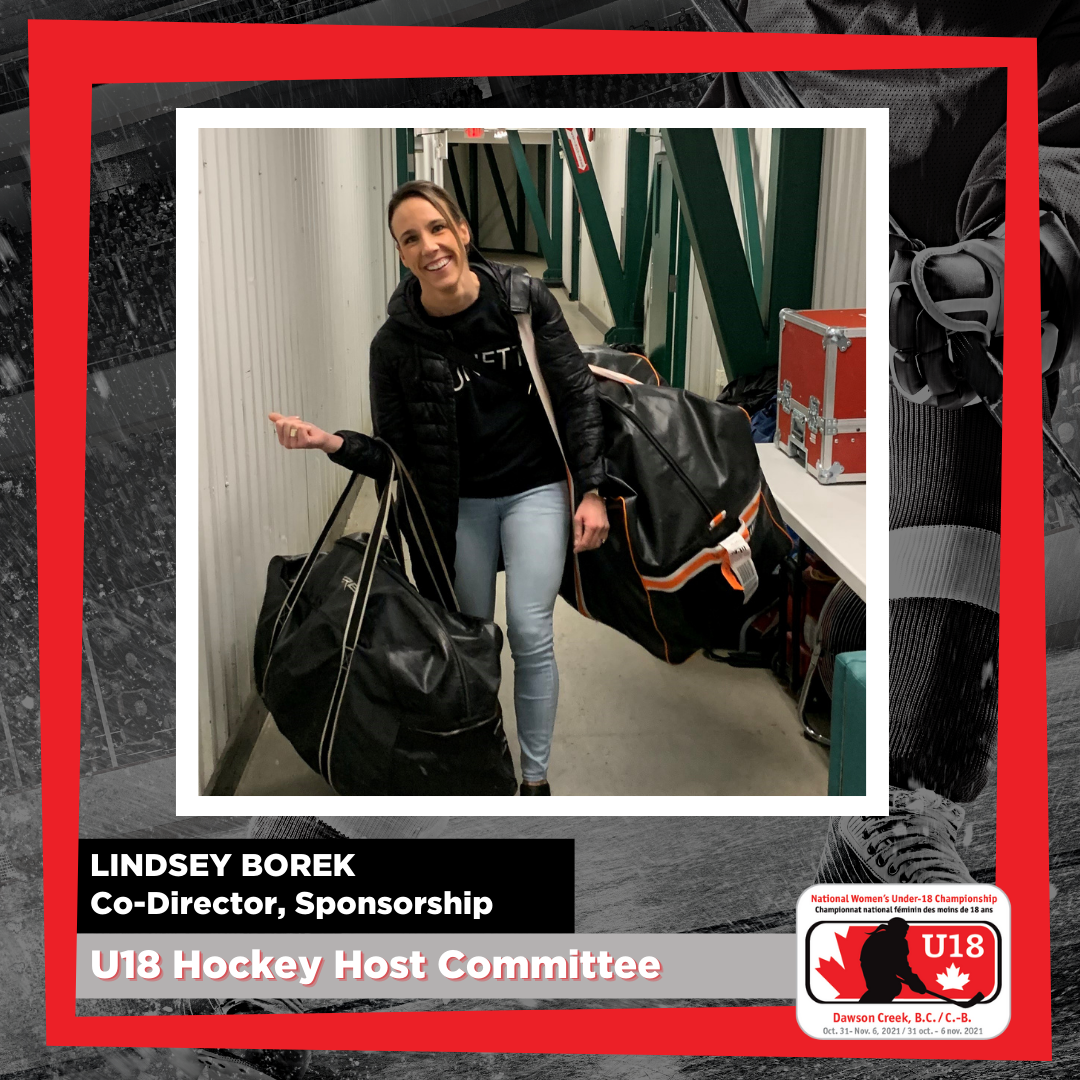 Lindsey Borek is a community leader and has been involved with the Hockey Canada events in almost every capacity: venue, host committee and with Tourism Dawson Creek. She brings 11 years of experience to her position on the U18 Hockey Host Committee as Co-Director of Sponsorship.
Q & A with Lindsey:
What is your favourite part of these events?
Working with an amazing team: Everyone from Hockey Canada, our committee, sponsors, volunteers and bringing the community together through sport. Also being able to showcase our community nationally and internationally brings me a sense of pride!
Serving on the committee can be time consuming - how do you manage?
I manage by ensuring I prioritize my time and plan around my commitments, always making sure to set time aside for my family! My Family is very supportive and always cheering me on from the sidelines.
Do/Did you play hockey or does your family play hockey?
I never played hockey, but both my boys play hockey and can now skate circles around me!
---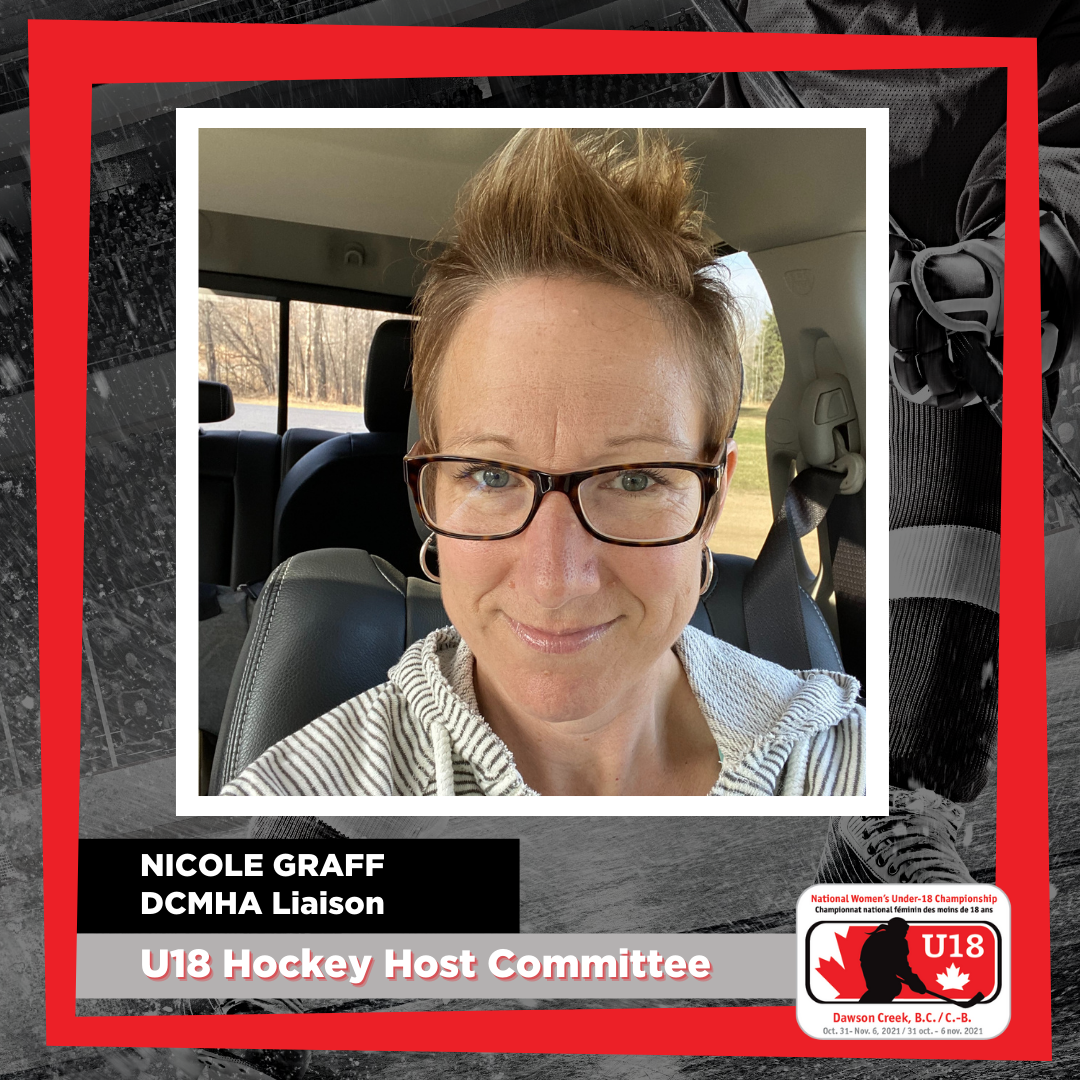 Nicole Graff joins the committe for 2021 as the Dawson Creek Minor Hockey Association (DCMHA) Liaison. She loves the comradery of these events and finds her family very supportive of her participation.
Nicole likes to keep busy and make a difference and is not only involved with the DCMHA, but also is involved with South Peace Community Resources Society (SPCRS). Thank you for your community spirit Nicole!
---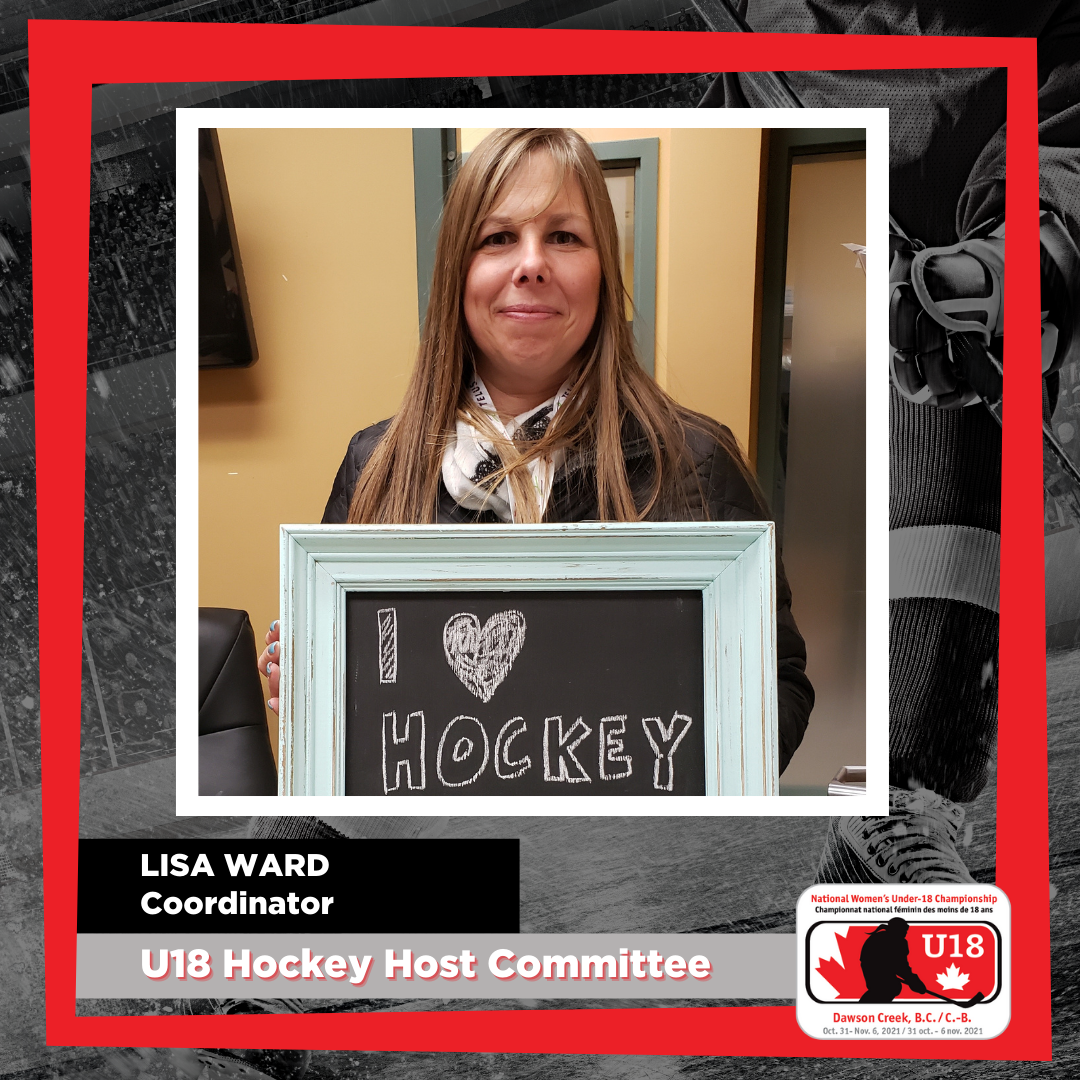 Lisa Ward loves the sport of hockey and has been involved with the committee for two previous Hockey Canada events. Lisa is actively involved with the community: not only is she involved with ladies hockey, she sits on the Northern Lights College Foundation Board.
How to manage being so involved with the committee and your other commitments?
Having an understanding boss and husband are the keys to success. As well as good time management skills.
Do you or did you play hockey or does your family play hockey?
I started playing hockey when I was 40 and absolutely love it! After my first tournament, I was hooked. I grew up around hockey as my brother played and both my son and daughter play. I also did a few years of coaching.
What is your most memorable moment from a past Hockey Canada event?
The double overtime goal in the gold medal game at the 2019 World Junior A Challenge
---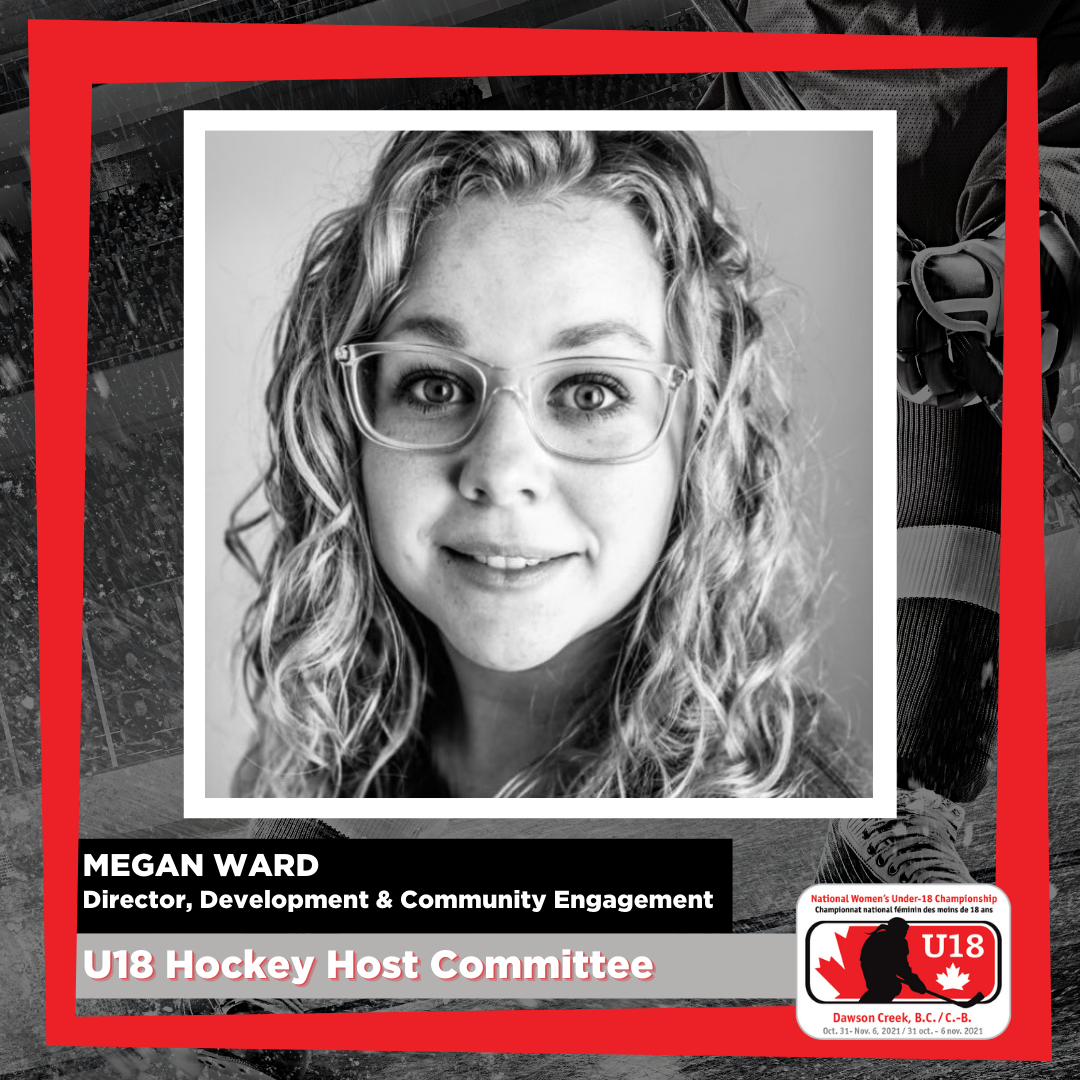 Although this isn't the first Hockey Canada event that she has been involved with, this is the first year for Megan Ward to serve on the Host Committee. Women's hockey is close to her heart - She began playing hockey at age 8 and continues to do so as an adult. In fact, her entire family has played at some point in their lives.
Megan has a passion for the sport and one of her favourite parts of these events is seeing young athletes develop and have fun. As Director of Development & Community Engagement, Megan has a large and complex role within the committee and she couldn't do it without support of her family.
---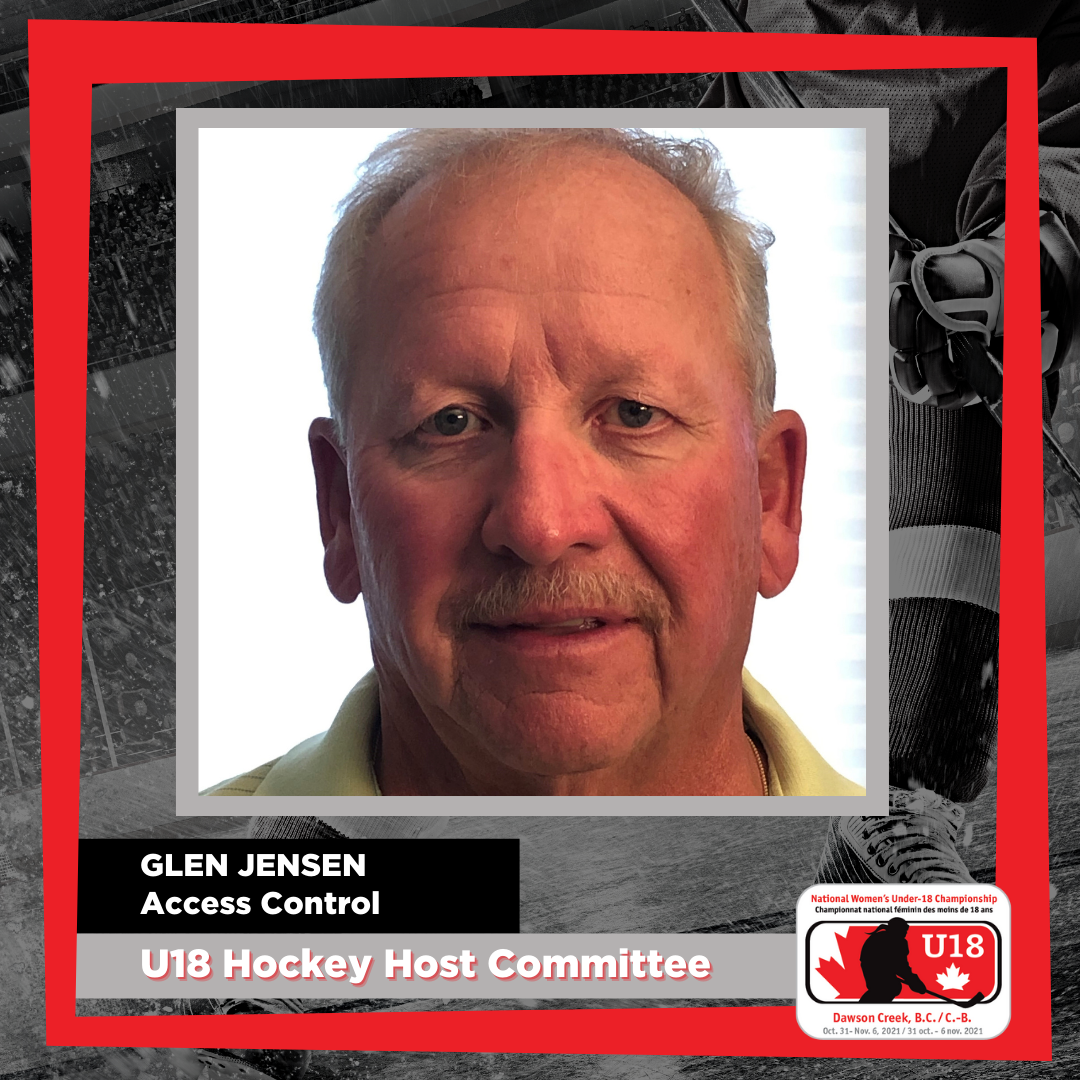 Glen Jensen brings a weath of experience to the committee. One of the reasons that Glen became involved with the committee is that he has some free time now that he is retired and obviously has a passion for hockey - He has played on Dawson Creek Oldtimers Hockey team for 35 years!
---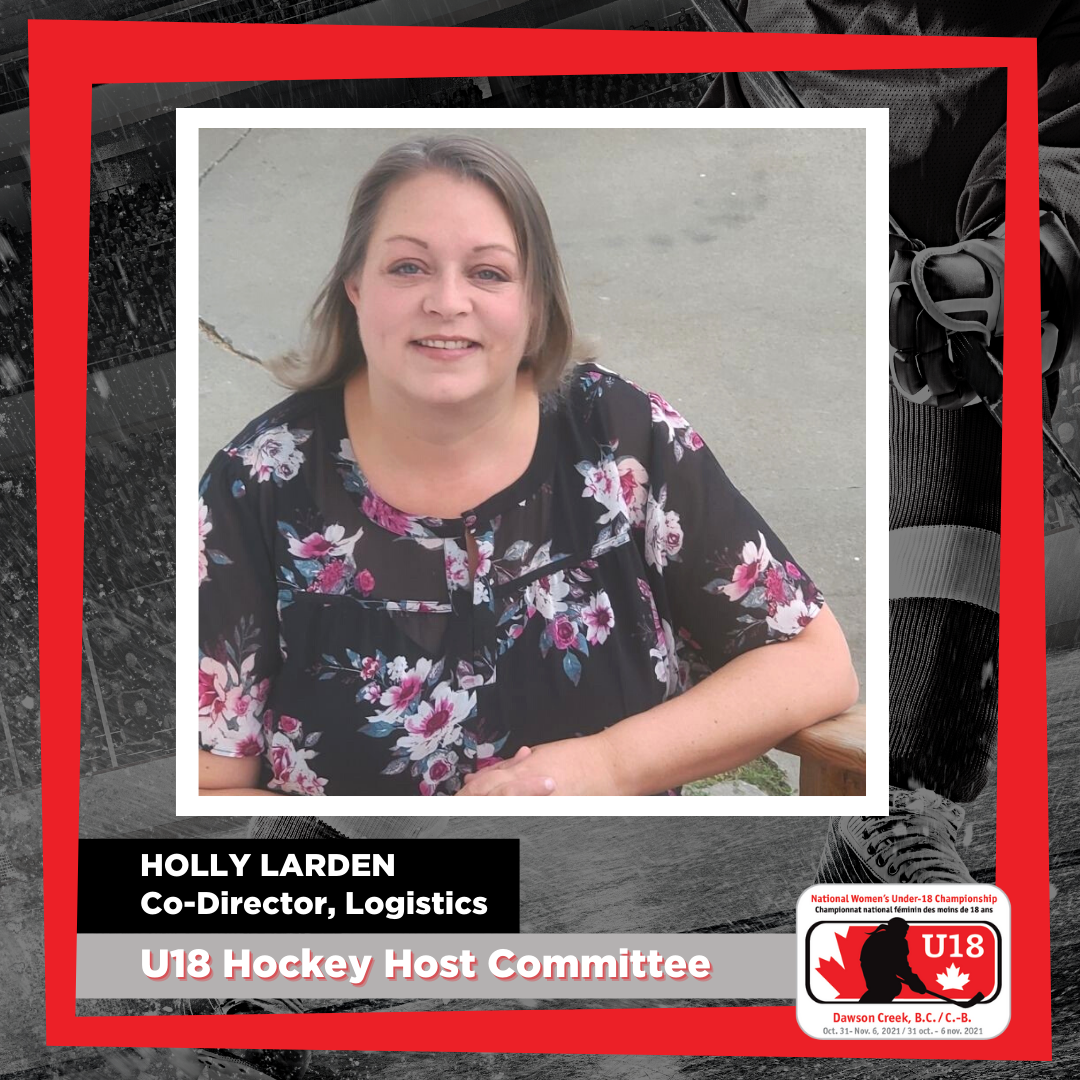 Holly has been involved with the Host Committee since 2015 when she was 'volun-told' by way of a friend signing her up. She hasn't looked back and believes that it is important to give back to your community.
What is your favourite part of these events?
The gold medal game! I love how electric the atmosphere becomes. I also love watching the players first arrive at the event - the nervous energy is contagious!
I love walking the scouts up and through the building and watching their jaws drop when they see what an amazing facility that Dawson Creek has for these events.
How do you manage with the time commitment? Is your family supportive?
My family also volunteers and are very supportive. This can be very demanding time-wise, so I usually take vacation time from work so that I'm not torn between two things and can focus.
What is your most memorable moment from a past Hockey Canada event?
In the area that I volunteer, the gold medal game is very busy for us behind the scenes. We are working on departure arrangements, etc. At the last event, Pam Eales (the friend who volun-told Holly back in 2015) and I had the pleasure of presenting the medals in the gold medal game.
It was a great game that went into overtime. This was the first game that I actually got to watch and was able to do this from behind the bench. What a magical moment!
---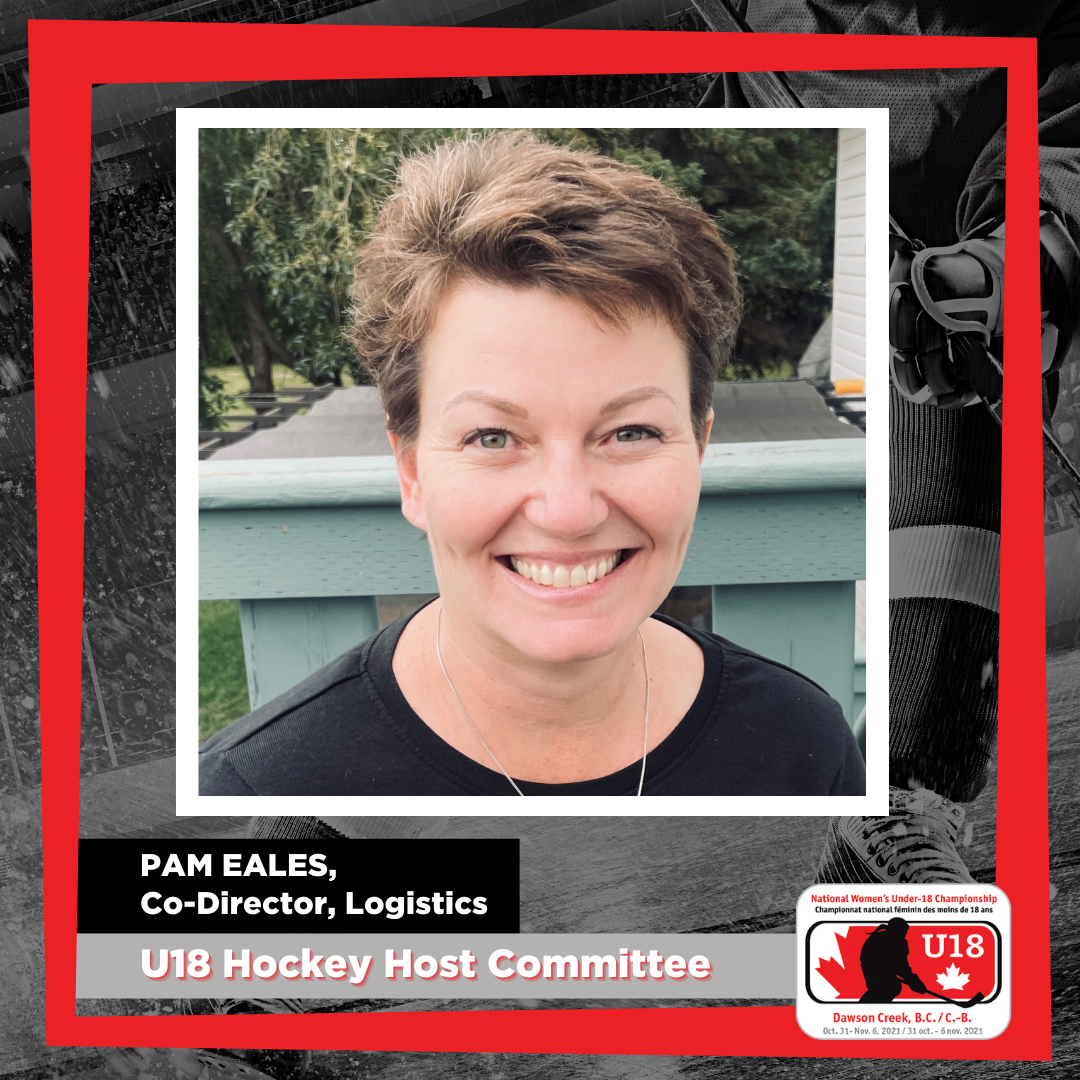 Pam Eales has been working with the Hockey Canada events since 2012. She says that "Chante coerced her into volunteering" but we know better. Pam is heavily involved in the community and has been for many years: South Peace Health Care Society, Chamber of Commerce, South Peace Soccer, Dawson Creek Minor Hockey, the Dawson Creek Exhibition Association and the Rotary Club
What is your favourite part of these events?
Meeting the athletes and showcasing our community.
Do/did you play hockey or does your family play hockey?
Yes, all of my family members have played and/or coached hockey.
What is your most memorable moment from past Hockey Canada events?
Following the 2012 U18 Women's event racing three coaches to the Grande Prairie Airport for a 5:00 a.m. flight. They had missed the bus to Grande Prairie - don't ask me how fast I drove!
Touring through the TSN trailer - amazing!
Presenting gold medals to Russia at the 2019 U17 Men's event
Presenting at the Calgary Winspear Centre on how we (Dawson Creek) have organized and managed this event. Lots of our best practices have become standard processes.